Features:
Xilinx FPGA Kintex7 Kintex-7 XC7K325T Development Board with SFP+ 10G Network Port 256Mbit FLASH 2GByte DDR3 HDMI

Overview:

This is a high-speed acquisition card, mainly used for high-bandwidth data acquisition and transmission. The application fields are mostly in the field of industrial control and data acquisition.
The product port provides 20Gbps transmission bandwidth and is compatible with 2 SFP+ 10G network ports. The board integrates 2GByte (16Gbit) DDR3 memory unit and can operate stably at 1800 MT/s (800Mhz).
At the same time, a sensor chip is also integrated on the board to monitor the ambient temperature of the board, which is convenient for temperature monitoring of the FPGA chip.
1) Hardware parameter: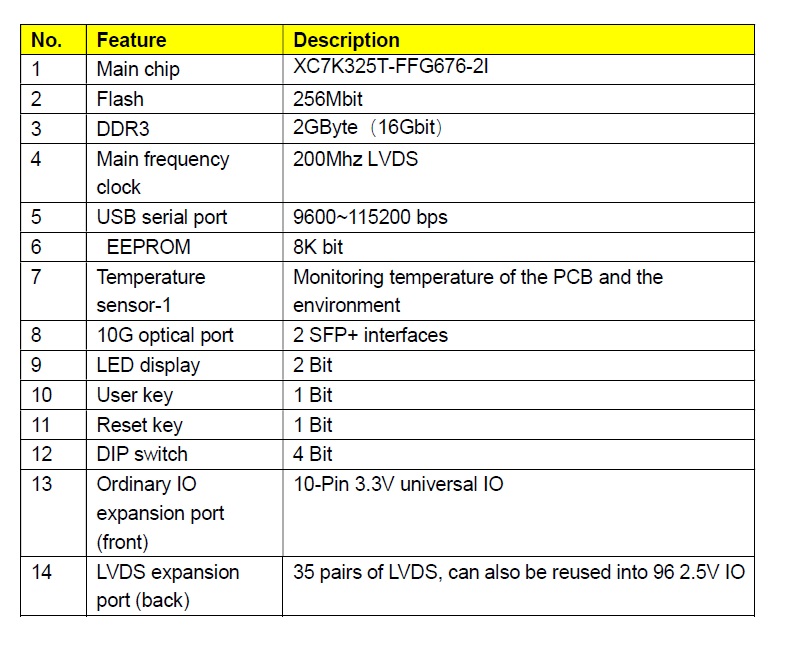 2) power consumption:
The input voltage of the MK701 is 12V±10% DC. It can be externally powered. The typical power consumption is 12W. The board supports a maximum power consumption of 25W (including auxiliary power consumption, 25° ambient temperature, and wind speed of 1 m/s).

3) Board structure information:
Board size: length 210mm * width 230mm
Height (without fan): 15mm
4) Power sequencing:
The Kintex-7 Xilinx officially requires multiple power supply timing management. If the power-on timing control is not performed, the on-board device is at risk of damage. This development board has integrated a power management solution to ensure product reliability.

5) Memory:
Device signal MT41K256M16TW-107: P, total capacity 16Gbit. The device operates stably at 1800 MT/s (800 Mhz).
The data bit width of DDR3 is 64Bit, which is suitable for most data processing applications.
The pin constraint file can refer to the DDR3 part of the self-test program and can be used directly.

6) FLASH:
Device signal MX25L25635FMI, total capacity 256Mbit. The interface uses the SPI x4 mode.
7) SFP+ interface: 2 SFP+ interfaces. The single interface rate up to 10.3125Gbps.
8) HDMI interface: The maximum size of the output image is 1080P..
9) SMA interface: Leading a pair of GTX interfaces through the SMA connector.
10) High precision clock 1: Low- jitter master clock, 200Mhz.
11) High precision clock 2: Clock corresponding to the SFP+ interface and SMA interface, 1565.254Mhz.

12) Expansion connector:
Connector on the front: 10 3.3V IO.
Connector on the back: Differential 35 pairs, or 96 single-ended IO ( IO level is 2.5V).
SPECIFICATION
| | | | |
| --- | --- | --- | --- |
| Brand Name: | HEYOPTICS | Application | Computer |
| Origin: | CN(Origin) | Supply Voltage | 12V |
| Condition | NEW | Dissipation Power | 12-25W |
| Type | Logic ICs | Package | SMD |
| Model Number | Kintex7 | | |