8K HDMI 2.1 48Gbps Source & Display MPO Fiber Optic Cable, Support Cable length up to 1000ft
NOTE: This item includes a pair of HDMI (TX+RX)-MPO ends, 2x MPO adapters/couplers and you selected cable length of MPO-MPO fiber optic cable.
The detachable HDMI (TX+RX ) to MPO ends can be replaced at any time without replacing the entire cable. You can change and connect with DisplayPort, USB, DVI or other type connectors anytime. And you can pre-wire the MPO fiber optic cables in wall without directional concern as you can change the "Source" and "Display" anytime, which makes the solution ideal for Home, Residential or Commercial integration.
Our 8K HDMI MPO Fiber optic cable provides the highest speed and bandwidth needed for the best video and/ or audio quality for high definition at lengths up to 303 meters (1000ft), which supporting the long distances required in commercial video solutions.
What is MPO Connector?
Multi-fiber push on connectors, or MPOs for short, are fiber connectors comprised of multiple optical fibers. While defined as an array connector having more than 2 fibers, MPO connectors are typically available with 8, 12 or 24 fibers for common data center and LAN applications. Other fiber counts are available such as 32, 48, 60 or even 72 fibers, but these are typically used for specialty super high-density multi-fiber arrays in large scale optical switches.
Why choose MPO pure fiber optical cable solutions for your HDMI/DVI/Displayport/USB connections?
Compared with hybrid optical AOC cables, New pure fiber cables have significant advantages as below:
One multi-fiber OM3 fiber cable with 4x MPO connectors for many different Pigtails MPO cable and pigtails are separate
You can change and connect with HDMI, DP, USB, DVI. etc up to 20 different Pigtails anytime
No fixed direction they are bi-directional Pigtails are separate and you can change the "Source" and "Display" anytime
Easily upgrade to the next generation. If you need new HDMI version, just change the Pigtail Extra long length up to 1000ft using OM3 fiber
The pure fiber cable support 8K@60Hz
Remote Medical Imgaing Application Scenario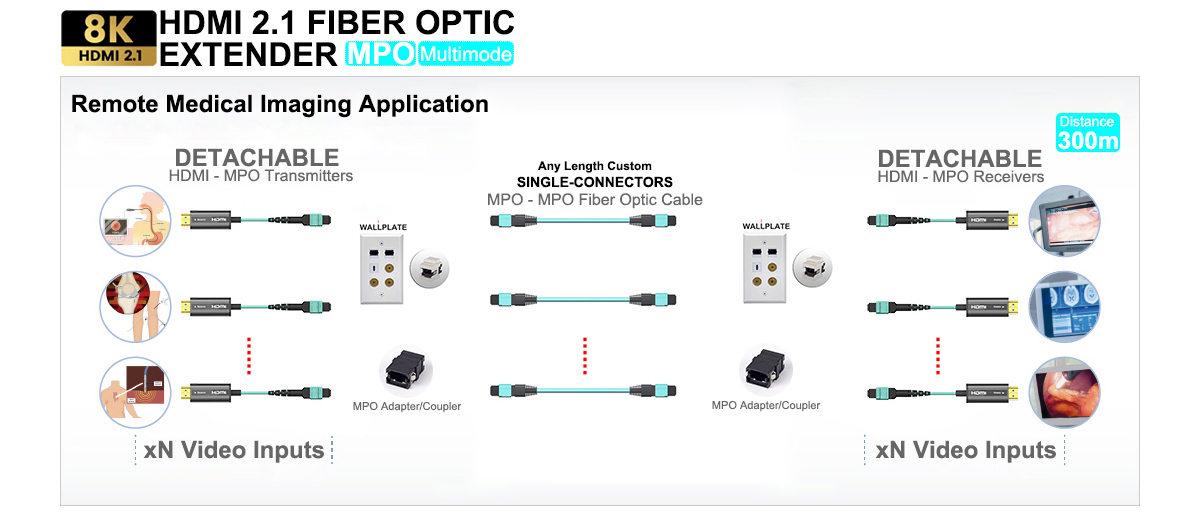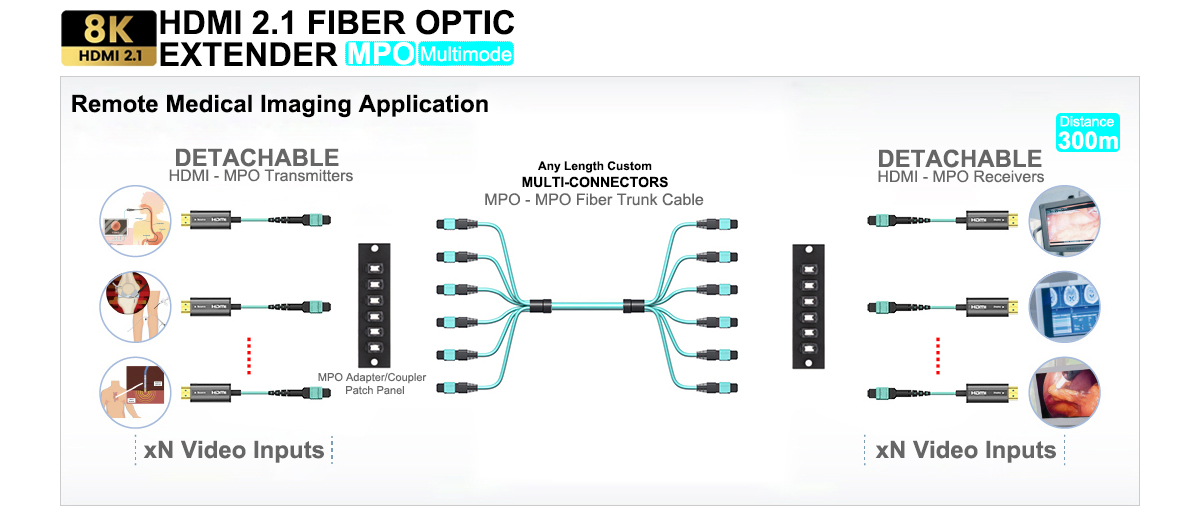 Home Theater Application Scenario

PRODUCTS SPECIFICATIONS
Genernal
Product Name: Pure Fiber Ultra High Speed 48Gbps 8K 60Hz HDMI 2.1 Optical Cable
Features: 8K@60Hz, 4K@120Hz, HDR , eARC, etc.
Chipset
Photoelectric Conversion Engine: 4 channel 850 nm VCSEL array+4 CH GaAs PD array
Core Components: Laser + VCSEL + PD + Lens + Jumper
Laser/Drive Chip: Texas Instruments(TI)/Texas Instruments(TI)
Service life: ≥ 60,000+ Hours
Wire
Structure: 6*Pure Optical Fiber Core (OM3)
Filling: Kevlar bulletproof yarn (aramid)
Jacket: PVC(UL)
Diameter: φ3.0mm
Housing
Material: Zinc Alloy
Diameter: 39*19.5*9mm
Processing Technology: Electroplate
Color: Gray
Funtion
Resolution: 8K@60Hz, 4K@120Hz,HDR
Bandwidth: 48Gbps(12 Gbps x 4Channel)
Chroma Subsampling: 4:4:4/4:2:2/4:2:0
Color Depth: 12bit
HDCP: HDCP2.3, HDCP2.2
eARC/ARC: Yes
Audio: Dolby® Atmos,DTS:X, LPCM 7.1 audio, Dolby® Digital Plus,Dolby®
TrueHD, and DTS-HD® Master Audio™
Other: Dynamic HDR/VRR/G-SYNC/FREESYNC/ALLM/QFT/CEC etc.
Parameters
Bit Error Rate: ≤0.0035dB/m
Operating Temperature: -20℃~+70℃
Working Humidity: <90%,No condensation
Power Supply: TX:0.5W RX:0.5W, 5VDC
Power Consumption: 250mw