8K Displayport 1.4 DP1.4/8K@60 4K@144 HDR over Pure Fiber MPO OM3 Fiber Optical Cable, cable length is up to 1000ft
NOTE: This item includes a pair of Displayport 1.4 (Source+Display)-MPO ends, 2x MPO adapters/couplers and you selected cable length of MPO-MPO fiber optic cable.
As technology innovation marches forward, new kinds of devices, media formats, and large inexpensive storage are converging. They require significantly more bandwidth to maintain the interactive experience users have coe to expect. In addition, user applications demand a higher performance connection between the PC and these increasingly sophisticated peripherals. Pure fiber 8K Displayport 1.4 optical cable addresses this need by adding an even higher transfer rates to match these new usages and devices.
Our Displayport DP 1.4 MPO Fiber optic cable provides the speed and bandwidth needed for the best video and/ or audio quality for high definition at lengths up to 1000ft (303 meters); supporting the long distances required in commercial video solutions. This Displayport cable is a 100% pure fiber OM3 fiber optical cable (real pure fiber, no copper inside) with high performance, low power consumption, No RFI / EMI profile for sensitive applications.
What is MPO Connector?
Multi-fiber push on connectors, or MPOs for short, are fiber connectors comprised of multiple optical fibers. While defined as an array connector having more than 2 fibers, MPO connectors are typically available with 8, 12 or 24 fibers for common data center and LAN applications. Other fiber counts are available such as 32, 48, 60 or even 72 fibers, but these are typically used for specialty super high-density multi-fiber arrays in large scale optical switches.
You may also see the term MTP Connector used interchangeably with MPO Connector. The term MTP is a registered trademark of the MPO connector offered by US Conec. The MTP connector is fully compliant with MPO standards and is described by US Conec as an MPO that has been engineered to very tight tolerances for improved performance. For the purposes of this discussion, we will refer to only MPO connectors since MTPs are considered to be MPO connectors.
Why choose MPO pure fiber optical cable solutions for your HDMI/DVI/Displayport/USB connections?
Compared with hybrid optical AOC cables, New pure fiber cables have significant advantages as below:
Support multiple MPO connectors in one fiber optic cable which can be connected with other HDMI/DVI/USB types
You can change and connect with HDMI, DP, USB, DVI. etc up to 20 different Pigtails anytime
No fixed direction they are bi-directional Pigtails are separate and you can change the "Source" and "Display" anytime
Easily upgrade to the next generation. If you need new Displayport version just change the Displayport fiber terminations without removing MPO-MPO fiber cable in wall side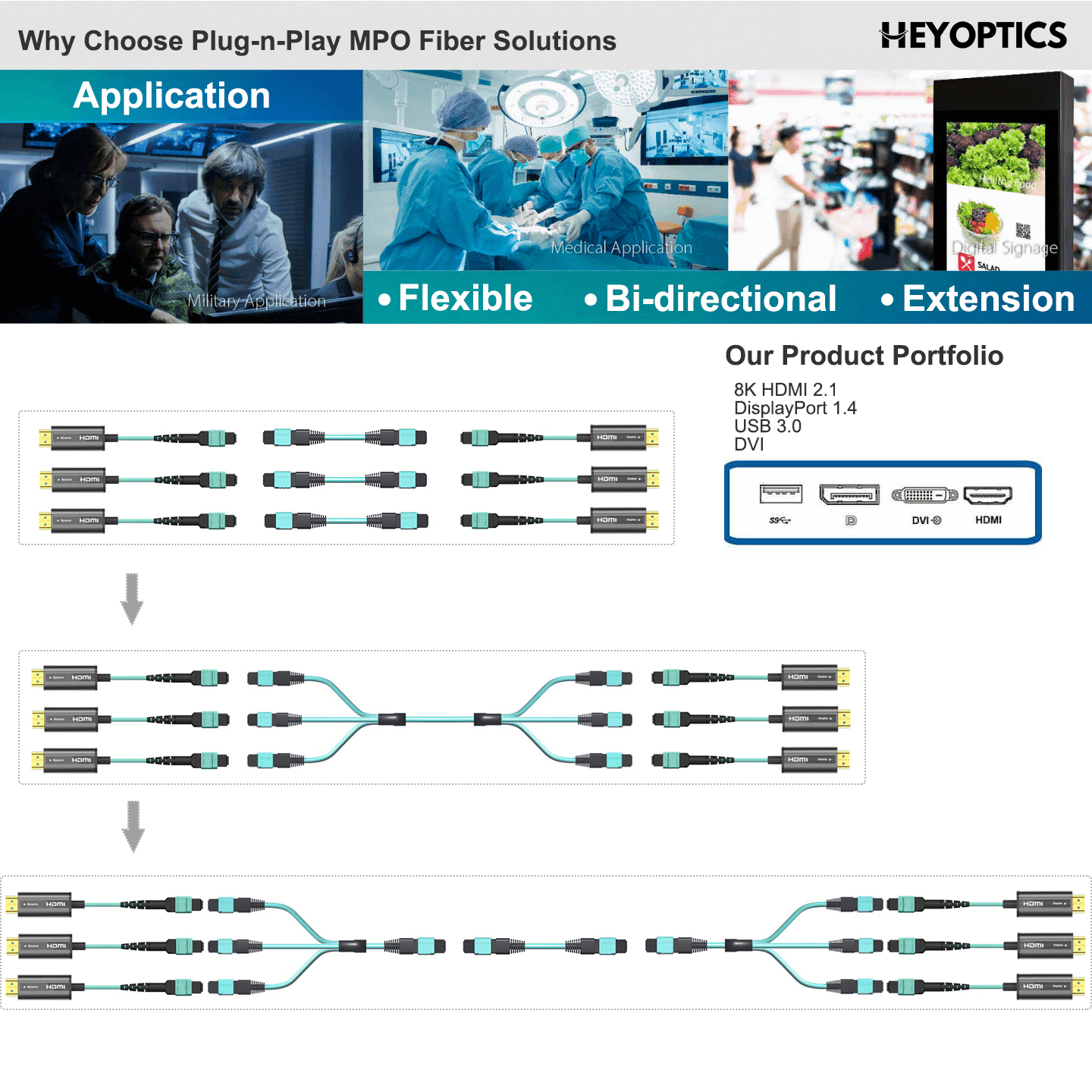 Features:
Support 8K@60Hz, Supports HBR3, HDCP 1.4 / 2.2; very good compatibility
Support DP1.4 standard, bandwidth can reach 8.1 Gbps per chanel, 32Gbps total
Support length up to 100m max, length custom is available
Pure Fiber, much more slim and light
OD 3.0 mm, very flexible
No RFI / EMI profile for sensitive applications
Request two side devices self-powered
Specifications:
Connector Type: DP Type A
Transmission Bandwidth: 32.4Gbps
Resolution: 720P, 1080i, 1080P 3D,4K @120Hz, 8K @60Hz 4:4:4
Wire Specifications: 6 Optical fibers 50/125 um OM3
LD/PIN: 850nm VCSEL/PIN
Power: DP1.4 +3.3V provide by device
Power Consumption: ≤1W
Transmission Length: Over 100m
Flame Retardance (A single vertical): Meet UL13 standards
Environmental Protection Requirements: Comply with RoHS directive
Stretch (Short-term) (N): 400
Stretch (Long-term) (N): 200
Squash (Short-term) (N/100mm): 600
Squash (Long-term) (N/100mm): 300
Minimum Bending Radius (dynamic) (mm): 20D
Minimum Bending Radius (static) (mm): 10D
Storage Temperature: -20 ~ 70°C
Operating Temperature: 0 ~ 70 °C
Applicatoins:
Digital Signage , Security systems ,Home Theater
Conference Room Video Equipment
LED signboards in streets and in stadiums ; TV Broadcast Station
Medical Imaging Equipment ,Airplane On-board Video System
Blue-ray, 3D video, Projector, Set-up box, DVR, Game Consoles and Computer