Armored 8K DisplayPort 1.4 DP1.4/8K@60 4K@144 HDR G-SYNC over Pure Fiber MPO OM3 Fiber Optical Cable up to 1000ft, with detachable connectors
This 8K Displayport 1.4 cable is a pure fiber DisplayPort 1.4 OM3 fiber optical cable (real pure fiber) with high performance, low power consumption. Using optical fiber to replace copper wire as the high-speed signal transmission medium, it can perfectly transmit 8K UHD image up to more than 100 meters. Compared with the traditional copper wire, this displayport cable is much longer, softer, lighter, with better signal quality and perfect EMI/EMC feature. Compared with other DisplayPort optical fiber transmission solution, the 8K Displayport cable is easy to use and has perfect compatibility.
Why use armored fiber cable?
Indoor armored fiber optic cable, which is made up of tight-buffered or loose-buffered fiber optic cables, strength members, and an inner jacket is typically used for indoor applications. A spirally coiled interlocking metal type of armor surrounds the inner jacket. Armored fiber optic cables are less susceptible to temperature and mechanical stress, and the majority of them are used in building wiring applications, such as in walls, between floors, and in plenum air handling ducts.
Why choose MPO pure fiber optical cable solutions for your HDMI/DVI/Displayport/USB connections?
Compared with hybrid optical AOC cables, New pure fiber cables have significant advantages as below:
Support multiple MPO connectors in one fiber optic cable which can be connected with other HDMI/DVI/USB types
You can change and connect with HDMI, DP, USB, DVI. etc up to 20 different Pigtails anytime
No fixed direction they are bi-directional Pigtails are separate and you can change the "Source" and "Display" anytime
Easily upgrade to the next generation. If you need new Displayport version just change the Displayport fiber terminations without removing MPO-MPO fiber cable in wall side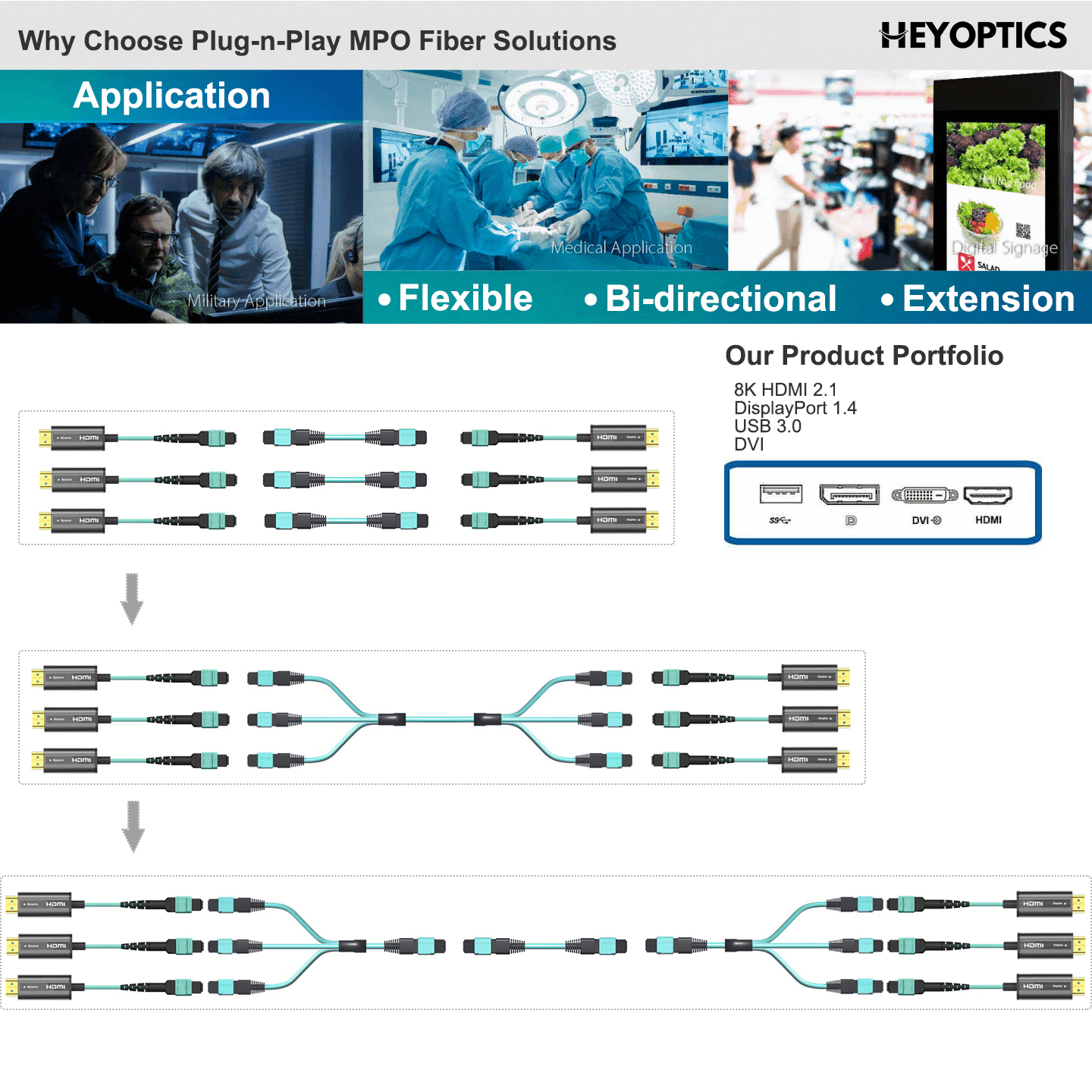 Features:
Support 8K@60Hz, Supports HBR3, HDCP 1.4 / 2.2; very good compatibility
Support DP1.4 standard, bandwidth can reach 8.1 Gbps per chanel, 32Gbps total
Support length up to 303m (1000ft) max, length custom is available
Pure Fiber, much more slim and light
OD 3.0 mm, very flexible
No RFI / EMI profile for sensitive applications
Specifications:
Connector Type: DP Type A
Transmission Bandwidth: 32.4Gbps
Resolution: 720P, 1080i, 1080P 3D,4K @120Hz, 8K @60Hz 4:4:4
Wire Specifications: 8 core Optical fibers 50/125 um OM3
LD/PIN: 850nm VCSEL/PIN
Power: DP1.4 +3.3V provide by device
Power Consumption: ≤1W
Transmission Length: Over 100m
Flame Retardance (A single vertical): Meet UL13 standards
Environmental Protection Requirements: Comply with RoHS directive
Stretch (Short-term) (N): 400
Stretch (Long-term) (N): 200
Squash (Short-term) (N/100mm): 600
Squash (Long-term) (N/100mm): 300
Minimum Bending Radius (dynamic) (mm): 20D
Minimum Bending Radius (static) (mm): 10D
Storage Temperature: -20 ~ 70°C
Operating Temperature: 0 ~ 70 °C
Applicatoins:
Digital Signage , Security systems ,Home Theater
Conference Room Video Equipment
LED signboards in streets and in stadiums ; TV Broadcast Station
Medical Imaging Equipment ,Airplane On-board Video System
Blue-ray, 3D video, Projector, Set-up box, DVR, Game Consoles and Computer