Armored Fiber Optical Cable 8K HDMI 2.1 48Gbps Source & Display with MPO ends
NOTE: This item includes a pair of HDMI (TX+RX)-MPO ends, 2x MPO adapters/couplers and you selected cable length of MPO-MPO fiber optic cable.
The detachable HDMI (TX+RX ) to MPO ends/fiber optic terminations can be replaced at any time without replacing the entire cable. You can change and connect with DisplayPort, USB, DVI or other type connectors anytime. And you can pre-wire the MPO fiber optic cables in wall without directional concern as you can change the "Source" and "Display" anytime, which makes the solution ideal for Home, Residential or Commercial integration.
Why choose pure fiber optical MPO cable?
Our 8K HDMI 2.1 fiber cable provides the highest speed and bandwidth needed for the best video and/ or audio quality for high definition at lengths up to 303 meters (1000ft), which supporting the long distances required in commercial video solutions.
Compared with the hybrid active optical cables having uni-direction from source to display, which always cause troublesome, time cost, labor cost when field pre-wiring starting over. Our HDMI 2.1 MPO Fiber optic cable can be installed from any location from a source to display without the burden of ensuring the cable is in the correct direction. And the MPO Fiber Optic cables are ultra-slim, lightweight and durable, which provides for a higher performance connection than copper cables. There is no loss of signal over long distance and no EMI interference.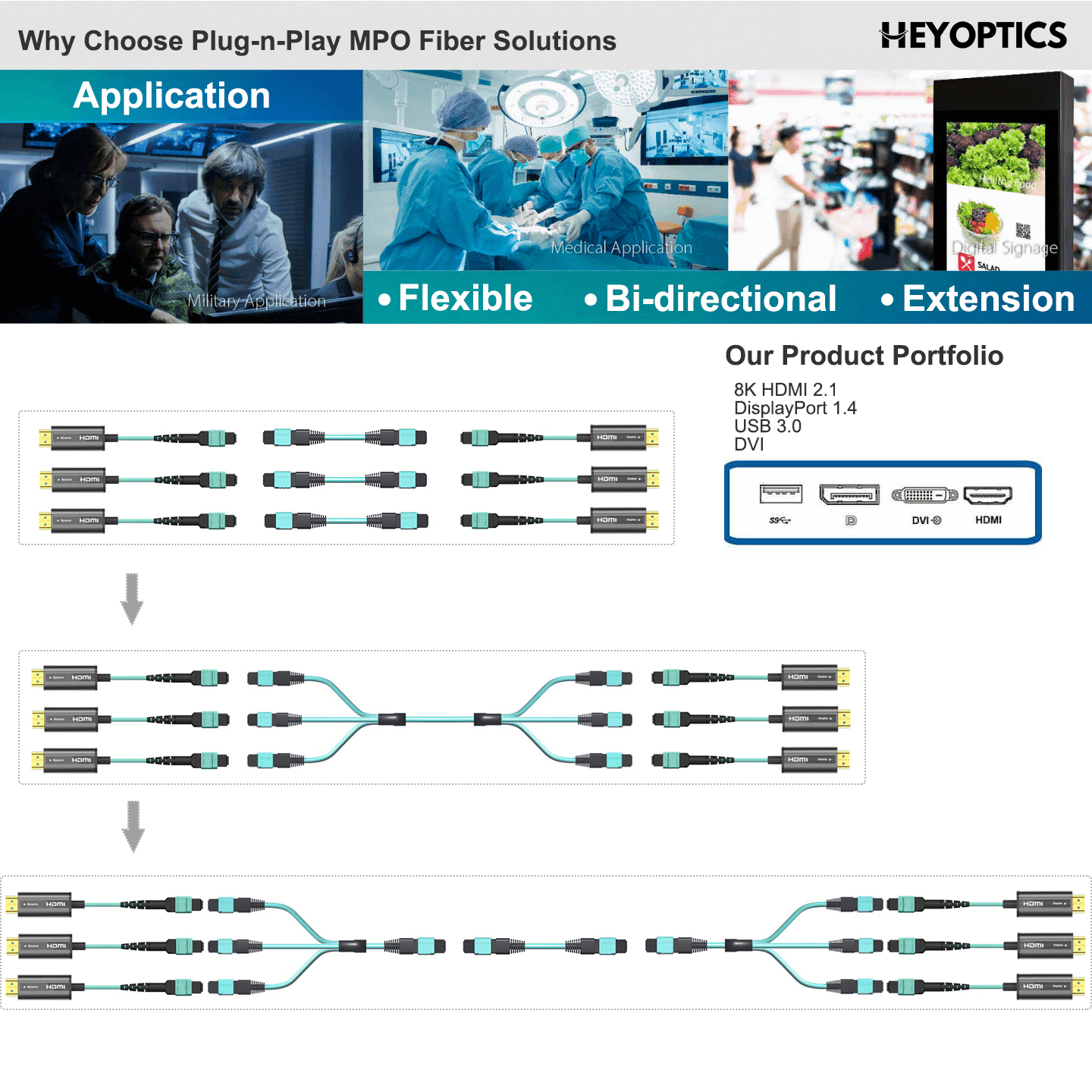 Why use armored fiber cable?
Indoor armored fiber optic cable, which is made up of tight-buffered or loose-buffered fiber optic cables, strength members, and an inner jacket is typically used for indoor applications. A spirally coiled interlocking metal type of armor surrounds the inner jacket. Armored fiber optic cables are less susceptible to temperature and mechanical stress, and the majority of them are used in building wiring applications, such as in walls, between floors, and in plenum air handling ducts.
Remote Medical Imgaing Application Scenario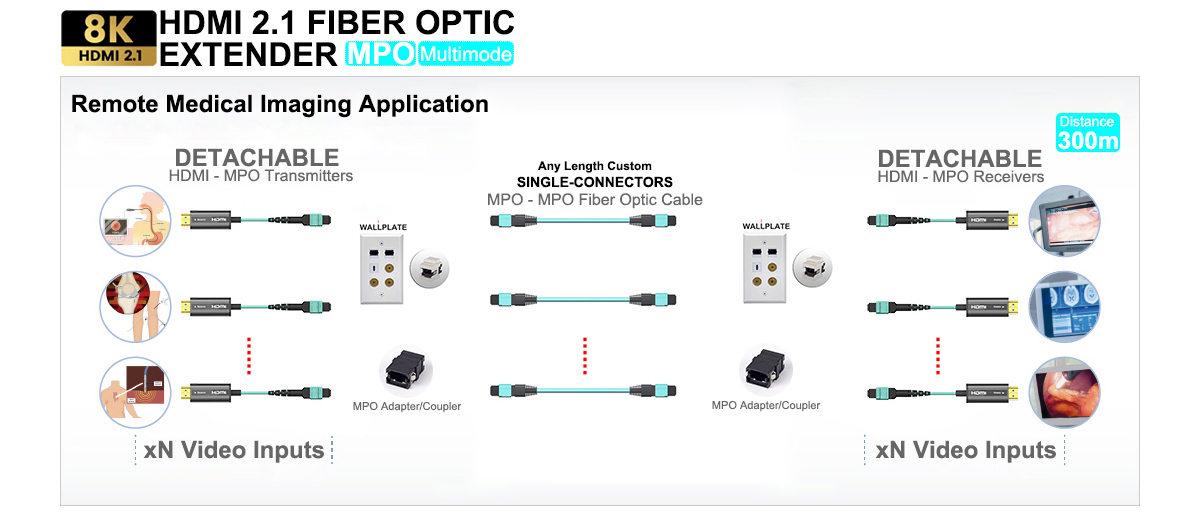 Home Theater Application Scenario

PRODUCTS SPECIFICATIONS
Genernal
Product Name: Pure Fiber Ultra High Speed 48Gbps 8K60 HDMI 2.1 Armored Fiber Optical Cable
Features: 8K@60Hz, 4K@120Hz, HDR , eARC, etc.
Connector
Interface Type: HDMI Type A Male to Male
Interface Version: HDMI2.1
Interface Material: 24K Gold-plated Copper
Chipset
Photoelectric Conversion Engine: 4 channel 850 nm VCSEL array+4 CH GaAs PD array
Core Components: Laser + VCSEL + PD + Lens + Jumper
Laser/Drive Chip: Texas Instruments(TI)/Texas Instruments(TI)
Service life: ≥ 60,000+ Hours
Wire
Structure: 6*Pure Optical Fiber Core (OM3)
Filling: Kevlar bulletproof yarn (aramid)
Jacket: PVC(UL)
Diameter: φ3.0mm
Housing
Material: Zinc Alloy
Diameter: 39*19.5*9mm
Processing Technology: Electroplate
Color: Gray
Funtion
Resolution: 8K@60Hz, 4K@120Hz,HDR
Bandwidth: 48Gbps(12 Gbps x 4Channel)
Chroma Subsampling: 4:4:4/4:2:2/4:2:0
Color Depth: 12bit
HDCP: HDCP2.3, HDCP2.2
eARC/ARC: Yes
Audio: Dolby® Atmos,DTS:X, LPCM 7.1 audio, Dolby® Digital Plus,Dolby®
TrueHD, and DTS-HD® Master Audio™
Other: Dynamic HDR/VRR/G-SYNC/FREESYNC/ALLM/QFT/CEC etc.
Parameters
Bit Error Rate: ≤0.0035dB/m
Operating Temperature: -20℃~+70℃
Stored Temperature: -20℃~+60℃
Working Humidity: <90%,No condensation
Power Supply: TX:0.5W RX:0.5W, 5VDC
Power Consumption: 250mw