Why use Detachable MPO/MTP connectors for Pure Fiber OM3 DVI cable
What is DVI?
Digital Visual Interface (DVI) is a video display interface developed by the Digital Display Working Group (DDWG). DVI stands for Digital Visual Interface and offers a distinctly sharper, better picture than VGA. It's a unique connector because it can carry both digital and analog signals. DVI can also easily convert to other standards like HDMI and VGA. DVI is one of the most common digital video cables you'll see on desktops and LCD monitors today. It's the most similar to VGA connectors, with up to 24 pins and support for analog as well as digital video.
What is OM3 fiber cable?
OM3 Multi-mode Fiber Cables is typically cost effective for pre-installations and long distance connections in buildings or corporate campuses while single-mode is better suited for longer distance runs. Single-mode fiber can transmit over greater distances but typically requires more expensive equipment. Multi-mode is cost effective for installations where the lengths don't exceed a few hundred meters.
What is MPO/MTP connector?
Multi-fiber push on connectors, or MPOs for short, are fiber connectors comprised of multiple optical fibers. While defined as an array connector having more than 2 fibers, MPO Connectors are typically available with 8, 12 or 24 fibers for common data center and LAN applications. Other fiber counts are available such as 32, 48, 60 or even 72 fibers, but these are typically used for specialty super high-density multi-fiber arrays in large scale optical switches.
You may also see the term MTP Connector used interchangeably with MPO Connector. The term MTP is a registered trademark of the MPO connector offered by US Conec. The MTP connector is fully compliant with MPO standards and is described by US Conec as an MPO that has been engineered to very tight tolerances for improved performance. For the purposes of this discussion, we will refer to only MPO connectors since MTPs are considered to be MPO connectors.
Why use Detachable MPO/MTP connectors for Pure Fiber OM3 DVI cable?
Pure Fiber Optical DVI cables take advantage of the great features of DVI Active optical cable and enhances its capabilities with the benefits of fiber optics. DVI pure fiber cable fully takes advantage of much longer, softer and more slim with better signal quality and perfect EMI / EMC features.
The fiber optical cable is suitable for high-speed, high-quality, long-distance and sensitive applications or systems such as hospital equipment and wireless device. Fiber DVI cables can easily span distances as great as 303 meters without loss of signal or degradation.
Potential applications for a DVI fiber optical cable include digital signage, surveillance, home theatre, conference room, control centers, auditorium, medical imaging, and stadiums.
Compared with hybrid optical AOC Digital Visual Interface (DVI) cables, New pure fiber Digital Visual Interface (DVI) cables have significant advantages as below:
One multi-fiber OM3 fiber cable with MPO connectors for many different Pigtails MPO cable and pigtails are separate.
You can change and connect with HDMI, DP, USB, DVI. etc up to 20 different Pigtails anytime.
Pigtails are separate and you can change the "Source" and "Display" anytime.
Easily upgrade to the next generation. If you need USB4 just change the Pigtail
Extra long length up to 1000ft using OM3 fiber.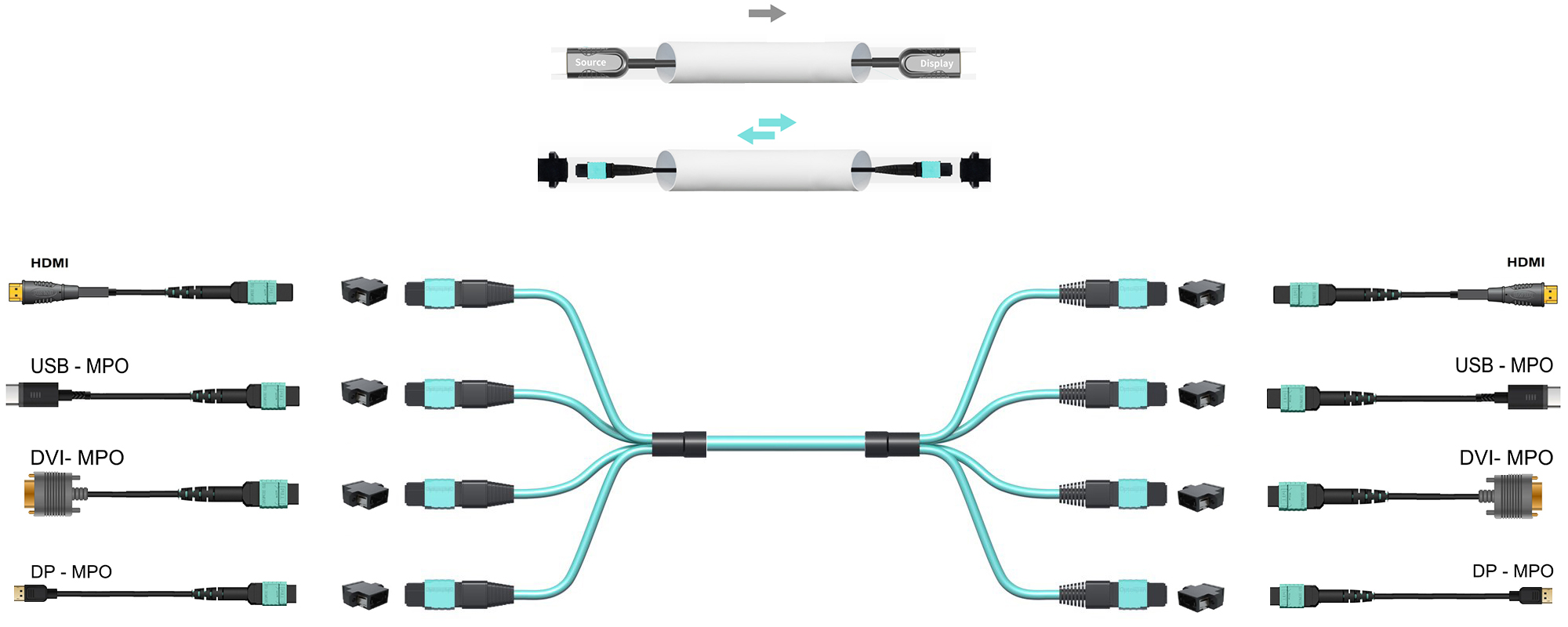 The Better Choice for You:
4K/8K HDMI or Displayport 1.4 Active Optical Cables over Pure Fiber MPO cables up to 1000ft
NOTE: UP TO 20 DIFFERENT PIGTAILS AVAILABLE. SO YOU CAN CHANGE HDMI,DP,USB,DVI.etc AS REQUIRED