How to Extend HDMI With Fiber Optic Cable for Remote Medical Imaging
How to Extend HDMI With Fiber Optic Cable for Remote Medical Imaging
In this article:
What Is an HDMI Over Fiber Extender
Learn About Remote Medical Imaging
Why Choose HDMI 2.1 over fiber extender for Remote Medical Imgaing
Remote Medical Imgaing Application Scenario
Products in the Remote Medical Imaging case
A standard HDMI cable isn't good enough for some setups if you need to connect a device farther away, like in another room or across the house. Standard HDMI cables have a limited reach, which means you'll have to extend the connection somehow. Thankfully, there are multiple ways to extend HDMI connections, with HDMI over fiber optic extenders being a great solution if you want to connect it from a farther distance up to 1000ft.
This article will discuss HDMI over telecom-grade MPO fiber optical extenders and the limitations of standard HDMI cables. After reading this article, you won't be limited by the distance of where you want to connect your devices to a display.
What Is an HDMI Over Fiber Extender
An HDMI over fiber extender is similar to the HDMI over Ethernet extender but instead uses a MPO fiber optic cable. Based on professional industry-standard MPO fiber connectors, HDMI over fiber is best for in-wall installations or for extending the connection a lot farther than the other solutions can go.
For example, if you wanted to extend from the top floor of a building or to another house, you could run the cable through the walls or underground. HDMI over fiber can still be used for shorter extensions if you wanted also. For shorter extensions, HDMI over fiber can be used as a solution also even though it's made for longer extensions.
MPO-MPO Fiber optic cable is made of glass, which eliminates extra electrical interference. Electricity from lightning, power surges, and static electricity cannot transmit across a fiber optic line. If you are using this for outdoor use, be sure to use an optical fiber cable rated for using outdoors.
Learn About Remote Medical Imaging
Various imaging systems are used in medical applications, such as CT, MRI, endoscope, etc. The signal sources include different connectors, resolutions, video standards, control signals, etc. In clinical environment, using these devices to transmit documents, images, videos and other data, and even using high-definition images for remote diagnosis, not only needs equipment support, but also needs the cables to maintain sufficient reliability and stability for signal transmission. Having clear and correct images means being able to diagnose diseases early, improve treatment and save lives.
With people's increasing concern over health, the issues about solving the problem of "man-machine"separation, reducing the radiation effect on doctors and patients caused by MR/CT and protecting people's health start to become the focus of the medical industry.
HDMI, DisplayPort (DP), DVI, USB 100% pure fiber optical cables launched by HeyOptics use optical fibers for signal transmission, which naturally shield electromagnetic interference generated by various electromagnetic devices to ensure stable signal transmission.The cables are very suitable for this application scenario.
Why Choose HDMI 2.1 over fiber extender for Remote Medical Imgaing
Compared with traditional solutions, our HDMI 2.1, DP 1.4, DVI and USB 3.0 over MPO fiber cable wiring has the following advantages:
Optical fiber transmission, naturally anti-interference, ensure effective data transmission in strong electromagnetic environment
Centralized hosts placements, easy to manage, extend the service life of the host
Effective prevention of thievery and damage
Support high-definition image transmission, support up to 8K ultra-clear display
Long distance transmission allows operators to realize remote control and avoid the impact of radiation at close range
Remote Medical Imgaing Application Scenario
These ture pure fiber HDMI/DVI/USB/DP cables offer longest distance connections up to 1000ft (303 meters) with low latency (10ns + 5ns/m). And detachable 8K HDMI 2.1 / USB 3.0 / DP 1.4 fiber terminals can be replaced without removing In-wall MPO fiber optic cable. There are various type of MPO fiber cables such as single-connector 1x MPO fiber cable, multi-connectors 4xMPO, 6xMPO or 8xMPO fiber trunk cables to fit differenct projects.
Single-MPO-connector Application Scenario

Multi-MPO-connector Application Scenario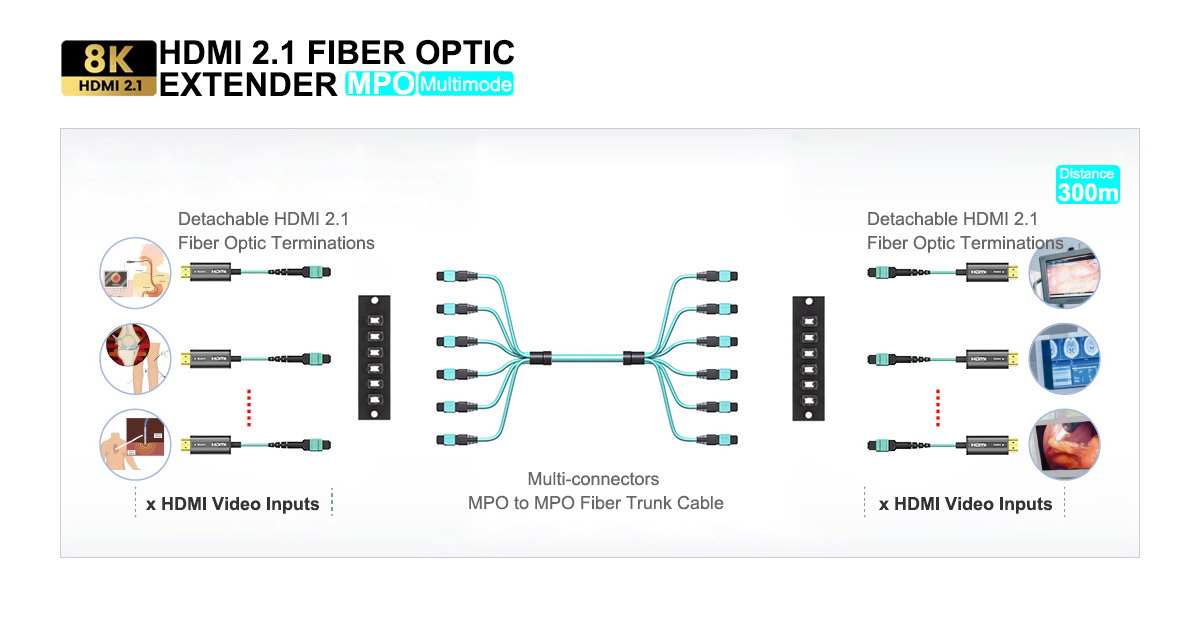 Products in the Remote Medical Imaging case
The products mentioned in the above case are all provided by HeyOptics. Here offer the details for your reference. In HeyOptics, you can offer your requirement to the tech support team and get suitable and reliable performance solutions for your projects.