Why Do you Need a Fiber Breakout Cable?
As data centers increasingly upgrade to higher speeds, they need greater flexibility to allow for incremental network upgrades as well as strategies to avoid system failures.
A fiber breakout cable is one engineering option that mitigates risk, lowers operating costs, provides greater flexibility to upgrade, and increases data center efficiency.
What is a fiber breakout cable?
fiber breakout cable also called fanout cable, is an optical fiber cable containing several jacketed simplex optical fibers packaged together inside an outer jacket. They can be easily divided into individual fiber lines as each fiber is individually reinforced. This differs from distribution style cable, in which tight-buffered fibers are bundled together, with only the outer jacket of the cable protecting them. The design of breakout-style cable adds strength for ruggedized drops, however, the cable is larger and more expensive than distribution-style cable. Breakout cable is suitable for short riser and plenum applications and also for use in conduits, where a very simple cable run is planned to avoid the use of any splice box or spliced fiber pigtails.
A breakout fiber optic cable offers a rugged cable design for shorter network designs. This may include LANs, data communications, video systems, and process control environments.
Advantages
Fiber breakout cable facilitates:
connection from higher-speed to lower-speed in a more efficient way.
redundancy or back-up. You're able to connect to other equipment so that if a port, path, or switch goes down, your entire system doesn't go down with it.
Typical Applications
For example, when you breakout a 400G to a 100G using a
DAC, an AOC, or fiber cable
, if you tried to connect without a fiber breakout cable, after hooking up your100Gs to a 400G component, your 400G will only run on 100G and won't be operating at its full capability. Using a fiber breakout cable, you can run it four times faster. You're using the full capability of that switch.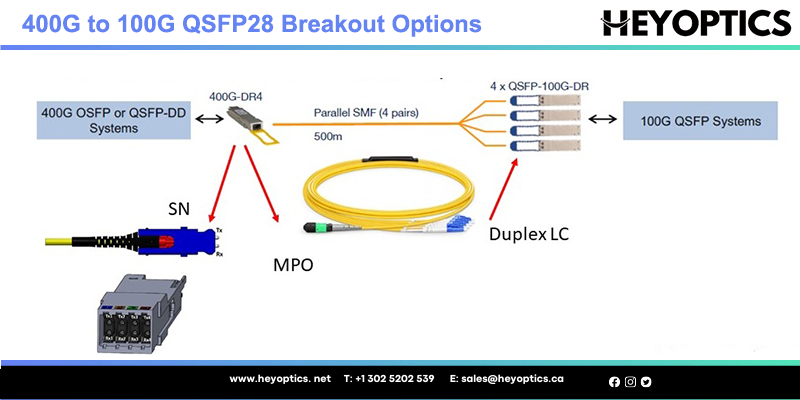 It's suitable for disaster recovery. If your network was designed with redundancy or back-up, it's probably because you're concerned about failures. As a safeguard, you'd build redundancy paths for parts of the system so that if something goes down on the network, you're able to use those paths and still have some connectivity. Or when some part of the system goes down, you could have them rerouted by your software. Overall, the system might have less throughput but more uptime. Uptime is important to many users.
Fiber breakout also uses ports with greater efficiency. You can decide how to run your data, and across what channels, so you're using your ports with the most efficiency.
Fiber breakout cable is extremely strong and rugged.
Disadvantages
One disadvantage is that if your communication or data is not going through and the breakout is your failure point, you'll have communication failures in all four channels, so you have to replace your entire breakout. That's a worst-case scenario. But even if only one path is the problem and the others are working properly, you can't change just one. You'd have to schedule a time to do maintenance and you might end up having to replace the entire breakout cable. If not, you'd have downtime on your cables 1 through 3.
Why do you need fiber breakout cables?
Redundancy and to best utilize your current hardware. It's also a great option if you're planning to upgrade your architecture: you can best utilize your current hardware while you're upgrading your hardware. If you have some older switches that only support slower data rates, you don't have to upgrade everything all at once. For example, if you have 100G components and you're just starting to use 400G, you can extend the life of the 100G and upgrade in increments. In short, using a fiber breakout cable saves you money and operating costs.
Conclusion
Because fiber breakout cable is found in many building environments where codes may require plenum cables, most breakout cables meet the NEC's requirements. The cable is available in a variety of designs that will accommodate the topology requirements found in rugged environments.
If you have multiple breakouts you want to directly manage, it might make more sense to use panel distribution. Then you won't have to worry about having a lot of breakout cables you have to manage.
For short distances, using a fiber breakout cable is a better choice. You won't need to set up an entire infrastructure as you would for panel distribution. Setting up a panel distribution is very involved and is only needed for larger distribution, for linking multiple connection points at greater distances.