Understanding 200G and 400G Ethernet in the Data Center
With the rise of high data rate applications such as 5G and cloud computing, 200G and 400G Ethernet are gaining more and more attention in data centers. Data centers also find themselves at a fork in the road with infrastructure plans. Are they going straight to 400G or are they going to take a two-step approach to scalable 200G first?
In most cases, 400G Ethernet is more competitive than 200G Ethernet in data center applications.
There are two common upgrade paths, which one is better for the data center? Read on to discover what's best for your network.
Widespread use of 100G servers drives more 400G Ethernet applications
The network switch speed is always driven by the server uplink speed. Regardless of the past or present, switches and servers are often connected in a one-to-four structure to increase the port density of the switches. And this structure is also likely to be adopted in the future. So, how to choose 200G Ethernet and 400G Ethernet mainly depends on the server we use.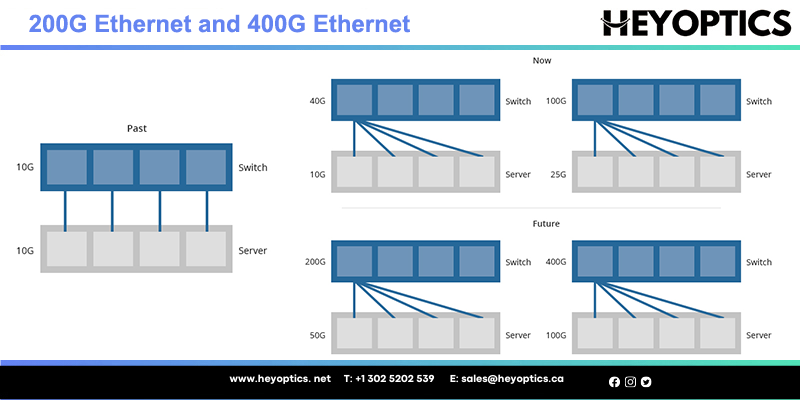 Since 2020, 100G servers have gained momentum over 50G servers. This means that most network operators will probably use 100G server connections instead of 50G. And according to the 2020-2023 trend, 100G servers will become mainstream. In other words, you can skip 200G, choose 400G directly, and deploy 100G servers.
Optical Transceiver Market Drives 400G Ethernet
There are two main factors that push 400G Ethernet more popular than 200G Ethernet in the optical transceiver market. One is the module supply, another is the cost.
400G Optical Transceivers Gain More Market Supplies and Acceptance
Normally, the early adoption of 400G is to support the rise of 200G long-haul for aggressive DCI network builds. It makes 400G possible in metro networks and supports 3x the distance for 200G wavelengths. WIth further development, 400G transceivers are more favorable among manufacturers. Many suppliers pay more attention to 400G Ethernet rather than 200G. For example, Senko's new CS connector is specifically designed for 400G data center optimization. Actually, all things have reasons. Even if the total cost of 200G transceiver and 400G transceiver is the same, the cost and power consumption per bit of 400G transceiver is half of the 200G's because of the doubled bandwidth of 400G. More importantly, the total revenue data among 100G, 200G and 400G shows that 400G is far beyond 200G in the whole market.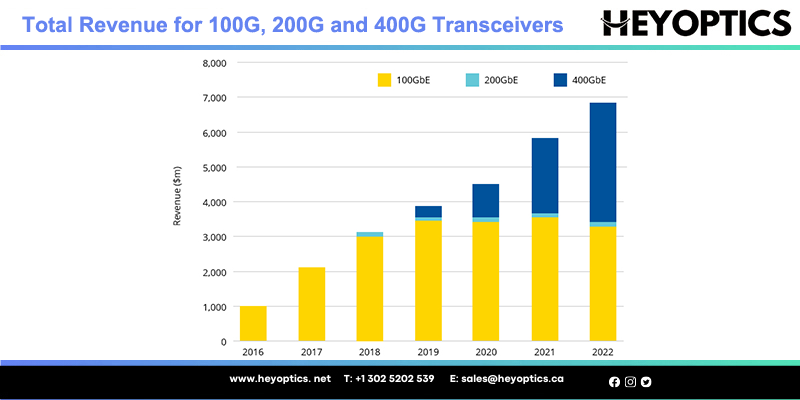 400G optical modules support more applications at lower cost
Compared with 200G transceivers, 400G transceivers can support more applications, including DCI and 200G applications. They can double the traffic carrying capacity between applications compared to 100G/200G solutions. With a 400G solution, fewer transponders will be required, reducing shipping and operating costs. This will make the 400G market more active in return.
400G Ethernet is more suitable for future network upgrades
200G optical modules will include two main form factors, namely QSFP-DD and CFP2. 400G optical modules mainly include QSFP-DD and OSFP packages. Since OSFP is expected to provide better paths for 800G and higher transmission rates, 400G transceivers are more suitable and convenient for future network migrations.
Conclusion
From the above current analysis and evidence, 400G Ethernet is more competitive than 200G Ethernet in Ethernet standardization, 100G server connection, optical module market and future network upgrades. No need to hesitate between 200G Ethernet and 400G Ethernet. Choosing 400G Ethernet and products is a wise decision, not only for the present, but also for the long-term future.