10GbE SFP Switch vs 10GBASE-T Switch: Which is Better?
As we all know, 10G Ethernet is the current trend in data centers. 10GbE switches play a vital role in 10G Ethernet network solutions. In general, there are two 10GbE switch solutions for 10GbE links: 10GBASE-T switches and 10GB SFP+ switches. How to choose the most suitable and best 10G connection solution? This article will discuss 10GbE SFP switches and 10GBASE-T switch networking solutions separately.
10GbE SFP Switch Solution
With the performance of superior throughput and latency,
10GbE SFP Ethernet switch
is a cost-effective solution compared to Gigabit network switch. By reason of the attractive improvement in bandwidth, port density and reduced power consumption, the 10GbE SFP switch has become the choice for latency sensitive application. During different switches of various port configurations, a 48 port 10GbE SFP switch is the most future-proofing one with abundant applications in business oriented network that can lower the overall infrastructure costs in the aspect of cables and switch ports.
With a 10Gb switch, network congestion at busy times can be avoided, shortening the response time and improving productivity, which has overcome some difficulties of 1Gb switches.
10GBASE-T Switch Solution
10 Gigabit Ethernet switch over copper cable addresses bottleneck problem and creates great ROI and performance since it is fully backwards compatible with 100/1000BASE-T and works with existing structured cabling systems, providing IT technicians the most flexibility in server placement.
With 10GBASE-T support, 10GBASE-T switch enables a standard RJ45 Ethernet jack, which allows connections with existing Ethernet cables. And as 10GBASE-T is backward compatible with 1000BASE-T, the 10GBASE-T switch will be able to auto-negotiate/select and communicate effectively with legacy Gbit/s and 100Mbit/s server connections that are cabled with Cat6 or Cat6a. The existing copper Ethernet cables can be used to deliver network performance increase to 10GbE while minimizing network changes (Cat6 up to 45 meters, Cat6a up to 100 meters).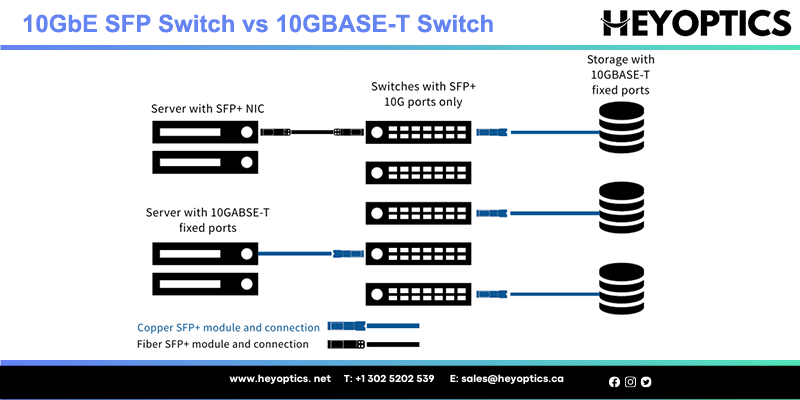 10GbE SFP Switch vs 10GBASE-T Switch: Which Is the Best 10G Network Solution?
As the basis of upgrading network, 10G network has been omnipresent in data center, enterprise network and even home networking. As for two different 10G network solutions: 10GbE SFP switch vs 10GBASE-T switch, which one would be better?
Price
The cost reduction of 10GBASE-T technology in the past years has made the usage of SFP+ become an additional expense of adapters for the servers. By contrast, the cost of 10GBASE-T ToR switch is 20% to 40% less than that of SFP+ ToR switch. So 10GBASE-T is much cheaper and provides the most economical solution than SFP+ solution.
Backwards Compatibility
10GBASE-T owns the advantage of being an interoperable and standards-based technology that uses the familiar RJ45 connector. It provides backwards compatibility with legacy networks. While SFP switch is limited with little or no backwards compatibility.
Power Consumption and Latency
The power consumption of 10GBASE-T switch is 1.5 to 4 Watts per port depending on the distance, while SFP switch uses less power consumption which is typically less than 1 Watts per port. What is more, SFP switch offers better latency with about 0.3 microseconds per link. 10GBASE-T latency is about 2.6 microseconds per link due to more complex encoding schemes within the equipment. With lower power consumption and latency, 10GbE SFP switch is fitted well for large high-speed super-computing applications where latency is a critical factor and high port counts can benefit significant power savings.
Conclusion
When you have to choose between 10GbE SFP switch vs 10GBASE-T switch for the best 10G network solution, the decision should be based on your real need. In general, for equipment that power consumption and lower latency are crucial, a 10Gb SFP switch might be more suitable. However, if cost, flexibility and compatibility are more vital, you may consider a 10GBASE-T switch. Both of them should find an appropriate place in the future of network design and practice.