What is a DAC cable and why should I choose it?
DAC cable is an ideal high-speed solution for data center interconnections. Driven by the need for higher-speed fiber optic cables, network cabling has changed dramatically over the years. DAC cables are becoming more and more popular, not only within data centers, but within the wider industry.
SFP cables provide a very cost-effective, efficient and simple way to connect. It is a form of high-speed cable with pluggable connectors on both ends. This direct connection cable can be divided into
DAC and AOC cables
. To learn more about their benefits, let's discuss in more detail what Direct Attach Copper (DAC) cables are and how they are used.
What is a Direct Attach Copper Cable?
DAC cables are made from twinax copper and are factory terminated with modules that provide an electrical connection directly into active equipment. The modules cannot be removed from the cable and so all DAC cables are a fixed length. This is one of the drawbacks of using DAC cables compared to using a combination of fibre cables and optical transceivers.
There are different types of high speed DAC cables; direct and breakout, passive and active. A direct connect DAC cable will connect one port/line card to another. A breakout DAC cable will allow one port to be connected to up to 4 other ports. An active DAC cable will offer slightly longer transmission distance than a passive DAC cable as it uses electronics within the modules at each end to boost the signals.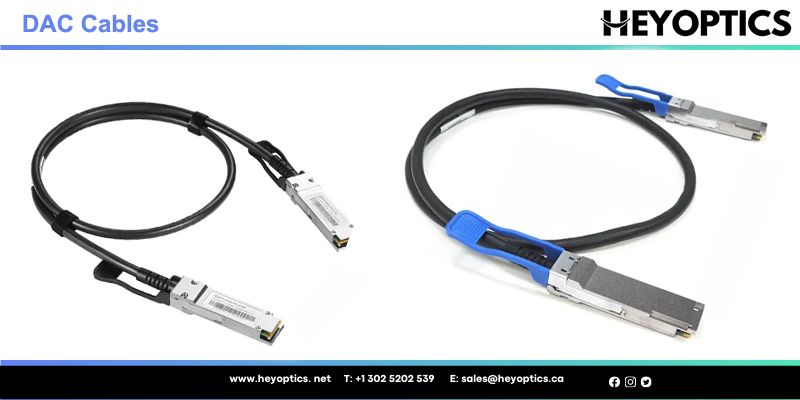 How to use DAC?
As mentioned above, DAC cables are used to connect ports directly between active devices; switches, routers, servers, and storage. Their main limitation is transmission distance. Their main benefit is cost, although there are other benefits.
Transmission Distance
They can only be used when the physical distance between these ports is small - less than 15m. However, the maximum distance a signal can travel over the DAC cable depends on the data rate. As data rates get higher and higher, from 10G to 40G to 100G, the distances are getting smaller. A 100G DAC can only transmit up to 5m.
These distance limitations mean that the most common use for a DAC cable is to connect devices that are located within the same data rack, for example, connecting a server to a top-of-rack switch.
Cost
Using a DAC cable is always more cost effective than using two optical transceivers and one fiber optic cable. Again, cost savings will depend on the data rate transferred, but it's not uncommon for them to be 2 or 3 times cheaper. Deploying a large number of DAC cables can save a lot of money when the distance allows it to be used.
Reliability
DAC cables are very reliable. Modules that plug directly into device ports make physical electrical contact, ensuring a secure connection. The cables are made from 26 to 28 AWG duplex copper, so they are physically strong and less likely to be damaged by handling. Both of these factors mean that connections can be established quickly, reliably and economically in a variety of applications.
Most Common DAC Cables
Making 10G Ethernet Connections
Why Choose DAC Cables Over Optical Transceivers?
When considering whether to use DAC cables or optical transceivers, one may be confused. Nowadays, DAC cable is very popular with the following advantages:
Less Power Consumption – Compared to optical transceiver modules, DAC cables, especially passive copper cables consume less power.
Lower Price – DAC cables are less costly for they do not need patch panels or additional cables when connected to devices as optical transceiver modules.
Simpler Deployment – DAC cable has only one component to be interconnected. However, the optical transceiver has to be connected with more devices, which must be matched with each other. Besides, it is convenient for installers to conserve DAC cables, they don't need to clean and inspect optical fiber before plugging cables.
Conclusion
Even though we're doing a lot of fiber series, the DAC is still very useful. They help reduce costs so much that they are essential data center equipment.
Every switch, router, server manufacturer offers a range of DAC cables to connect their devices. However, it is often easier, faster and cheaper to source DAC cables from other sources.