Managed vs Unmanaged Switch: Which to Choose?
Switches are devices used in connecting multiple devices together on a Local Area Network (LAN). In terms of networking, the switch would serve as a controller, which allows the various devices to share information. Ethernet switches can be used in the home, a small office or at a location where multiple machines need to be hooked up. There are two basic kinds of switches: managed switches and unmanaged switches.
Managed switches have more capability than unmanaged switches, but they also require a skilled administrator or engineer to make the most of them. A managed switch enables better control of networks and the data frames moving through them. Unmanaged switches, on the other hand, enable connected devices to communicate with one another in their most basic form.
What Is Managed Switch?
Managed network switches are sometimes called configurable switches for they are highly configurable for local and remote use (which means it's convenient to outsource your network management). The most notable feature of a managed switch is that its configurations may be customized to meet your individual network management requirements. Besides that, it has key features like RSTP (Rapid Spanning Tree Protocol), CLI (Command Line Interface), etc.
They provide a level of security that unmanaged switches cannot for you can get to choose the ideal operation of each port. can immediately shut down detected threats, restrict unwanted access, and encrypt communication since they can monitor and manage network events.
Feature
Redundancy protects a network if a link or cable breaks by providing an alternate data path for traffic. To keep integrated systems operational, standard protocols prevent loops and enable redundant links as a backup. This can ultimately save money on downtime, which any user will appreciate.
VLANs (Virtual Local Area Network)
One of the most significant advantages of a managed network switch is its ability to segment a local network using VLAN. Thus, it not only populates MAC-tables but also adds information about a received frame's association with a certain network segment. As a result, we may minimize excessive broadcast traffic, configure device accessibility for a specific subnetwork, and improve security.
QoS (Quality of Services)
This function prioritizes bandwidth for data subsets, allowing greater bandwidth to be allocated across the network to guarantee IP data flows smoothly and sensor data is obtained without interruption while using minimal bandwidth.
SNMP (Simple Network Management Protocol)
SNMP is a protocol that allows network devices to gather, organize, and alter management information. So, without having to physically inspect the switches and devices, IT managers may read the SNMP data and monitor the network's performance from a remote place, as well as discover and repair network problems from a central location.
SFP (Small Form-factor Pluggable)
The advantage of having multi-rate SFP slots is the network's flexibility, which allows the user to employ 100Mbps and 1Gbps SFP Modules for either multi-mode or single-mode fiber-optic (or copper) as needed. If your needs change, the SFP module may be readily replaced, allowing you to protect your switch investment.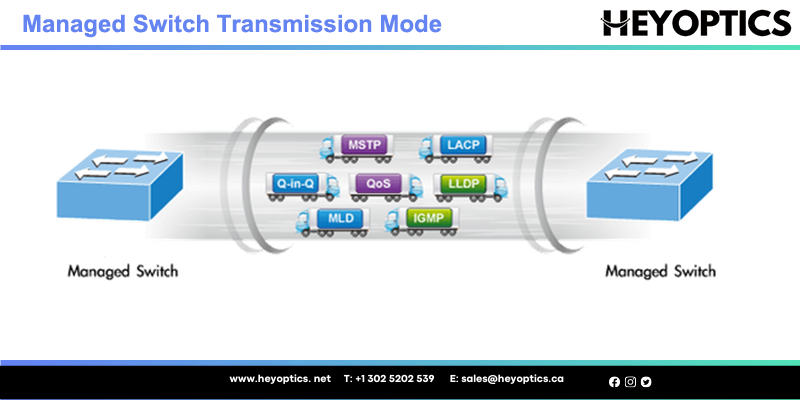 What Is Unmanaged Switch?
Unmanaged switches simply allow Ethernet devices to communicate with one another by providing a connection to the network. Unmanaged switches are truly plug-and-play devices, meaning you simply have to plug them in for them to work. But they don't have any manageable features.
Feature
Plug and play (zero-touch) with few configuration options i.e. default QoS
Limited on LED only visualization
Managed vs. Unmanaged Switch: What's the Difference?
Managed switches and unmanaged switches differ in three areas: capabilities, security, and cost.
Capabilities: Unmanaged switches immediately start forwarding traffic once users have plugged them in. They have no features besides what they need to negotiate transfer speeds and to determine each link's duplexing type. Managed switches can offer a huge number of features that can be configured by IT professionals, thus permitting a diverse array of deployment possibilities. These capabilities allow for optimization of network performance and availability.
Security: Network security includes protection from and detection of threats to data and operability. Managed switches provide security settings that can be configured to protect the network and to help identify threats. Unmanaged switches do not offer security capabilities.
Cost: For some users, cost is a significant choice driver. Unmanaged switches are cheap, as well as very simple to run. Managed switches, with all their additional capabilities, cost more than unmanaged switches. They also require more expertise to provision and manage, meaning added costs for staff with the skills to maintain the network
How to choose between a managed and unmanaged network switch
In many cases, network managers have to choose the most suitable network switches to ensure the whole network system goes well. But, how to choose a suitable switch for the practical network demand? Managed and unmanaged, which one is right for you? Before you make a decision, you can ask yourself a couple of questions first.
Where do you Need to Deploy the Network?
Considering the network capability, if you are deploying a small network in your office or in the dormitory where you and your co-workers/roommates share the same ethernet service an unmanaged network switch would do the trick. Whereas for a complex network that involves servers, IoT devices, wireless appliances, UPS database, etc. a managed ethernet switch is often wanted.
How many users or devices need to connect to the network?
For smaller businesses or homes networks that do not have many connections or much traffic to handle, unmanaged switch is a good choice as it is cost-effective without advanced features that managed switches feature, like VLAN (for separating network traffic).
But if there is multiple traffic to handle in the network at any one time, then a managed switch is a great choice for its advanced features. Except for VLAN we just mentioned about, there are also redundancy, ACLs and STP, which can avoid downtime and data loss leading to serious financial problems. With STP supporting, even if under the circumstances of a link or cable failure, it provides an alternative path for traffic.
Do you Want to Access and Monitor your Network Remotely?
The ability to access and monitor network data differs managed from unmanaged switches. If you want to be able to control, configure, and monitor LAN settings such as traffic, channel prioritization, and so on, managed switches are the way to go.
Do you have IT Admin Professionals?
The answer to this question makes a difference for enterprise businesses. If there are professionals in your company or you are quite familiar with switching configuration and maintenance, you can put managed switches in consideration. That's because managed switches are advanced equipment that need pro-configurations and regular maintenance. If not, then it's better to choose unmanaged ones.
What are these switches used for?
Do you want to use it to expand the network capacity or just need more ports for your devices connecting to edge switches? The former indicates you need a managed switch, which can provide high-speed links and a higher capacity. While the latter is better to deploy unmanaged switches to satisfy your needs because they provide available ports the same as managed switches but with a lower price.
Conclusion
Unmanaged switches are most often seen in very small, uncomplicated networks with only a dozen or so devices connected and without critical requirements for security and availability.
Managed switches, with the flexibility and control they provide, are a must for networks where reliability and security are critical. Typically, such networks power enterprise-level businesses, government agencies, universities, and healthcare organizations.
In summary, if you're comfortable managing your LAN and configuring everything, a managed switch is a strong choice. But for those looking to keep things simple and on a budget, an unmanaged solution will be best.