What are the best Fiber Media Converters?
Moving a network connection across great distances can be tough. It's a large part of the reason why people switch to fiber optic connections. After about 100ft, Ethernet cables and their copper construction just don't cut it. Which makes fiber connections essential for people who are trying to connect to the internet from isolated portions of a complex, separate buildings, or another area that's generally impervious to Wi-Fi.
With the COVID-19 fear compelling everyone to continue working on their regular routines at home, many consumers now require a fiber media converter that would otherwise be available in an office setting. But how would you know what to acquire if you've never had an ethernet fiber media converter before?
Don't indulge in super cheap Ethernet to fiber media converters! Most, if not all, inexpensive Ethernet-to-fiber media converters consume a lot of power, skip the testing process, and use poor-quality optical transceivers and power adapters. It has a high failure rate and short lifespan, so it cannot support a stable and reliable network, forcing you to often buy expensive alternatives.
What Is A Fiber Media Converter?
Media converters are networking devices that convert Ethernet or other communication protocols from one cable type to another, commonly copper CATx/UTP to fiber. Their pair used to add a fiber segment to copper networks increases cable distance and resilience to electromagnetic interference. They are suitable to extend LANs, convert connection speeds or fiber modes.
Best Ethernet Fiber Media Converter
Picking the right Ethernet fiber media converter isn't nearly as tough as all the stuff the converter has to manage. If you're picking a converter to be used in an array, you should think about the form factor. Otherwise, you can focus primarily on data rate, compatibility, and connectivity concerns.
Form Factor
There are typically three common form factors for Ethernet fiber media converters. The first is a PC card fiber media converter, which is installed directly into a computer. The second are standalone converters, and converters that can be installed into a larger chassis of converters in a greater system. Managed fiber media converters tend to cost a bit more, but they include remote configuration and have network managing tools that can make your life a bit easier.
You generally don't have to think about commercial vs industrial grade equipment, with one exception. Industrial grade media converters are filled in hot, humid, electrically busy environments. They can survive freezing temperatures, too. If you're not thinking about operating the equipment in those kinds of extreme environments, then you can stick with commercial gear.
Communication Protocols
Most Ethernet networks will use 10/100Mbps, 10/100/1000Mbps, or the 1000Mbps network standard. This is one detail that actually does matter. Because if you're not careful, it's easy to end up picking an Ethernet fiber media converter which doesn't support the type of network you're running.
Basic compatibility concerns almost don't need to be mentioned. However, you might want to stop and consider if you intend to use a single mode fiber optic cable, a dual strand cable, or a single strand cable.
Connection Options
How can you connect the fiber media converter? With the right gear, your potential options are almost limitless. That might include support for copper RJ-45 cables, UPT, coax cables, single or multimode fiber connections, and so on.
Fiber Media Converter Terms You Should Know
Fiber-to-Copper Media Converters
Fiber-to-copper converters allow copper-based Ethernet devices to be connected through a fiber-optic network. This allows the fiber optic cable to be used to expand communications over larger distances, shields data from noise and interference, and future-proofs a network with more bandwidth capacity.
PoE Media Converters
Power-over-Ethernet (PoE) media converters give PoE-powered devices dependable and cost-effective fiber distance extension. Over copper UTP cabling, PoE media converters may power devices such as IP phones, video conferencing equipment, IP cameras, and Wi-Fi devices.
Fiber to Fiber Media Converters
Fiber-to-fiber media converters connect several fiber-optic networks and facilitate wavelength conversion. They link single-mode and multimode fibers, as well as dual and single fibers.
SFP Fiber Media Converters
SFP media converters are intended for use in extended IP network applications. They provide one or more open SFP ports for the usage of SFP transceiver optics. This media converter provides the SFP technology flexibility for Gigabit Ethernet transmission over optical fiber. You may choose your own SFP transceiver based on your needs, and it is plug and play, effortless.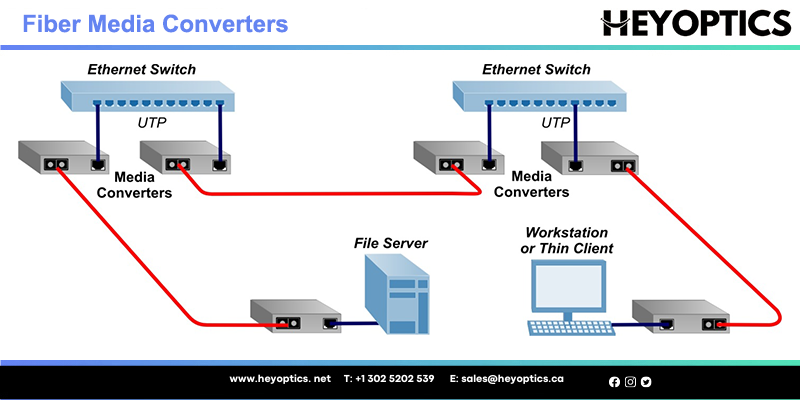 Should you choose a Commercial or Industrial Media Converter?
If you need a fiber media converter to use at home, then you need a commercial one, which has a typical range of operating temperatures. On the other hand, industrial media converters can withstand harsh and extreme environments.
What Is the DIP Switch?
DIP switch is an abbreviation for dual in-line package switch. It is a primary and low-cost component that can aid in selecting and switching numerous hardware or device options. To enable and disable specific functionality, users flick each switch between the on and off positions.
What is Jumbo Frame?
A jumbo frame is an Ethernet frame with a payload larger than the 1,500-byte maximum transmission unit (MTU). It can be up to 9,000 bytes long. The media converter can process fewer frames to fit a greater payload into each frame. As a result, activating jumbo frames can boost network performance by increasing the efficiency of data transfers. To enable the passage of the giant frame beneath a specified size, pull the switch (like 9k bytes; it may vary from different vendors). It is better to know the supported jumbo frame before buying new media converters.
Warranty
Many fiber media converters come with a one-year guarantee that usually only covers machine problems. If you spent a lot of money on a fiber media converter, or if your company has a lousy track record with fiber media converters in the past, extended warranties could be worth it.
Best Ethernet Fiber Media Converters
StarTech Multimode (MM) LC Media Converter
When used in full-duplex mode, this LC fiber media converter has a gigabit fiber and a maximum data transmission rate of 1000Mbps. Because of its multimode SFP, it converts a copper RJ45 Ethernet connection to a gigabit fiber connection. The SFP transceiver, on the other hand, maybe removed. As a result, you have the option to modify it if you so want. This kind of adaptability will assist you in putting together anything that you genuinely require.
This fiber media converter may be of interest if you need to link workstations to switches across long distances. Even for shorter-distance connections, it is a cost-effective alternative.
TP-Link MC220L SFP Fiber to Ethernet Converter
The MC220L is a media converter that converts 1000BASE-SX/LX/LH fiber to 1000BASE-T copper or vice versa. The MC220L is intended for use with multi-mode/single-mode fiber cable using the SC/LC-Type connector and is designed per IEEE802.3ab 1000Base-T and IEEE802.3z 1000Base-SX/LX/LH standards. When using multi-mode fiber, it transmits and receives data at 850nm, and it sends and receives data at 1310nm when using single-mode fiber. This module also has the option to be utilized as a stand-alone device (no chassis required) or with TP-19″ LINK's system chassis, Auto MDI/MDI-X for the TX port, and front panel status LEDs. When using multi-mode fiber, the MC220L can broadcast for up to 0.55 kilometers (0.342 miles) and 10 kilometers (6.2 miles) when using single-mode fiber.
TRENDnet 100/1000Base-T to SFP Fiber Media Converter
TRENDnet's TFC-1000MGA 100/1000BASE-T to SFP Media Converter is a dependable Plug-and-Play Fiber-to-Ethernet converter in a small package. This adaptable fiber converter works with both Multi-Mode (SX) and Single-Mode (LX) fiber standards and can transmit data over lengths of up to 80 kilometers (50 miles).
The Mini-GBIC slot and Gigabit Ethernet port auto-negotiate transmission rates between 100 and 1000Mbps. The device status is communicated via diagnostic LEDs on the front of the converter. With an internal dip-switch, you may control Auto-Negotiation (Forced/Auto-Negotiation) and Link Loss Return (Enable/Disable). This rugged metal-encased converter may be utilized as a stand-alone device and is compatible with TRENDnet's extendable 16-Bay Fiber Converter Chassis System, model TFC-1600.
Conclusion
There are many factors to consider when looking for the best fiber optic media converters because there are so many on the market and new ones are introduced every month. It's easy to limit these possibilities by doing some research and comparing them to what works best for you. Remember to consider maintenance costs and expansion options for fiber optic media converters, as SFP transceivers offer greater flexibility.