QSFP-DD vs OSFP: What Are the Differences?
Over the past few years, the discussion of 200G and 400G Ethernet speeds in the data center has started to heat up. While 400G Ethernet is not mainstream right now, it will eventually become the next major Ethernet speed in the data center. In fact, many cloud providers have proposed 400G QSFP-DD, OSFP, CFP8 and COBO transceivers for 400G data transmission. This article will introduce you to 400G QSFP-DD and OSFP.
What Is 400G QSFP-DD Transceiver?
QSFP-DD
(also called QSFP56-DD) stands for Quad Small Form Factor Pluggable Double Density, which is fully compliant with IEEE802.3bs and QSFP-DD MSA standards. The "double density" means the doubling of the number of high-speed electrical interfaces that the module supports compared with a standard QSFP28 module. The data rate of each channel can reach 25Gb/s through NRZ modulation technology, realizing 200G network transmission.
Also, the data rate of each channel can reach 50Gb/s by the PAM4 modulation technology, achieving 400G network transmission, which is suitable for high-performance computing data center and cloud network. The transmission rate of QSFP-DD form factor could enable up to 14.4 Tbps aggregate bandwidth in a single switch slot so as to cope with rapid data center traffic growth, suitable for 400GBASE Ethernet and data centers.
What Is OSFP Transceiver?
The first iteration of 400G OSFP (Octal Small Formfactor Pluggable) is an 8-lane 50G PAM4 physical link with a possible future 4x 100G PAM4 and 8x 100G PAM4 variants. The OSFP transceiver module or cable plug is a dual paddleboard direct-attachment type connection. This form factor allows 32 400 Gb/s ports per 1U to enable 12.8 Tb/s per switch slot. OSFP transceiver is a very new interconnect system in development that is targeted to support 400G optical data links inside data centers, campuses and external metro long reach.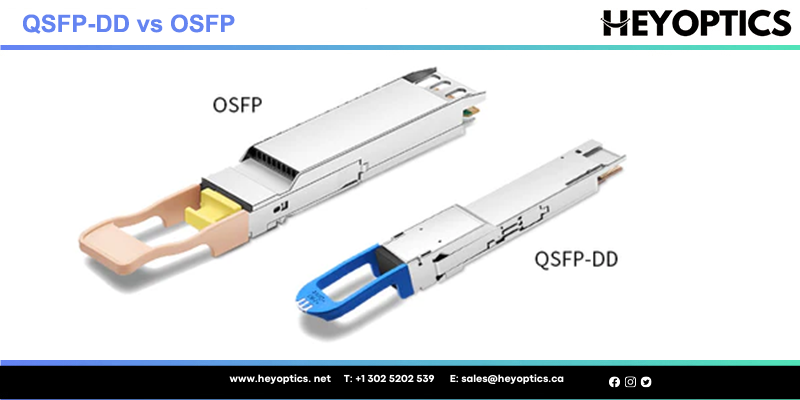 QSFP-DD vs OSFP: What Are the Differences?
QSFP-DD vs OSFP: Size
OSFP is a new pluggable form factor with eight high speed electrical lanes that will initially support 400Gb/s (8x50G) or reach up to 800Gb/s. The width, length and thickness of QSFP-DD are 18.35mm, 89.4mm and 8.5mm, while those of OSFP are 22.58mm, 107.8mm and 13.0mm. It is obvious that the OSFP form factor is slightly wider and deeper than the QSFP-DD, but it still supports 36 OSFP ports per 1U front panel, enabling 14.4Tb/s per 1U.
QSFP-DD vs OSFP: Thermal Capacity and Power Consumption
The QSFP-DD is smaller in size, so its thermal capacity is only 7 to 12 watts. While the OSFP is larger in size, its thermal capacity can reach 12 to 15 watts. The larger the thermal capacity, the greater the power consumption that the optical module can withstand. However, with the advancement of technology, some industry-leading manufacturers have been able to reduce the power consumption of optical modules far below the upper limit of thermal capacity specified by MSA, so the larger thermal capacity does not seem to be a real advantage in the future. Consistent with the thermal capacity, OSFP's power consumption is generally higher than QSFP-DD. However, as we all know, the lower the power consumption, the better.
QSFP-DD vs OSFP: Backwards Compatibility
OSFP is as backward compatible with QSFP+/QSFP28 as QSFP-DD, but requires an additional OSFP to QSFP adapter. Since the OSFP is slightly wider and deeper than the QSFP, it is possible to build an adapter that supports existing 100G QSFP optics modules (QSFP28) in a OSFP cage.
QSFP-DD vs OSFP: Bandwidth
QSFP-DD currently only supports up to 400Gb/s, but OSFP can support up to 800Gb/s. Considering scalability, OSFP is slightly better than QSFP-DD. But 800Gb/s is too early, and when 800Gb/s starts to deploy, there may be better options.
Conclusion
With the concentration of east-west traffic in the data center and the increasing pressure on the bandwidth inside the data center, the application time gap between high-speed optical modules in the telecom market and the data center market is gradually shortening. 400G optics will be widely used.
With the large-scale commercial use of 400G, the single-wavelength 100G technology will mature, laying the foundation for the arrival of 800G.