How Transceivers Choose Fiber Loopback
In telecommunication, fiber loopback is hardware designed to provide a medium of return patch for a fiber optic signal, which is typically used for fiber optic testing or network restorations.
When we need to know whether our fiber optic transceiver is working perfectly, we can use a fiber loopback cable as an economic way to check and ensure it.
The loopback assists in debugging the physical connection problem of the transceiver by directly routing the laser signal from the transmitter port back to the receiver port.Since fiber optic transceivers have different interface types and connect different types of cables, it is not that easy to choose the right loopback for our transceiver. This post will be a guide on how to choose the right loopback cable for a specific transceiver module.
For testing applications, there are many tools for this function, such as visual faults locator, optical power meter, OTDR, etc. Do you know the loopback cable can be acted as a test tool in telecommunication? The loopback signal is used for diagnosing the networking problem. The lookback cables can provide a simple and effective means of testing the capabilities of the network equipment, and they are typically used for fiber optic testing applications or network restorations.
What Is Loopback Cable?
A loopback cable is also known as a loopback plug or loopback adapter, which is a plug used to test physical ports to identify network issues. It provides system test engineers with a simple but effective way of testing the transmission capability and receiver sensitivity of network equipment. In a word, it is a connected device that is plugged into a port to perform a loopback test. There are loopback plugs for many different ports, including serial ports, Ethernet ports, and WAN connections.
Fiber Loopback Types and Configurations
Before deciding which loopback cable to use, we should first know the structure and classification of fiber loopback cable. Generally, a fiber loopback is a simplex fiber optic cable terminated with two connectors on each end, forming a loop. Some vendors provide improved structure with a black enclosure to protect the optical cable. This design is more compact in size and stronger in use. Based on the fiber type used, there is single-mode loopback and multimode loopback, available for different polishing types. According to the optical connector type of the loopback, fiber loopback cables can be divided into LC, SC, FC, ST, MTP/MPO, E2000, etc. In testing fiber optic transceiver modules, the most commonly used are LC, SC, and MTP/MPO loopback cables.
The LC and SC loopbacks are made with simplex fiber cable and common connectors; it's not difficult to understand their configurations. As for the MTP/MPO loopback, it is mainly used for testing parallel optics, such as 40G and 100G transceivers. Its configuration varies since the fiber count is not always the same in different applications.
8 Fibers MTP/MPO Loopback Cable Configuration
In an 8 fibers MTP/MPO loopback, eight fibers are aligned on two sides of the connector, leaving the central four channels empty. And the fibers adopt a straight configuration of 1-12, 2-11, 5-8, 6-7. The polarity channel alignment is illustrated in the following figure.
8 Fibers Loopback Polarity Channel Alignment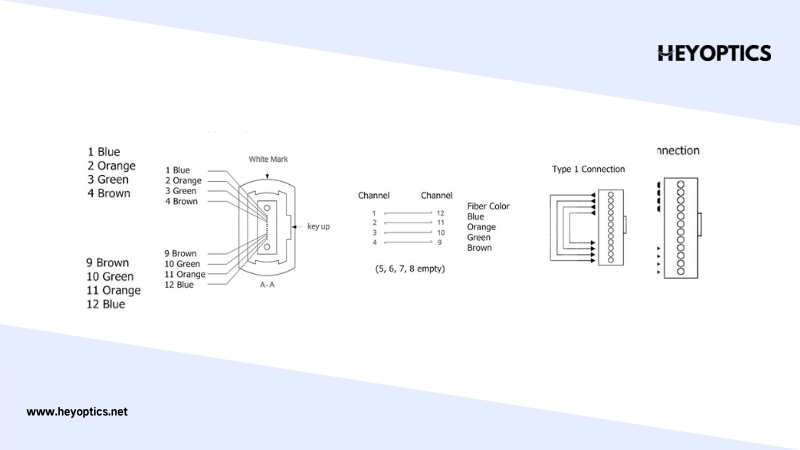 12 Fibers MTP/MPO Loopback Cable Configuration
The only difference between the 12-fiber MTP loopback and the 8-fiber loopback is that the central four channels are not empty. Its alignment is 1-12, 2-11, 3-10, 4-9, 5-8, 6-7.
12 Fibers Loopback Polarity Channel Alignment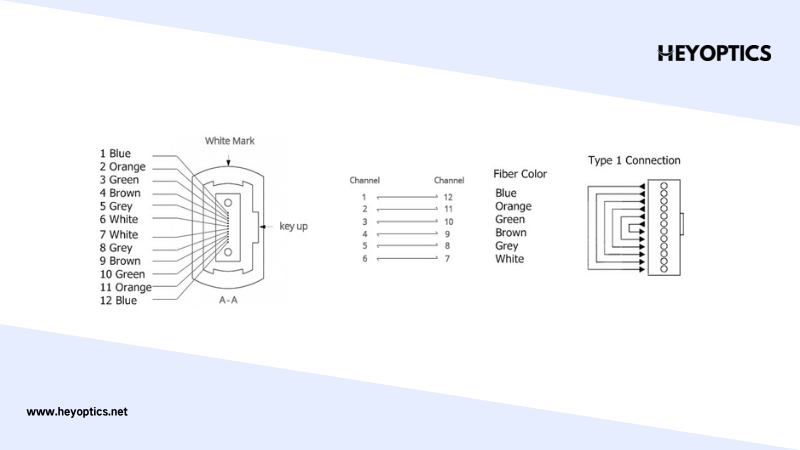 24 Fibers MTP/MPO Loopback Cable Configuration
The 24 fibers MTP loopback also adopts type 1 polarity. Its alignment design is shown below.
24 Fibers Loopback Polarity Channel Alignment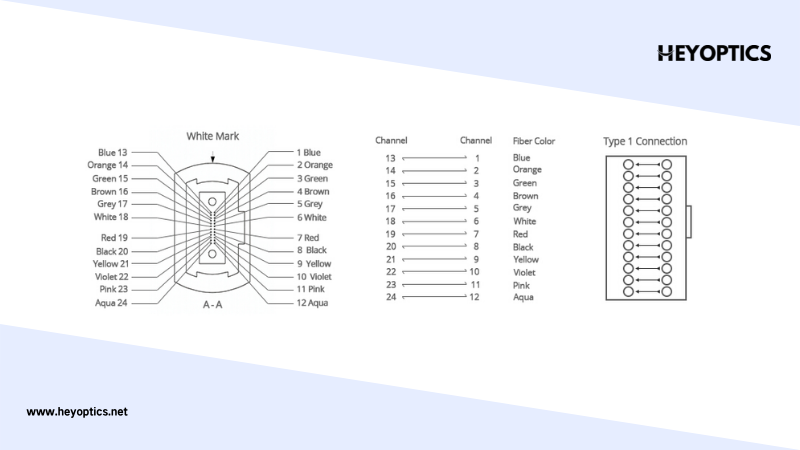 Which to Choose for a Specific Transceiver?
Considering the common features of the transceiver and the loopback, we should think about the connector type, polish type, and cable type when selecting a loopback for the transceiver. The selection guide for some mostly used transceiver modules is summarized in the following tables.
Table1: Loopback choices for 10G SFP+ transceivers
Table 2: Loopback choices for 40G QSFP+ transceivers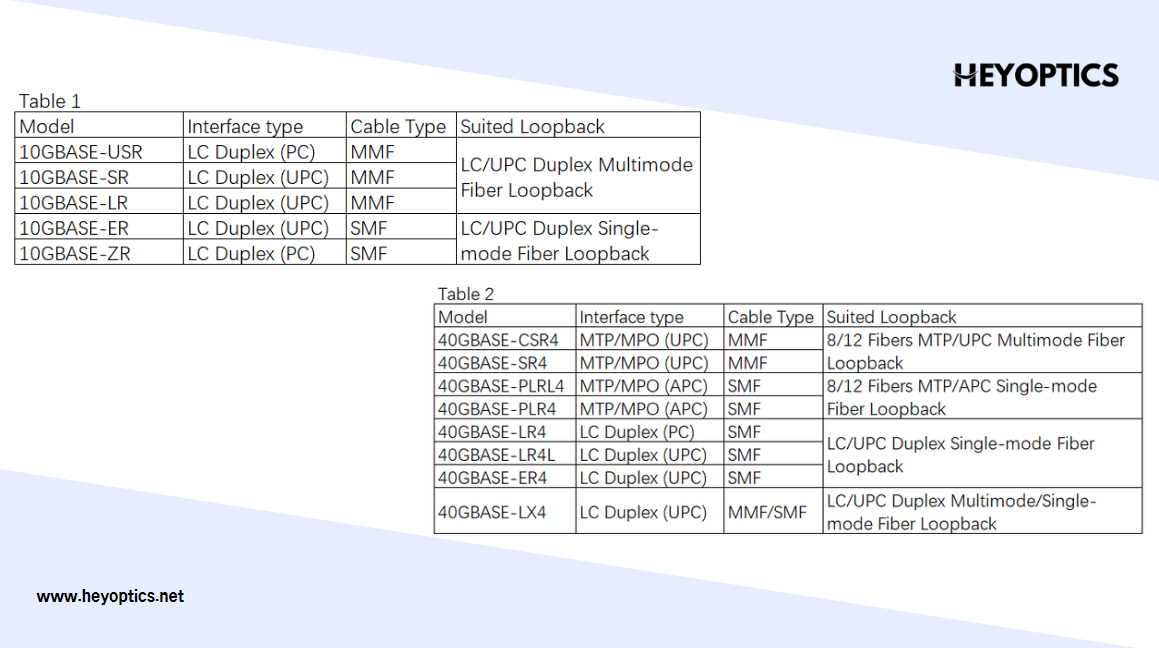 Table 3: Loopback choices for 100G QSFP28 transceivers
Table 4: Loopback choices for CFP transceivers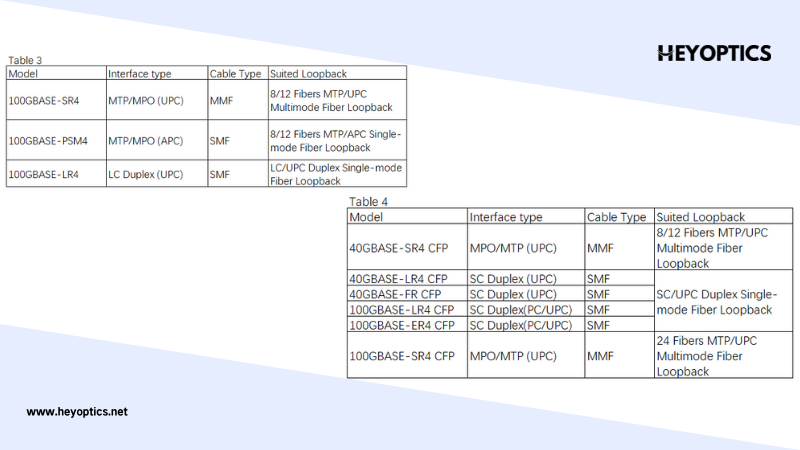 Conclusion
This post discusses specific fiber loopback choices for some most commonly used fiber optic transceivers. For other transceiver modules that are not mentioned in this post, we can also know how to choose a suitable loopback for it by getting details about its interface type, physical contact, and cable type.
All in all, fiber loopback plays an important role in troubleshooting in laboratories and manufacturing environments. They facilitate the testing of simple networking issues and are available at very low costs. There are many fiber loopback cable manufacturers on the market, providing single mode and multimode fiber optic loopback plugs available with LC, SC, FC, ST, MTP/MPO, E2000, etc. Heyoptics is one of the fiber loopback cable providers, all fiber loopback cables are precision terminated and feature extremely low loss characteristics for transparent operation in the test environment.