Take you through GPON SFP Transceiver
Take you through GPON SFP Transceiver
Over the years, fiber-based access has been approved to be an efficient and cost-effective way to reach the customer ends to deliver managed business or residential services. Gigabit Optical Passive Network (GPON) is one of the most essential point-to-multipoint technologies used for deploying fiber-based access networks, such as fiber to the home (FTTH) or fiber to the building (FTTB), to build connectivity between the network backbone and end-users. The emergence of GPON SFP is the further improvement based on early GPON adoption.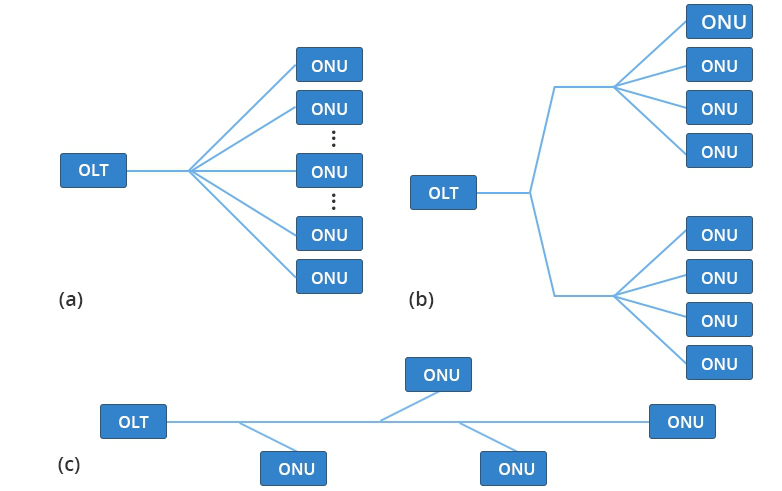 Background
Early GPON network service providers had to install many devices, such as an optical modem, IP access router, or a set-top-box for television services in the users' houses to make sure their connectivity to the network backbone.
However, with GPON SFP modules that integrate GPON into SFP form factors, the deployment of GPON would be much easier since there would be no need for external routers or other external devices. Besides, GPON SFP modules have brought significant progress in optical data transmission distance (20km) and bandwidth (a downstream capacity of 2.5Gbit/s and an upstream capacity of 1.25Gbit/s).
What Is GPON SFP Transceiver ?
GPON SFP is a bi-directional single-fiber optical transceiver with an SC or APC connector and it can deliver a bandwidth of 2.5 Gbits/sec. It can provide services to end-users with point-to-multipoint mode. Compared to the early GPON which needs multiple external devices, the SFP form factor makes it more cost-effective and efficient to upgrade to the GPON network with its plug-and-play design. There are GPON OLT SFP modules installed at the central office and GPON ONU SFP modules installed at the subscribers' ends.
GPON SFP is a new higher-speed bi-directional optical transceiver, which can deliver 2.5 Gbits/sec of bandwidth. And it is a kind of single fiber transceiver which comes with SC connector and can transmit data up to 20km. In addition, it features a 28-dB optical loss budget to enable 1:64 split ratios and provides adequate optical loop lengths. Most EPON and some BPON systems deployed today use 25-dB optics, which limit the split ratio and loop length. For this reason, GPON transceiver enjoys the added advantage of industrial demand. The key performance advantage is to reduce the upstream split loss arising from utilizing the mode-coupled-receivers (MCR) in a PON application. Moreover, this innovative module dose not outweigh the costs over a standard module. For these two reasons, the GPON SFP modules are very attractive to the network operators to improve the utilization of GPON network. On top of that, GPON SFP transceiver is an essential part of GPON system which is necessary both for optical network unit (ONU) installed at the subscriber's premises and for the optical line terminal (OLT) at the central office (CO). The following part will respectively introduce the GPON OLT, GPON ONU and GPON ONT SFP module.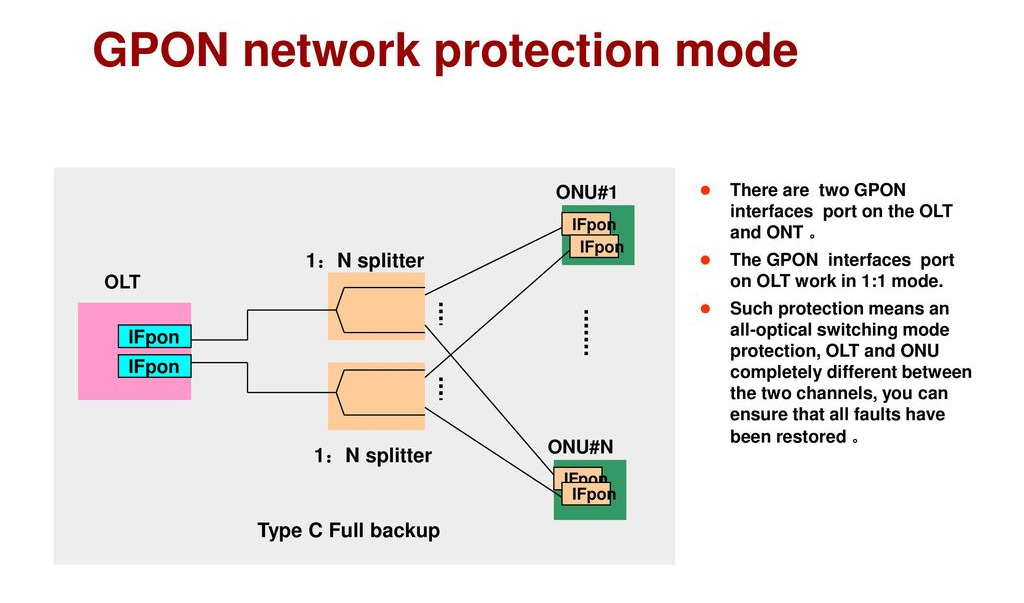 GPON SFP OLT Transceivers
A GPON SFP OLT transceiver module is a transceiver for the OLT side which is located in the central office of a GPON network. It plays an essential role in controlling the data flow in both directions: upstream and downstream. GPON SFP OLT transceivers work by getting data traffic, voice or video traffic from the metro network, or a long-haul transmission. And then the single optical splitter coming from the GPON OLT port will distribute the data signals and deliver separate paths to the passive optical splitter located near the end-users to provide services for them.
GPON SFP ONU Transceivers
GPON ONU SFP transceiver module is a bidirectional single-mode SFP transceiver module with a simplex SC receptacle. In GPON networks, the ONU SFP transceivers work for the physical connection between the subscriber premises and the backbone central office OLT. When plugging into the equipment with SFP ports, such as Ethernet switches, routers, DSLAMs, or home gateways, the SFP ONU transceivers can seamlessly fit into the existing equipment. Here are several different ONU SFP applications.
Networks Upgrading
In the residential P2P networks, more fibers and P2P switches need to be deployed if the residents want to expand the data capacity or increase data speed. However, GPON sticks in the SFP form factor will make it much easier with just SFP ONU modules installed on the existing networking devices. Moreover, GPON SFP ONU transceivers can be inserted into equipment such as routers, switches, access points, or digital cameras to equip them with a PON uplink interface.
VOIP Gateway Upgrading
In the current VoIP networks, external PON ONU CPE and external power supply are necessary, which is not beneficial for the system integration. While an SFP ONU stick can be just inserted into the VoIP gateway without the need for separate powering, which helps to simplify the connection and increases the system integration at the same time.
Wireless Backhaul Capacity Expansion
In the BBU and RRU networks, there will be 3pcs of optical modules needed for the BBU and 3pcs needed for the RRU. And the 3pcs or 6pcs of optical fibers between the BBU and RRU have to be deployed together. Compared to that, the adoption of GPON SFP ONU with P2MP (point-to-multipoint) technology would be more suitable and it will help to save more fibers. The optical fiber cables saved can be used for new BBU and RRU network deployment.
Conclusion
GPON SFP Transceivers can be adopted to accelerate the speed and capacity for GPON network upgrade, FTTx, business service, or wireless backhaul applications. They can provide a smooth upgrade to the GPON network by seamlessly fitting into the existing equipment. At the same time, the GPON SFP modules are very cost-effective since they can replace several external devices without extra powering, which makes it a great solution for service providers to upgrade to GPON