PoE Switch vs Normal Switch: Selection Guidelines
As technology advances, so does the number and variety of components in an efficient telecommunication network. The telecommunications industry has been evolving by leaps and bounds, and technology is changing with each passing day. One component that is critical to the smooth operation of any network is the network switch. There are two main types of switches to choose from - regular network switches or Power over Ethernet (PoE) switches. For the average person with little network knowledge, evolving optional network equipment such as PoE switches can be a big headache. What is PoE? What is the difference between a Gigabit PoE switch and an ordinary switch? Read this article for reference.
What Are PoE?
PoE, the abbreviation of Power over Ethernet, is a technology that enables Ethernet cable to supply power. Thus power sourcing equipment (PSE) can transmit both data and power to powered devices (PD) simultaneously via one single cable. PoE has two standards available on network switch: IEEE 802.3af/at. The former original PoE standard is defined in 2003, which provides a 15.4 W power budget to PDs (12.95 W available for accessing). The latter PoE+/PoE Plus standard defined in 2009 provides up to 30 W (25.5 W) power.
What Are PoE and PoE Switch?
PoE switch is one of the two types of PSE for PoE implementation: endspan switch and midspan PoE injector. A PoE switch is a regular network switch that has Power over Ethernet functionality integrated. It allows compatible devices, such as VoIP phones, network surveillance cameras, or wireless access points to work in places where power outlets or network connections don't exist. Traditionally, when a device is connected to a network it requires two inputs: a power cord and a network cable. PoE is a technology that allows an Ethernet cable to carry electrical power.
In a PoE network, the power sourcing equipment can supply power and transmit data to network devices. All this is done by a single, PoE cable. For devices to establish a network connection with a PoE cable, the network must include either a PoE switch; or a normal switch and an additional device such as a PoE injector or splitter.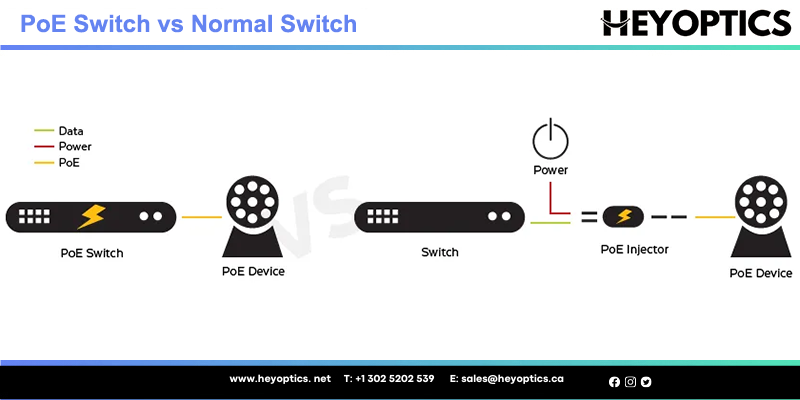 What Devices Can PoE Use?
PoE provides value for devices and networks that require power but also involve the transmission of data. The number of devices controlled remotely and requiring data is increasing exponentially as companies take advantage of the Internet of Things (IoT). The number of IoT devices was predicted to number 8.4 million in 2017. This rapid expansion of network-connected devices will only increase the importance of PoE technology to most networking infrastructures.
While PoE has numerous applications, the three most common areas of implementation are currently: VoIP Phones: VoIP phones are the original PoE devices, with PoE allowing for a single connection to the wall socket and the ability to remotely power down IP Cameras: Security camera technology is constantly evolving, and one improvement is the use of PoE, enabling fast deployment and simple repositioning. Wireless: Many wireless access points are PoE compatible, allowing for remote positioning. RFID readers are also often PoE compatible, which allows for easy relocation.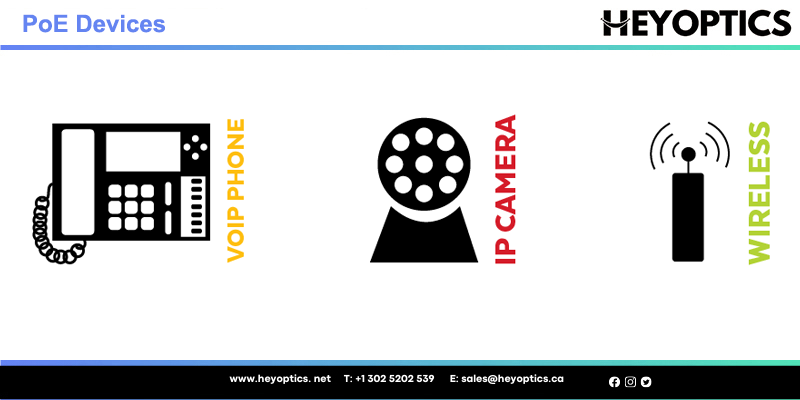 A more recent technology that benefits from PoE is smart home automation. This includes LED lighting, heating, and cooling systems, appliances, voice assistants, and electric car charging stations.
PoE Switch vs Normal Switch: What's the Difference?
In a word, the PoE switch and normal switch differ from PoE accessibility. A regular Ethernet switch is not PoE enabled to supply power for end-users over Ethernet. Therefore the user requires one extra cable to connect power outlets. However, a normal switch can also become PoE-ready by employing a midspan injector between the switch and PDs. The injector will add electrical power while receiving a data signal from the Ethernet switch end cable, and then deliver both data and power to PDs. But in this circumstance, the injector also needs a wire for power. When using a gigabit PoE switch, only one power cable is required. Then the PDs can be directly plugged into the PoE gigabit switch port for both data transmission and power supply. The illustration and table below list the differences between employing PoE switch vs a normal switch while adding PoE to the network.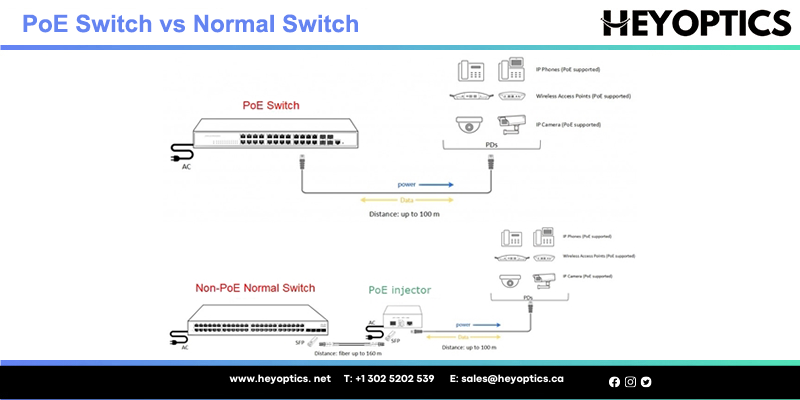 An illustration of deploying PoE gigabit switch vs normal switch when adding PoE to network.
| | | |
| --- | --- | --- |
| | PoE Switch | Normal Switch |
| Required Accessories | Easy for management (power and transmission) | Require separate two wires for powering on normal switch and PoE injector |
| PoE Access Method | Upgrade to PoE network by replacing the normal Ethernet switch with PoE Ethernet switch | Install PoE injector between switch and PDs to add PoE capability to the existing non-PoE switch |
| Emergency Reaction | Potential chance of the whole system's outage | Only one device be affected |
Advantages and Disadvantages of PoE Switches
PoE Switches Advantages
As you decide which switch to choose, it is important to understand the benefits of PoE switches:
Reduced Costs. PoE eliminates the need to run additional power cables to devices and saves costs on power cables, power outlets, and infrastructure equipment required for electrical installation. Ethernet cables cost less and are often already installed in buildings. If not already installed, remote installation costs less than fiber because no electrician is required.
Adaptability. PoE-powered devices can be easily moved to locations without power outlets. This allows for devices to be placed in hard-to-reach locations or other locate PoE-poweredroximal to a power source. One example of this is security cameras, as power outlets are rarely available above ceilings.
Maximize Power Resources. A PoE switch can automatically detect power consumption by PoE-powered devices and supply the required amount of power. This ability to allocate power minimizes power waste and helps businesses save money.
Future Proof. The IoT space is booming. Incorporating PoE switches into your network infrastructure ensures it can support the increasing number of devices optimized to leverage this technology.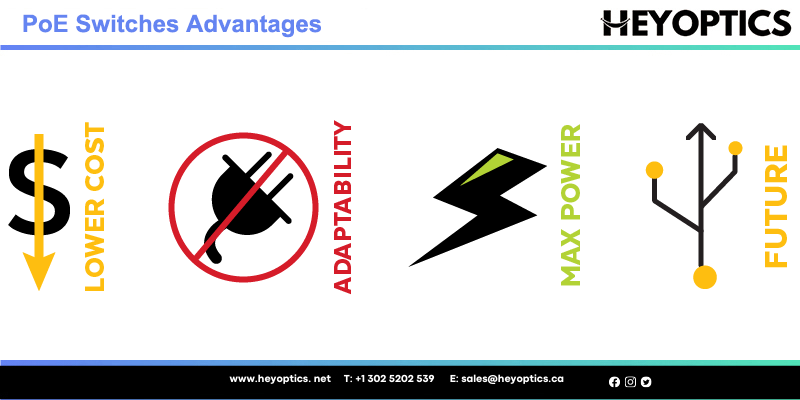 PoE Switches Disadvantages
There are, however, some scenarios where a regular network switch may be a better choice:
The furthest distance a PoE switch can transmit data is 100 meters. This is problematic for large networks spanning enterprises, campuses, hotels, or retail operations. A PoE ethernet extender, however, can increase the transmission distance to 4000 feet.
If a device is not PoE compliant, it will require either an injector or splitter to connect to the PoE switch.
If devices have significant power demands, they may exceed the PoE budget for power. The power capability of PoE, however, has increased significantly in the last several years. As of 2017, PoE can power devices as powerful as computers and televisions.
Which Should I Choose?
The good news is that PoE and non-PoE devices can mix in the same network, but the reality is that a non-PoE device is not the right choice. Unless you expect to support a large number of legacy devices, your network spans very large distances, or you have devices that require significant power demands, a PoE switch may be the way to go. Given the rapid expansion of the Internet of Things, all indications are that new devices are PoE-enabled. Preparing your network to support these devices will allow you to quickly take advantage of new technologies. No matter how you decide to configure your network, Heyoptics has a variety of products to meet your needs. When considering options for a network switch, it's important to understand how many ports your device needs and its power requirements. Once you have a rough idea of your power needs, you also need to make sure you have an adequate power budget. The switch must provide enough power to each port.
Conclusion
The Gigabit PoE switch can supply power to the PD through a network cable while data transmission, while the ordinary switch can only send data to the PD. For PoE implementations, common switches require a powered auxiliary injector as midspan between the switch and powered devices. Therefore, PoE switches have the advantages of direct PoE connection, convenient and flexible placement, high cost-effectiveness, and simple management. For any application of IP surveillance cameras, VoIP phones, and wireless APs, a PoE switch on a regular switch is a good solution.
Today, most businesses have some sort of structured cabling solution. This uses standard twisted-pair cables to connect all network equipment in a building so that computers and phones can share the same cable, making it easy to move things around to accommodate changing needs. Using PoE switches can help companies improve, grow and maintain their networks.