How to Choose the Best HDMI Cable for a 4K or 8K TV
For digital home equipment, the HDMI is a universal connector. To cover all the requirements of high-quality home theater equipment, the standards continue to develop. Learn what to look for when buying an HDMI cable for your 4K or 8K TV and which cables work for 120 Hz refresh rates.
If you want to get the best out of your 4K or 8K TV, then you'll want to get the best HDMI cable. Not all HDMI cables are the same, and not all will work for 4K or 8K TVs, so it's good to know the differences between them all.
This article will help you choose the best 4K/8K HDMI cable for your TV. You will also learn what to look for when buying an HDMI cable and which cables work for a 120 Hz refresh rate.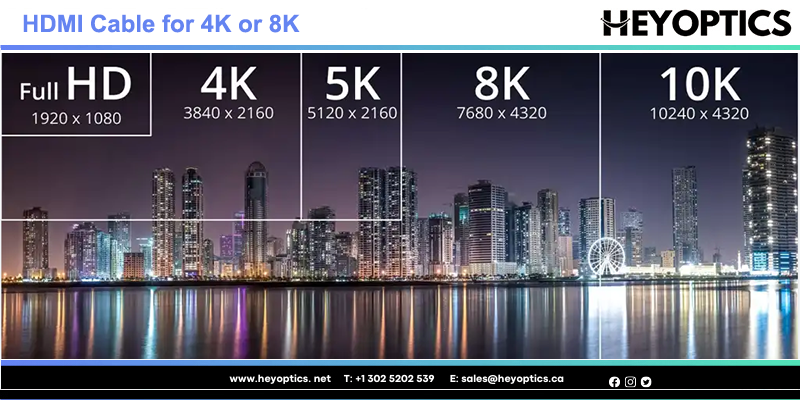 HDMI cords connect your devices with HDMI ports to HDMI ports. For example, they're used to connect your Blu-ray player to a TV. They're also used to connect one device to another, like an HDMI cord from your Blu-ray player to your TV.
HDMI, or High-Definition Multimedia Interface, connects video sources to TVs, projectors, and other display devices. HDMI cords and cables can be used to connect almost any video source, such as a DVD player, games console, or camera, to a display device like a TV. However, not all HDMI cables and cords are equal; some are specifically designed to carry higher-definition signals and improve audio and video quality.
Benefits of HDMI cables
HDMI is highly capable of conducting transmission of multi-channel audio and high-definition video signals via a single cable. But unfortunately, you can't get other great benefits from this interface.
Highest Quality sound and image:
1s and 0s digital languages are utilized by the HDMI connections for storing audio and video signals. By using these languages, HDMI connections phased out the decreased sound and image quality results from the digital-to-analog conversion and vice versa.
HDMI can support video resolutions up to 1080p, which is essential for Blu-ray players and HD TVs having 1080p resolution. (By using a composite video input, only a few TV models can receive 1080p signals, which is essential for gamers since the PS3 and Xbox 360 set-top boxes output 1080p to the video output). Up to 8 channels of 24bit 192kHz can be supported by HDMI and provide very high-quality audio.
Ability to transfer 3D video:
HDMI is the sole connection for transmitting 3D video signals from devices like a 3D Blu-ray player to your 3D TV.
More than just audio and video:
The transmission of audio to video data, 2-way monitoring, and information identification can be achieved by 18 pins present in the standard HDMI connector that can work even at low voltage. You can get an internet connection between compatible components using HDMI cables labeled with the "1.4" tag.
HDCP copy protection in industrial use:
Unlike most consumers who use HDMI cables, movies producers are the major beneficiaries in the present condition. The use of HDMI at a higher level in Hollywood must meet the core needs of strong copy protection to phase out privacy. Almost all the HDMI-equipped devices are incorporated with HDCP (Digital Broadband Content Protection), though it is not officially included in the HDMI configuration.
There will be a considerable decrease in the quality and quantity of high-definition content provided to consumers in the absence of HDCP. But there are some limitations also of using HDCP. The "authentication" of the connection established between the two components via a "digital handshake" and solution of problems related to the procedure of such a handshake is one of the major functions of HDCP.
HDMI Cable Version for 4K/8K
You will need an HDMI cable meant for 4K 120 Hz and 8K TVs to handle the high resolution and refresh rate. HDMI 2.1 cables are best for this case since they can handle 4K up to 120 Hz and 8K up to 60 Hz.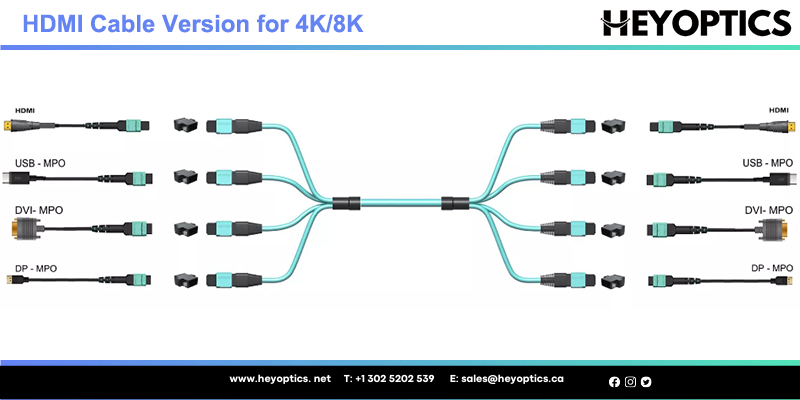 HDMI 2.1 is currently the latest version of HDMI cables, so you can't get a better HDMI cable than that. HDMI 2.0 cables can only handle 4K at 60 Hz but not 8K resolutions.
Max Supported HDMI 2.1 Refresh Rates
60Hz
120Hz
144Hz
240Hz
1080p
Yes
Yes
Yes
Yes
1440p
Yes
Yes
Yes
Yes
4K
Yes
Yes
No
No
8K
Yes
No
No
No
If you want to get the best cable for your setup, check out my recommended HDMI 2.1 cables.
Refresh Rate
Refresh rates, measured in Hertz (Hz), determine how well a TV can handle motion — the higher the refresh rate, the better.
Refresh rate is the number of times a display can redraw the screen. Refresh rate is measured in hertz (Hz), defined as one cycle per second. For example, a refresh rate of 120 Hz means that the screen will redraw 120 times each second. This means 120 Hz is twice as fast as 60 Hz, so any motion on the screen will be much smoother.
HDMI 2.1
HDMI 2.1 cables are upgraded from the HDMI 2.0 standard and have many significant upgrades compared to HDMI 2.0 cables. The main difference is that HDMI 2.1 added many additional features and improvements and increased data transfer speed.
In the table below are the main new features of HDMI 2.1 cables.
New Features With HDMI 2.1
HDMI 2.1 Feature
Benefit
Increased Bandwidth
Adds support for 4K, 5K, 8K, 10K resolutions at 120 Hz.
Auto Low Latency Mode
Enables ideal latency setting to be set automatically. Allows smooth lag-free and uninterrupted viewing and interactivity.
Dynamic HDR
Lets a display alter the HDR metadata on a scene by scene or frame by frame basis.
Variable Refresh Rate
Eliminates stuttering and frame tearing in games.
Enhanced Audio Return Channel
Improves support of Dolby Atmos and DTS:X audio standards.
Quick Media Switching
Decreases the delay when switching video sources.
Quick Frame Transport
Reduces latency for smoother gaming without lag and real-time interactive VR.
Types of HDMI Cables
There are also different types of HDMI cables made with different materials. There are HDMI cables made with copper and others made with fiber optic. Fiber optic HDMI cables are mainly made for reaching farther than standard copper HDMI cables while keeping the high speed of the HDMI 2.1 specifications.
Higher HDMI cable speeds can help with higher resolution displays and a fast refresh rate, improving motion quality. If you need an HDMI cable that needs to reach across a large room and have a 4K TV, then a fiber optic HDMI cable would be a good choice.
Standard HDMI cables are made of copper and have limited ranges and speeds, which you can learn about below in the section: Max HDMI Cable Length.
If you'd rather use standard HDMI cables but still want to extend their reach, sometimes even farther than fiber optic HDMI cables, check out the section: How to Extend HDMI 2.0 Cables.
Qualities of HDMI Cables
The quality of HDMI cables can vary depending on the brand, cost, and type. If you get a very cheap cable, it can have a higher chance of breaking, having signal loss/interference, or other issues. You might not always notice the difference between a cheap 6 ft HDMI cable and an expensive one, but there are still varying qualities that you should know when looking, especially with longer-length cables.
When buying an HDMI cable, you should buy one that has high-quality insulation in the cable, EMI (Electromagnetic interference) shielding, and a robust connector. While not all cables will advertise these qualities, it's good to keep these in mind. If it's a cheap cable, it's less likely to have higher-quality components.
Which HDMI Cable Type Should You Get?
Since HDMI 2.1 is backward compatible with older HDMI versions, it's probably best to buy an HDMI 2.1 cable for future-proofing. You will ensure that you'll get the most out of your display without worrying about which one to buy. HDMI 2.1 is also needed for devices that support eARC, for better quality audio to soundbars and audio receivers. If you want to make it even easier, be sure to check out my recommended HDMI 2.1 and 2.0 cables below.
With that said, to get all of the features and speed increase, be sure to check if your display and device (PCs, game consoles, etc.) both support HDMI 2.1 and its features.
Keep in mind that HDMI cables can only go up to specific lengths. If you want a very long HDMI cable, you may need to go with HDMI 2.0 instead and follow one of these HDMI extension methods.
How to Extend HDMI 2.0 Cables
HDMI Repeater
An HDMI repeater extends the connection for shorter runs by connecting two HDMI cables and amplifies the signals for better transmission.
Determining the max length when using a repeater depends on the HDMI repeater and the HDMI cable type, but I give the average ranges below. Remember that HDMI repeaters are directional, so be sure to use the device's correct input/output sides.
To be safe, assume a repeater can reach only the shorter end of those ranges.
Fiber Optic HDMI Cable
Fiber optic HDMI cables are like standard HDMI cables but made with optical fiber inside the cable and meant for farther distances up to 164 ft (50 m) for 4K @ 60 Hz.
These cables aren't meant to be used with an extender, repeater, or switch and should be used alone. They also must be installed in the correct direction, with the output/display label connecting to the side with the display.
HDMI Over Ethernet Extender
The HDMI over Ethernet extender is similar to an HDMI over fiber optic extender but uses an Ethernet cable for a shorter extension. An HDMI over Ethernet extender can extend the connection up to 130 ft (40 m) for 4K @ 60 Hz or 230 ft (70 m) for 1080p.
HDMI Over Fiber Extender
An HDMI over Fiber extender uses an optical fiber cable to transmit the data to reach a much farther distance. You could use an HDMI over Fiber extender to extend the connection up 1,000 to 3,300 ft (300 to 1000 meters) for 4K @ 60 Hz.
Difference Between 4K and 8K HDMI Cords:
Cord length: 8K HDMI cable would be longer than 4K HDMI cable because 4K does not fit into 8K HDMI
The difference between the 4k and 8k HDMI cords is enormous when using 4K TVs. The 4k HDMI cords have better quality and better bandwidth, allowing more channels to be supported.
Conclusion
If you use a 4K TV with HDMI 2.0 or higher. It won't cause any current TVs to do any damage because it needs HDMI 2.0's 18Gbps bandwidth for that which few (if any) viewers need at the moment.
It will cover all of the factors that come into play when choosing an HDMI cable and why others may cost more than an 8k one, even though they may not be necessary, depending on your equipment's capabilities.