Take you to understand HDMI 2.1A
What is an Ultra High Speed HDMI Cable?
The Ultra High Speed HDMI Cable is the first cable defined by the HDMI Forum. Ultra High Speed HDMI Cables comply with stringent specifications designed to ensure support for high resolution video modes such as 4Kp50/60/100/120 and 8Kp50/60 as well as new features such as eARC and VRR. Ultra High Speed HDMI Cables exceed the requirements of the latest international EMI standards to significantly reduce the probability of interference with wireless services such as Wi-Fi.
HDMI® HDMI 2.1a Specification
HDMI® Specification HDMI 2.1a is the most recent update of the HDMI® specification and supports a range of higher video resolutions and refresh rates including 8K60 and 4K120, and resolutions up to 10K. Dynamic HDR formats are also supported, and bandwidth capability is increased up to 48Gbps.
Supporting the 48Gbps bandwidth is the new Ultra High Speed HDMI Cable. The cable ensures ultra high-bandwidth dependent features are delivered including uncompressed 8K video with HDR. It features exceptionally low EMI (electro-magnetic interference) which reduces interference with nearby wireless devices. The cable is backward compatible and can be used with the existing installed base of HDMI devices.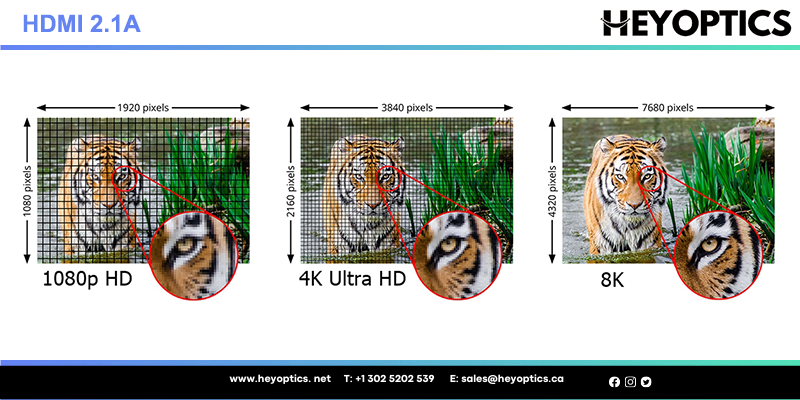 HDMI Specification HDMI 2.1a feature highlights include:
Higher video resolutions support a range of high resolutions and faster refresh rates including 8K60Hz and 4K120Hz for immersive viewing and smooth fast-action detail. Resolutions up to 10K are also supported for commercial AV, and industrial and specialty usages.
Dynamic HDR support ensures every moment of a video is displayed at its ideal values for depth, detail, brightness, contrast, and wider color gamuts—on a scene-by-scene or even a frame-by-frame basis.
Source-Based Tone Mapping (SBTM) is a new HDR feature that allows a portion of the HDR mapping to be performed by the Source device instead of the Display device. SBTM is especially useful in cases where HDR and SDR video or graphics are combined into a single picture, such as picture-in-picture or a program guide with an integrated video window. SBTM also enables PCs and gaming devices to automatically produce an optimized HDR signal to maximize the utilization of the display's HDR capabilities without manual user configuration of the Source device.
The Ultra High Speed HDMI Cable supports the 48G bandwidth for uncompressed HDMI 2.1a feature support. The cable also features very low EMI emission and is backward compatible with earlier versions of the HDMI Specification and can be used with existing HDMI devices.
eARC simplifies connectivity, provides greater ease of use and supports the most advanced audio formats and highest audio quality. It ensures full compatibility between audio devices and upcoming HDMI 2.1a products.
Enhanced gaming features to ensure an added level of smooth and seamless motion and transitions for gaming, movies, and video.
They include:
1. Variable Refresh Rate (VRR) reduces or eliminates lag, stutter, and frame tearing for more fluid and better detailed gameplay.
2. Auto Low Latency Mode (ALLM) allows the ideal latency setting to automatically be set allowing for smooth, lag-free, and uninterrupted viewing and interactivity.
3. Quick Frame Transport (QFT) reduces latency for smoother no-lag gaming and real-time interactive virtual reality.
Quick Media Switching (QMS) for movies and video eliminates the delay that often occurs when a device changes from one HDMI frame rate to another.
HDMI Cable Power enables active HDMI Cables to be powered directly from the HDMI Connector, without attaching a separate power cable. This makes attaching and using active HDMI Cables as easy as using passive wired HDMI Cables.
Version HDMI 2.1a of the HDMI Specification is backward compatible with earlier versions of the Specification and is available to all HDMI 2.0 Adopters.
HDMI 2.1a FAQ
Will 8K@60 or 4K@120 require a new cable?
Yes, to ensure performance and compatibility the Ultra High Speed HDMI Cable is required.
What are the supported resolutions and frame rates?
4K50/60
4K100/120
5K50/60
5K100/120
8K50/60
8K100/120
10K50/60
10K100/120
Is the Ultra High Speed HDMI Cable a Category 3 cable? Do Ultra High Speed HDMI cables support 48 Gbps?
Yes.
Should I buy this cable if I have a 1080p or 4K television?
Installations with 1080p or 4K displays can benefit by using the new Ultra High Speed HDMI cables. The new cable is tested to ensure low EMI to reduce the possibility of interference with wireless networks, streaming media players, Bluetooth devices, and mobile phones. Also, for those who install the cables in inaccessible locations such as inside walls, the new cable provides a future-proof solution.
What cable(s) do I need to make use of the eARC feature?
Ultra High Speed HDMI Cables are designed to support the new eARC feature in addition to the highest resolution video modes. The Standard HDMI Cable with Ethernet and the High Speed HDMI Cable with Ethernet will also support eARC.
Can the Ultra High Speed HDMI Cable work with existing HDMI devices?
The cable is backward compatible and can be used with all existing HDMI devices.
Will an HDMI Cable with Cable Power work with any HDMI Device?
An HDMI Cable with Cable Power will work with any HDMI device, but if the HDMI Source Device does not support HDMI Cable Power, a separate power connection must be attached to the cable.
Is HDMI Cable Power available for all types of HDMI Cables?
Yes, all categories of HDMI Cable, including Standard, High Speed, Premium High Speed, and Ultra High Speed, may incorporate the HDMI Cable Power feature.