HDMI 2.1 vs DisplayPort 1.4: What's the Difference?
HDMI is probably one of the most common connectors out there. These ports are almost everywhere, from consoles and streaming sticks to TVs and monitors, as are HDMI cables. But if you like to play games, you obviously have to know that the humble HDMI isn't the only connector. Like its counterpart, DisplayPort also allows you to stream and play high-resolution video from a TV box or computer.
Both technologies have seen a lot of interesting changes over the years, with HDMI 2.1 and DisplayPort 1.4 being the two latest versions to gradually enter the market. In such a scenario, it is easy for consumers to confuse the two display standards. What is the difference between HDMI 2.1 and DisplayPort 1.4? This article will help you understand how the two standards differ and which one is better for you.
Common Display Interfaces
HDMI
HDMI (High Definition Media Input) is a display interface first introduced in the early 2000s. HDMI is probably the most popular display interface today. It can be used to connect any type of display. If you've bought a monitor in the past few years, it definitely has an HDMI port.
It's a very generic interface that can be used for a variety of purposes.
USB Type-C
USB Type-C has seen a lot of changes lately. The interface has evolved over the years. It is used as an all-in-one solution for data transfer in mobile electronics.
VGA
Contrary to what many may think, VGA (Video Graphics Array) is still one of the most popular display interfaces in the world. Even in 2022, it's used in many entry-level and office computers.
The interface is obsolete by current standards, but it's still good enough if you just need to connect an old 768p or 1080p monitor to your PC.
DisplayPort
If you're into serious gaming, DisplayPort is the standard you should be looking for. It supports optimal transfer speeds for connecting high-resolution gaming monitors that support high refresh rates.
HDMI 2.1 vs DisplayPort 1.4
Introduction to HDMI 2.1
HDMI 2.1 was released in 2017. As you might have guessed, it improves the game several times. On the one hand, it allows you to stream 10K content at 120Hz (if available). In addition to improved dynamic HDR, you also get the benefits of eARC.
For those unfamiliar, eARC helps transmit high-quality audio from your TV/monitor to your (compatible) audio device. The best part is that it's compatible with Dolby Atmos and DTS:X audio, which means you'll be able to enjoy high-fidelity audio. Just like ARC, you can let go of the separate audio cable. Obviously, you'll also need a new HDMI cable. A high-speed cable or an ultra-high-speed cable will do.
Interestingly, HDMI 2.1 also brings Variable Refresh Rate or VRR and is meant for the gaming enthusiast. As suggestive of its name, it will help in eliminating screen tears and stutters, thereby letting you enjoy smoother gameplay (much like FreeSync). Apart from that , you will also find features like Auto Low-Latency Mode (ALLM) and Quick Media Switching (QMS).
Introduction to DisplayPort 1.4
It's no secret that DisplayPort connectors or cables can provide incredible bandwidth for data transfer. This is one of the great reasons to find these on high-end monitors.
DisplayPort 1.4 can push about 25.92 Gbps of bandwidth. This giant leap in data transfer speed also allows for 8K resolution at 60Hz or 4K resolution at up to 120Hz. It doesn't end there. You can also experience 10-bit color HDR. These numbers mean you'll be able to enjoy a smooth gaming experience when your gaming monitor is hooked up to a high-end GPU.
Perhaps, one of the main advantages of DisplayPort 1.4's increased bandwidth is that it allows for multi-streaming or MST. With MST, you can daisy-chain multiple monitors together with just one cable. This arrangement means you'll have a multi-monitor system without the hassle of connecting individual monitors to the CPU.
If we're talking about digital, DisplayPort 1.4 lets you daisy-chain up to 4 compatible monitors in a single port. Plus, you can run two 4K monitors at the same time.
HDMI 2.1 vs DisplayPort 1.4 Comparison
We've listed some of the most noticeable differences in performance between the two display interfaces. We will compare the latest standards for both interfaces. The latest version for HDMI is 2.1 and for DisplayPort it is 1.4.
The maximum data transfer rate of HDMI 2.1 is capped at around 48 Gbps (6GBps), and for the DisplayPort 1.4, it is around 32.4 Gbps (~4GBps).
Maximum supported resolution
The HDMI 1.4 standard supported 4K 30 FPS. And the HDMI 2.0 supported a resolution of 4K at 60 Hz or 8K at 30 Hz. The latest HDMI 2.1 standard supports 4K at 120 Hz and 8K at 60 Hz. The maximum resolution that the HDMI 2.1 interface can support can go up to 10K.
The DisplayPort 1.4 also supports 4K at 120 Hz and 8K at 60 Hz.
These numbers are a little overkill considering today's requirements as even today, the most dominant resolution is 1080p, and 4K is yet to make its way to a lot of homes.
Displays that support HDR (High Dynamic Range) offer the best contrast ratios. The pictures on HDR display look a lot punchier then than they do on the standard displays.
The dynamic HDR support recently got added to the HDMI interface with v2.1. DisplayPort 1.4 supports the static HDR, whereas HDMI 2.1 supports dynamic HDR.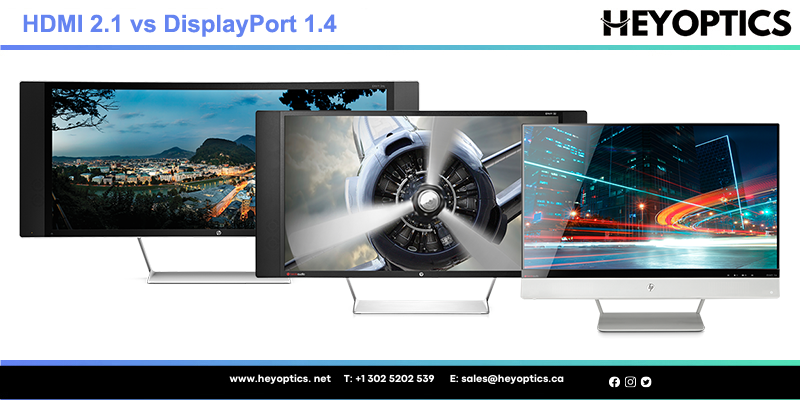 Number of Displays supported
Before trying to figure out the maximum number of displays your PC can support, you need to know what display interfaces your GPU and Monitor supports.
The HDMI interface supports a single display whereas the DisplayPort supports up to 4 displays. If you want to connect more displays, you need to connect them to separate HDMI cables.
For almost everyone, being able to connect 2 or 3 displays is more than enough. No matter whether you buy a display that supports DisplayPort or the HDMI port, you can connect multiple displays only if both your GPU and monitors support a common communication standard.
Both devices support 32 channel audio. This is not a factor that can be used to differentiate the ports. The audio quality on both interfaces is on par with each other.
The new HDMI standard supports a technology called eARC (Audio Return Channel) which lets users connect their TVs with their audio systems through the HDMI port which reduces the number of wires and clutter.
As we have already mentioned, the HDMI port is more widely used compared to the DisplayPort. HDMI port is present on millions of commonly available monitors and televisions in the market. The use of DisplayPort, on the other hand, is largely limited to gaming and workstation Monitors.
There are no huge advantages of using either of them and as the new versions of the standards continue to come out. But when talking about these two versions, the HDMI 2.1 is slightly better than the DisplayPort 1.4. But the difference isn't of much concern to an average consumer.
Which one is better?
The answer to this question should be obvious by now. If you can choose between devices that support DisplayPort 1.4 and HDMI 2.1, you can choose either one without thinking too much. If both ports exist in your system, you can choose either. If you play a lot of games and want to daisy-chain, you can use DisplayPort connectors, but for almost everything else, you're better off using HDMI ports. Both HDMI 2.1 and DisplayPort 1.4 support 8K at 60 Hz, and both media are aimed at high-resolution data transfer, now far exceeding the needs of the average user.