HDMI 1.1 vs 1.2 vs 1.3 vs 1.4 vs 2 vs 2.1 Introduction
We've all heard of HDMI, and whether it's in our TVs, PCs, or game consoles, we've probably all gotten them at home. HDMI has been around since 2002, and since then many advancements have been made in the area of audiovisual data capabilities. Video formats have advanced and data rates have increased significantly. Many new facilities and capabilities also need to be controlled.
But do we really know what they are or what they do? To keep up with these advancements, several HDMI versions have been introduced. These HDMI versions have been rolled out gradually and keep the HDMI interface up to date with the technology, ensuring HDMI is relevant and up-to-date.
One major advantage of the way that HDMI has advanced through successive versions is that the same 19 pin connector has been used and the versions have been backwards compatible. Although the same basic connector has been used for HDMI, the many updates to the standard have been difficult to track. All the time it has been keeping up with the requirements for audio visual data transmission. New televisions, computer displays, DVD recorders, computers all use HDMI, and as updates to consumer equipment occur relatively rapidly, they will normally use the latest HDMI versions, or at least ones that will be able to accommodate the latest features.
WHAT IS A HDMI?
HDMI (or High Definition Multimedia Interface) is the most popular HD signal interface for transmitting both high definition audio and video over a single cable.
Over the years, HDMI Cables have continually developed as we've seen the 1.4 gradually replaced with the 2.0 and now with the HDMI 2.1. The newer wires support more bandwidth (capacity to transmit data from one point to another), and this determines how much data it can send and receive at one time. For higher resolutions and framerates, more data is needed, therefore more bandwidth is needed. So to sum that up nicely; the more recent versions of the HDMI can offer you sharper visuals and smoother gameplay via greater bandwidth…simple right?
Before we can get into the differences, we've decided to clarify some key terms below.
Before we get into the differences between the various HDMI versions, we decided to clarify some key terms below:
Gbps - This is a measure of how many gigabits of data can run through the system per second.
1080p - Also known as Full HD, this means there are 1920 pixels displayed across the screen horizontally and 1080 vertically.
4K - This has 3,840 horizontal pixels and 2160 vertical pixels …this is around 4 times that of Full HD.
8K - This gives a resolution of 7680 by 4320… that's four times that of 4K and 16 times that of full HD!
What does more pixels mean for me? The more pixels the screen has, the higher resolution it has and a higher resolution will allow the screen to display more detail as you can see below. Hz - In screen refresh terms, this is the number of frames per second, meaning how many times the screen can switch from one picture to another in a second. For example 60Hz = 60 frames per second. The higher the FPS the smoother your viewing experience will be.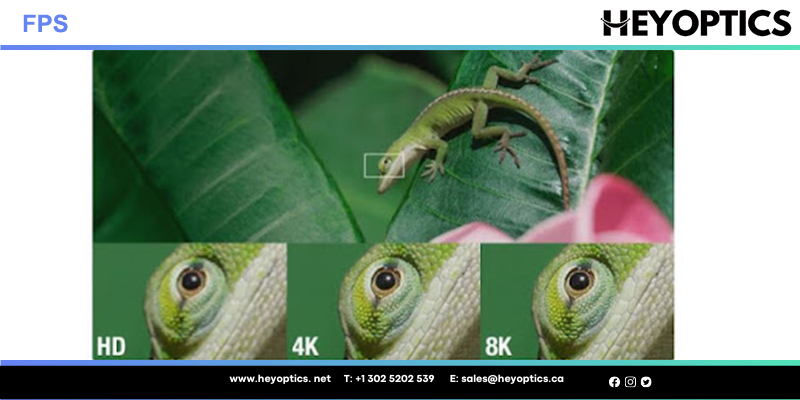 HDMI Version 1
HDMI Version was the first incarnation of HDMI and it underwent a number of revisions and updates.
The HDMI version numbers were of the form HDMI version X.y. Initially X was the figure 1, i.e. HDMI versions 1 and this was followed by another figure and this was increased by 1 for each revision. In other worlds HDMI 1.0 increased to 1.1 and so forth.
On occasions very minor revisions were indicated by a letter suffix. One example of this was HDMI version 1.4c, etc. These minor version revisions were possibly to clarify a minor point or include small testing changes or additions. The initial HDMI versions were in the series HDMI version 1.y.
HDMI 1.0
As the name indicates, HDMI 1.0 was the first version of HDMI that was released. The release date was 9 December 2002, and it included the basic HDMI capabilities for a single cable digital audio/video connector interface. The format for HDMI Version 1.0 used the basic DVI concept but requiring audio and other ancillary data to be sent during the blanking intervals of the video stream.
The key HDMI 1.0 features included:
Initial release of the HDMI standard.
Audio and video interface that provided transfer of standard and high-definition video
Provision for up to 8 channels of uncompressed digital audio
Data transfer up to 4.95 Gbps
Playback of standard Blu-ray disc video and audio at full resolution
HDMI 1.1
HDMI 1.1 was released on 20 May 2004
The key HDMI 1.1 features included:
This release added support for high quality DVD audio.
HDMI version 1.1 introduced a number of small changes to the mechanical and electrical specification.
HDMI 1.1 was a straightforward update to the basic specification, allowing the ability for the transmission of a special high quality DVD-Audio signal format from the player to the receiving device. This is the high resolution audio format and not that normally carried on normal DVDs which could be sent over a 1.0 system.
HDMI 1.2
HDMI 1.1 was released on 8 August 2005 and it broadened the appeal of HDMI. The release of HDMI version 1.2 was a significant leap in the technology, introducing a number of new capabilities. One of the aims was to broaden the appeal of HDMI beyond just the TV related industries and incorporating areas like the PC market where VESA was an emerging standard. Also for universal DVD players, HDMI 1.2 delivered the ability for a single cable solution.
Some of the key additions introduced in the HDMI 1.2 release included:
HDMI version 1.2 added Direct Stream Digital, DSD which enabled native transmission of Super Audio CD, SACD, content with up to 8 channels.
Provided the capability for HDMI 1.2 and later displays to support low-voltage sources used in arenas like PCI Express, a display interface standard used in many PC video cards.
Introduced the HDMI Type A connector for PC based applications
Introduced the capability for YCbCr colours used within many consumer electronics systems.
With all these introductions, HDMI 1.2 stared to gain a much larger foothold within the industry and broaden its appeal.
HDMI 1.2a
The release data for this small update was 14 December 2005 and it added the provision for Consumer Electronic Control (CEC) features, command sets and CEC compliance tests. It was updates to try to ensure interoperability across different manufacturers for all capabilities of devices.
Full specification for Consumer Electronic Control, CEC features, commands, and compliance testing. CEC provides the capability to allow HDMI devices to control each other when necessary. This means that it is possible for the user to operate multiple devices with one handheld remote control device. This can be a great advantage with the proliferation of devices required for some systems where each one needs its own remote.
Unless the use of native DSD signals is envisaged, then HDMI 1.2 or even 1.1 in many cases will operate just as well.
HDMI 1.3
HDMI 1.3 was released on June 22, 2006, and provided a number of new capabilities. Many int he industry did not look kindly on the HDMI version as it introduced a large number of capabilities that were not needed by many. IT tended to be driven by companies pushing their own capabilities.
HDMI 1.3 increased the single link bandwidth to 340 MHz providing a data rate of 10.2 Gbps.
Increased the 8 bit colour resolution up to 10-bit, 12-bit, or 16-bit per channel. This provided "Deep Colour" capability.
Upgraded the sRGB and YCbCr capability to include xvYCC.
Introduced new HDMI Type C miniature connector for portable devices.
Support for Dolby TrueHD and DTS-HD Master Audio formats for external decoding.
Included Reference Cable Equaliser to enable high frequency displays to recapture data degraded over copper cable.
HDMI 1.3a
This was a relatively minor update as indicated by the version number. It basically added a number of cable electrical updates to ensure that the cables operated totally reliably with the increased data speeds. In addition to this various clarifications and the addition of new commands.
Type C connector cable and sink modifications.
Various cable performance aspects including: source termination recommendation, removal of undershoot and maximum rise / fall time limits., CEC capacitance limits change.
Clarification of the RGB video quantisation range.
Changes to the commands including introduction of new audio commands and re-instatement of the timer control commands in a new format.
New compliance test specification released.
There were further issues of HDMI 13b, 1.3b1, 1.3c that fundamentally added testing for various aspects, particularly the new aspects of HDMI version 1.3.
HDMI 1.4
This standard update was released on 28 May 2009 and HDMI 1.4 proved to be one of the major updates in terms of usability, adding a variety of new and useful features.
HDMI version 1.4 added an HDMI Ethernet Channel (HEC) to accommodate a 100 Mbit/s Ethernet connection between the two HDMI connected devices to enable an Internet sharing connection.
Support was introduced for 3D video formats with input and output protocols defined.
New high definition formats introduced: 4K x 2K resolution (3840 x 2160) at 24Hz, 25Hz, and 30Hz and 4096 x 2160 at 24Hz.
Signalling of content type in real-time was introduced to enable TVs to optimise picture settings according to the content.
An audio Return Channel was added and this enabled an HDMI-connected TV with a built-in tuner to send audio data "upstream" to a surround audio system. This eliminated the need for a separate audio cable.
Additional colour profiles added to accommodate digital photography and computer graphics: Adobe RGB, AdobeYCC601 and sYCC601.
New cables and connectors were introduced to support video, etc in automotive applications.
A new Micro HDMI connector was introduced for use with small devices like mobile phones and other small portable devices.
Some of the features of HDMI version 1.4 that gain the most attention were support for 3D viewing and also Ethernet over HDMI. Today the focus on 3D has reduced and this feature is possibly less important than it was, but in reality HDMI version 1.4 provided a major update with new features.
HDMI 1.4a
HDMI 1.4a was a relatively minor version update that was released on 4 March 2010. It focussed in improvements to 3D video technology and was delayed from being incorporated into HDMI 1.4 pending decisions that needed to be made by the broadcast industry.
This version of HDMI incorporated the 3D broadcast format, that could not be decided in time for the initial release of HDMI version 1.4.
HDMI Version 2
HDMI 2 was the first update to be managed by the new HDMI Forum. In view of the fact that it was being managed by a different body, the version number was raised from 1 to 2 reflecting the major change.
HDMI 2.0
HDMI 2 was released on 4 September 2013 and it was also referred to as HDMI UHD. There were several improvements that were introduced with this HDMI version.
There were several enhancements that were included for HDMI version 2.0:
The bandwidth was increased to enable data transfer at 18 Gbps.
Provided capability for UHD video with resolution levels up to 4K at 50 or 60 Hz.
Enabled use of 8b/10b encoding.
Allowed the transmission of up to 32 audio channels.
Provided for audio sampling at a rate of 1532kHz.
Capability introduced to enable delivery of dual video streams to multiple users on the same screen.
Enabled the simultaneous delivery of multi-stream audio to up to four users.
Support added for wide angle cinematic video with 21:9 aspect ratio.
HDMI 2.0a
This minor update to HDMI 2.0 was released on 8 April 2015. As this was a relatively minor update, it was released as an alpha update only.
The main enhancement included in this HDMI version update was:
Provided support for High Dynamic Range video with static metadata.
HDMI 2.1
This was launched on 28 November 2017 and added support for higher resolutions and refresh rates. It was a relatively major update as indicated by the move from 2.0 to 2.1 in terms of the revision number.
The main features added within HDMI version 2.1 included:
Support added for resolution of 10k at 120 Hz.
Capability added for specifying HDR metadata on a scene-by-scene or even a frame-by-frame basis.
Display Stream Compression (DSC) 1.2 is used for video formats higher than 8K with 4:2:0 chroma subsampling.
Introduction of a new HDMI cable category called 48G to enable cables to be certified to carry the new higher data rates.
Conclusion
HDMI is an evolving standard to meet the evolving needs of the audio/video industry. HDMI can be used with almost all new TVs and TV-related devices. It is also increasingly used for display screens, including computer monitors that exist alongside other interfaces, but are increasingly used. Many other items, including projectors and many other devices, include HDMI.