Does HDMI Cable Quality Really Matter?
HDMI cables are what we use to connect our entertainment devices to our TVs, and they've evolved over the years to keep up with our ever-changing improvements in visual fidelity.
HDMI cables have all looked the same for nearly 20 years, but their performance and capabilities have changed dramatically over that time. While cable companies have tried for years to sell potential buyers the benefits of paying a premium price for higher quality or higher speed cables, there aren't many of them, especially today.
The era of 4K/8K
We're in the age of 4K resolution, and 8K is starting to heat up (don't worry, it's still a few years away for most viewers). High Dynamic Range ( HDR ) content, which contains more information per pixel due to a wider range of light and color, is also becoming more common. A huge amount of potential data being sent to your TV from your media streamer, Blu-ray player, game console or PC.
HDMI is an established standard for sending video and sound from a home entertainment device to a TV over a single cable. This is the best way to connect DVD, Blu-ray and Ultra HD Blu-ray players, video game consoles and streaming devices. If you connect any device under ten years old to your TV, HDMI is the way to do it. If you don't already have an HDMI cable (and your new set doesn't include it), or you just want to reconfigure your home theater setup, it's time to buy a new one.
Does HDMI Cable Quality Really Matter?
Yes, HDMI cable quality really matters! When it comes to setting up your entertainment system, be that your home theatre, TV, or media center, then you are going to find yourself needing an HDMI cable.
HDMI cables send both video and audio signals to your TV from a multitude of devices.
Devices that rely on HDMI cables include:
Game Consoles
Laptops & PC screens
Blu-ray Players
Newer DVD players
Sky boxes
Certain soundbars and soundsystems
With all of these devices being reliant on this type of cable it is important to know and understand whether the quality of the cable will affect how those devices perform on your TV. The reality is that expensive HDMI cables may well be made from better materials.
What An Expensive HDMI Cable Provides (Or Should)
HDMI cables at a higher price bracket may differ from cheaper cables in the following ways:
They may offer a more durable cable overall.
The connectors may be stronger and will be better equipped to handle wear and tear.
The materials may be more flexible, again improving the cable's longevity.
It should allow for high bandwidth even at greater distances.
A reduced likelihood of the cable succumbing to failures.
A cable that is perhaps more aesthetically pleasing to the eye and touch.
Pure fiber HDMI 2.1 over fiber lengths up to 303 meters (1000ft)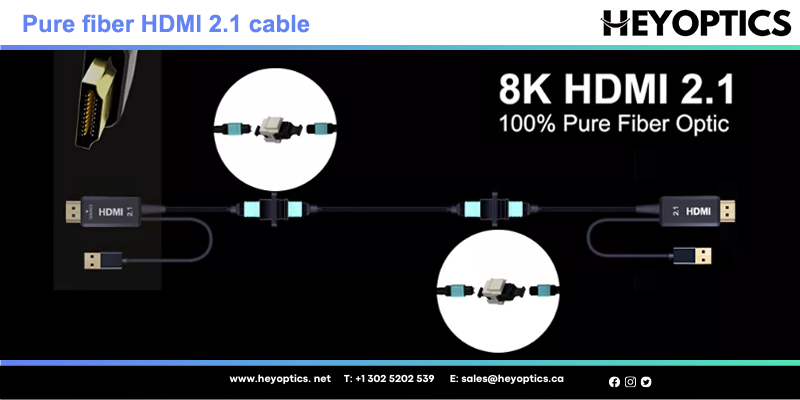 Regardless of whether you are using an older HDMI cable, or a newer HDMI cable with Ethernet, neither should negatively impact your internet speed.
Do HDMI cables affect your internet speed?
Using an HDMI will not slow down your internet speed.
As you've previously read, the main purpose of an HDMI cable is to allow the transfer of HD resolution and superior sound quality when connecting a TV or monitor to either a gaming console or a home entertainment system.
The role of fiber optic HDMI 2.1 cable in home theater
Fiber optic HDMI 2.1 cables
are the most extreme home theater future-proofing, and they're becoming more common. Ultra High Speed cables have up to 48Gbps bandwidth and allow for uncompressed 8K video with all the trimmings. More important for most 4K users ( and specifically gamers) is support for 4K at 120Hz. If you have a gaming PC or a console capable of pushing 4K speeds greater than 60 frames per second, this cable can handle it.
If you need a particularly long HDMI cable, you need to consider whether you should buy a
Fiber optic 2.1 HDMI cable
. The securely connects HDMI-enabled laptops, tablets, PCs, Blu-ray players, game consoles or satellite/cable TV boxes to HDTVs , HD monitors, projectors or home theater receivers.
Because the cable uses optical fiber, it can transmit HDMI signals longer distances with no latency or loss.