Overview 10G SFP+,X2,XENPAK SFP+ and XFP Transceiver Modules
SFP+, Xenpak, X2, and 10G XFP transceivers are industry-standard for 10 Gigabit Ethernet deployments. In computer networking, we know that 10 Gigabit Ethernet (10GE or 10GbE or 10 GigE) refers to various technologies that transmit Ethernet frames at a rate of 10 gigabits per second (10×109 or 10 billion bits per second) , originally defined by the IEEE 802.3ae-2002 standard.
What is SFP+ Transceiver Modules?
SFP+ is a next-generation, hot-pluggable, small-footprint, serial-to-serial, multi-rate optical transceiver that commonly used in 8.5GbE to 11GbE data communications and storage-area network (SAN). It is a variant of the conventional SFP optical transceiver with enhancement interface defined in SFF-8074i, SFP+ with a similar size of SFP and compliant to SFF-8472 (digital diagnostic interface for optical transceivers) that gives the end user the ability to monitor real-time parameters of the SFP, such as optical output power, optical input power, temperature, laser bias current, and transceiver supply voltage. The SFP+ module is a variant of the SFP optical transceiver.
The SFP+ module form factor is around 30% smaller, uses less power, requires fewer components, and is cheaper than the 10-Gigabit small form-factor pluggable module (XFP) form factor, which was already smaller and used less power than the XPAK, XENPAK and X2 form factors. Since SFP+ with a smaller size than older variant XFP optics, that allows greater port density in network equipment.
What is X2 Transceiver?
As defined in X2 Multi-Source Agreement, the X2 transceiver is a compact 10 Gigabit/s optical transceiver designed to use a side rail support system that allows the heat sink and front bezel to be easily adapted to the different needs of the key 10 Gb/sec markets. The structure of the X2 rail system has been carefully designed to allow unblocked airflow over the full length of the top surface area, irrespective of direction. X2 can be mounted on the front panel, mid board, or on a "conventional" PCI or compact PCI "blade". The ability to support different height variants, without changing the side rail support, is also a key X2 strength.
Same as XENPAK, X2 transceiver with a 70-pin electrical connector and supports implementations of XENPAK's four lane XAUI (10 Gigabit attachment unit interface) at both Ethernet (3.125 Gb/sec) and/or Fiber Channel (3.1875 Gb/sec) rates. The X2 is also compliant with IEEE 802.3ae, Fibre Channel 10GFC standard.
What is 10G XENPAK Modules?
10G XENPAK to SFP+ Converter Module converts a 10 Gigabit Ethernet XENPAK port into a 10 Gigabit Ethernet SFP+ port. With the XENPAK to SFP+ Converter Module, customers have the flexibility to use the 10 Gigabit XENPAK interface port of a switch with XENPAK modules or SFP+ modules. This flexibility is important when the specific type of interface is not available in one or the other form factor or when customers want to use the same form factor for interfaces across multiple platforms deployed in their network. XENPAK is a standardized form factor for 10 Gbps Ethernet fiber optics transponders. XENPAK optics are used in datacom optical links only (not telecom). XENPAK optics are the oldest of the 10G form factors. There Xenpak optics convertors which will convert the Xenpak to a SFP 10G. Based on XENPAK to SFP+ converter Fiber-Mart can produce: BIDI XENPAK, CWDM XENPAK, DWDM XENPAK and common XENPAK.With this 10G XENPAK-SFP+ Converter, customer can plugged into the following SFP+ transceivers: SFP+ SR,SFP+ LR,SFP+ ER,SFP+ ZR, CWDM SFP+,DWDM SFP+,BIDI SFP+ .
Applications
10GE Ethernet switches and routers
10Gbps Ethernet or Sonet SDH switches and routers
Xenpak shift to SFP 10gb Converter networks
Other 10Gbps Ethernet Transmission System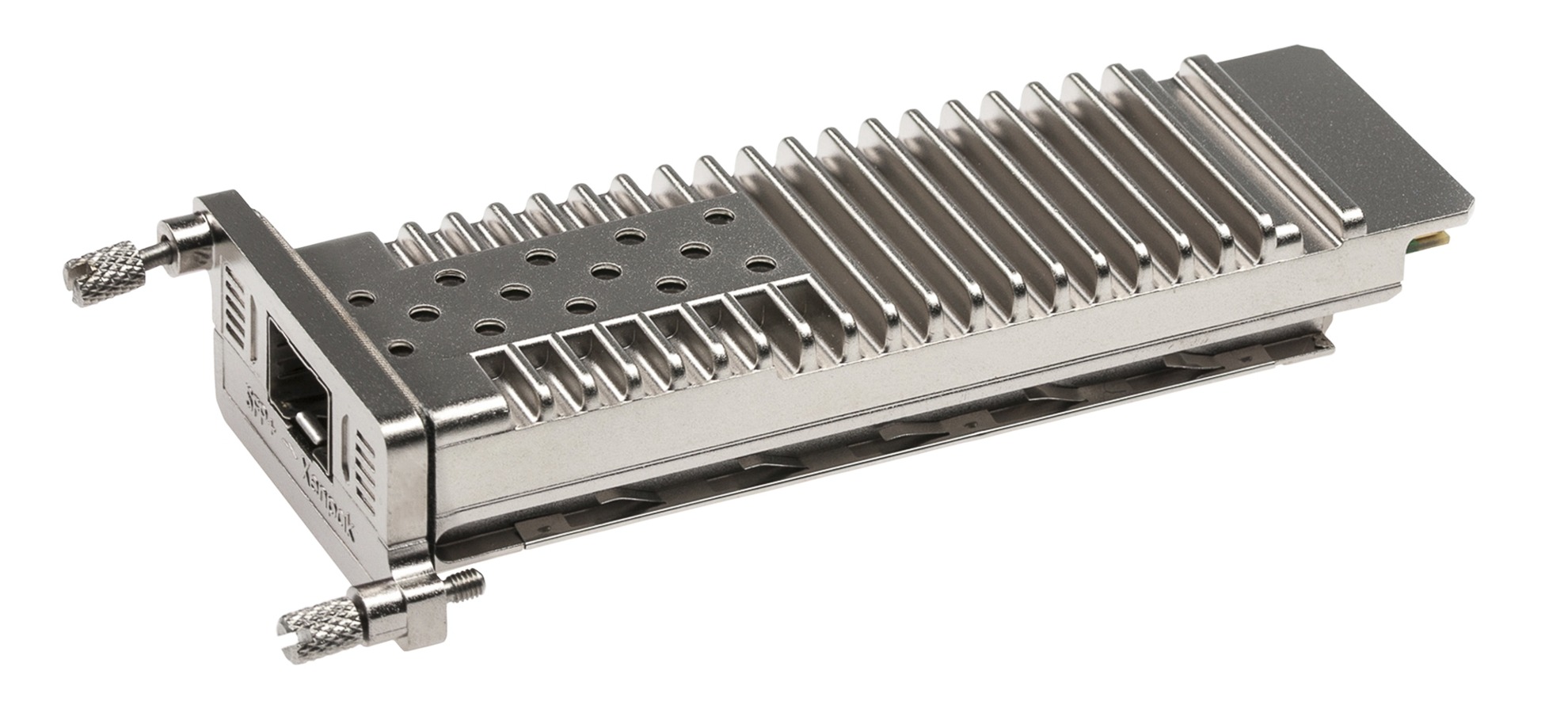 What is 10G 10G XFP Modules?
The XFP (10 Gigabit Small Form Factor Pluggable) is a standard for modules for high-speed network and telecommunication links that use optical fiber. XFP modules are hot-swappable, protocol-independent and they typically operate at near-infrared wavelengths (colors) of 850nm, 1310nm or 1550nm. Also, XFP transceivers can operate over a single wavelength or use dense wavelength-division multiplexing techniques. Principal applications of XFP modules include SONET OC-192, SDH STM-64, 10 Gbit/s Optical Transport Network (OTN) OTU-2, and parallel optics links.
HeyOptics is an original manufacturer of fiber optic transceivers. Our Optical Transceiver supports Ethernet, Fibre Channel, and Sonet/SDH applications across many switching and routing platforms. If you have any needs for 10G SFP+ Modules, please feel free to contact us.(sales@heyoptics.ca)