What is the difference between XFP and SFP+?
How's the prospect of 10G XFP and SFP+ modules?
Though the pursuit for higher bandwidth is unstoppable, 10GbE won't step out of the market in many cases. SFP+ transceivers are still a mainstream option offering a smaller size, lower consumption and lower cost. Not as popular as SFP+ transceivers, 10G XFP modules still play an irreplaceable role in some 10G network applications.
XFP is defined by the XFP Multi-Source Agreement (MSA).
It was announced on July 19, 2002, officially launched on March 3, 2003, and later updated in a small range on August 31, 2005. XFP optical module is a 10G optical module that is hot-swappable and independent of the communication protocol. It can transmit data at 850nm/1310nm/1550nm wavelength. It is mainly used in 10G Ethernet, 10Gbit/s fiber channel, OC-192 Digital transmission, synchronous optical network STM-64, 10Gbit/s optical transmission network (OTN) OUT-2 and parallel optical fiber link.
SFP+ is an upgraded version of SFP, which is defined by the SFP+ Multi-Source Agreement (MSA). It was officially released on May 9, 2006, and version 4.1 was released on July 6, 2009. The SFP+ optical module is a small, hot-swappable 10G optical module that complies with IEEE 802.3ae, SFF-8431 and SFF-8432 protocols, and can work at 850nm/1310nm/1550nm wavelengths, and is used in 10G Ethernet and 10G fiber channels. , 10G SONET/SDH, OTN, CPRI wireless, 16G Fibre Channel and 32G Fibre Channel.
In fiber optic networking, optical module is the indispensable building block and the enabler of seamless data transmission. 10G fiber optic transceivers are still popular in the market such as 10G XFP and 10G SFP+, then XFP vs SFP+, what are the differences? How about their inter-compatibility? Can we connect XFP with SFP+ module? Find all the answers in the following.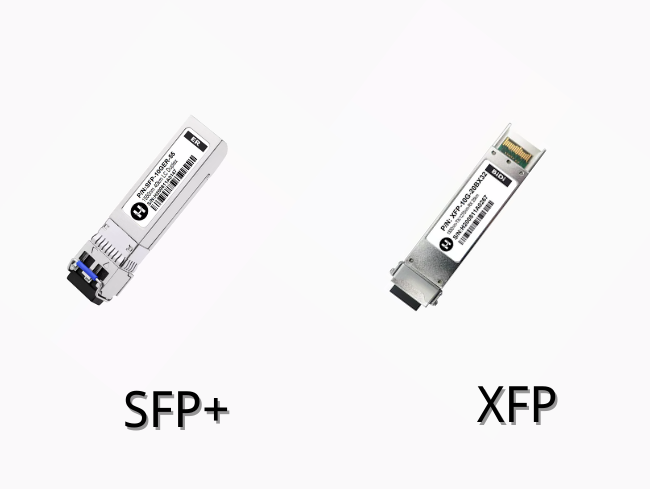 XFP vs SFP+: Definition
The XFP (10 Gigabit Small Form Factor Pluggable) is a standard for modules for high-speed network and telecommunication links that use optical fiber. XFP modules are hot-swappable, protocol-independent and they typically operate at near-infrared wavelengths (colors) of 850nm, 1310nm or 1550nm. Also, XFP transceivers can operate over a single wavelength or use dense wavelength-division multiplexing techniques. Principal applications of XFP modules include SONET OC-192, SDH STM-64, 10 Gbit/s Optical Transport Network (OTN) OTU-2, and parallel optics links.
The SFP+ (Enhanced Small Form-factor Pluggable) is an enhanced version of the SFP that supports data rates up to 16 Gbit/s. 10G SFP+ modules can be applied for SONET OC-192, SDH STM-64, OTN G.709, CPRI wireless, 16G Fibre Channel, and the emerging 32G Fibre Channel application.

What is the difference between XFP and SFP+?
Size & heat dissipation: XFP optical modules are larger than SFP+ optical modules, but have better heat dissipation.
Structure: Unlike XFP, SFP+'s signal modulation function, serializer/deserializer, MAC, clock and data recovery (CDR), and electronic dispersion compensation (EDC) functions are on the motherboard instead of on the module.
Compatibility: First, it can be seen from the above that the sizes of the two are inconsistent, so the two are not compatible. Second, SFP+ ports can support SFP optical modules and SFP+ optical modules, with certain compatibility, but XFP ports can only support XFP optical modules.
Cost: 10G SFP+ optical modules have lower cost than 10G XFP optical modules, and can communicate with other types of 10G optical modules.
Application: For short-distance transmission of 10G optical signals, DAC high-speed cables can be used directly without optical modules. But currently there are only 10G SFP+ DAC high-speed cables on the market, and no 10G XFP DAC high-speed cables.
Popularity: It can be seen from the above that, compared to XFP, SFP+ has greater advantages in terms of size, structure, compatibility, and cost. It meets users' requirements for high density, low cost, and compatible scalability.
Optical Type
XFP
SFP+
Publish Time
2002
2006
Size
Bigger
Smaller
Data Rate
6Gbps; 8.5Gbps; 10Gbps
6Gbps; 8.5Gbps; 10Gbps
Standard
IEE802.3ae; XFP MSA
IEE802.3ae; SFF-8431; SFF-8432
Wavelength
850nm/1310nm/1550nm;
1310nm/1490nm/1550nm;
1270nm-1610nm;ITU17~ITU61
850nm/1310nm/1550nm;1270nm/1330nm;1270nm-1610nm;ITU17~ITU61
Typical Connector
LC
LC
Fiber Type
OM3; OM4; OS1; OS2
OM3; OM4; OS1; OS2
Cost
Higher
Lower
Distance
220m/300m/2km/10km/20km
/40km/60km/80km/120km
300m/2km/10km/15km/20km/40km
/60km/80km/100km/120km/150km

Through comparing XFP vs SFP+, it is clear that SFP+ shares some advantages over XFP:
SFP+ optics has a smaller footprint than the XFP modules, which can also enable greater port density. That is because SFP+ transceivers leave more circuitry to be implemented on the motherboard instead of its inside — it moves some functions to the motherboard, including signal modulation function, MAC, CDR and EDC. Moreover, XFP technology is relatively older but more expensive, that's also the reason SFP+ modules have been gaining more market share.
XFP vs SFP+: Application Scenarios
XFP optics are connectivity options for data center, enterprise wiring closet, and service provider transport applications.
10G SFP+ Transceivers are widely used on 10G switches, routers, servers, NICs and other transmission equipment. Featuring low power consumption and high speed, SFP+ is suitable for data center, enterprise wiring closet and other environments. You can click the link to see the details.
Additionally, 10G XFP and SFP+ transceivers can be inter-compatible in one Ethernet network on condition that their protocols are consistent and they conform to the same wavelength and signaling rate (as the figure presented below).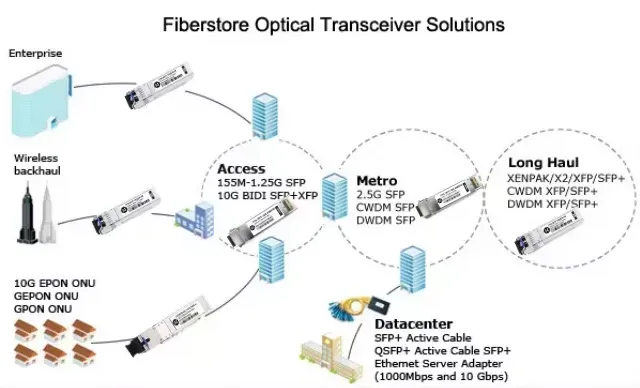 Can I plug SFP+ module into the XFP slot?
No. Since the size of two formats are totally different from each other, it is not feasible to use SFP+ module in XFP slot and vice versa. Please make clear which port type the switch is equipped with and remember that XFP and SFP+ optical transceivers are not interchangeable.
Conclusion
To summarize, XFP vs SFP+, there are many differences. While SFP+ transceivers have a smaller size than 10G XFP modules, considering cost, port density and applications, 10G SFP+ transceivers are favored in the market as a cost-effective solution.
The SFP and SFP+ are available in the same size along with different speeds and compatibility. SFP+ & XFP are used in 10-Gigabit Ethernet applications. For certain applications, the SFP protocol specification is applied. Both the modules are 10G fiber optical modules. Typically utilized in 10G fiber optic networking. Both are popular and are excellent options.