What is PAM4 Modulation and How is it Transforming Optical Networking
What is PAM4 Modulation and How is it Transforming Optical Networking?
In this blog, we take a higher-level look at PAM4, the modulation scheme that makes short distance 400G networking possible, and discuss how this technology will shape the future of optical networking as we know it.
Insatiable – that's a word that so aptly describes the ever-growing bandwidth demands of global end-users. Whereas once we were ready to move past 100G and embrace the potential of 200G, it's already clear to many in the optical networking space that 400G is becoming a necessity. When it comes to enabling 400G Ethernet speeds, a four-level pulse amplitude modulation or PAM4 multilevel signaling is now recommended as opposed to the non-return-to-zero (NRZ) modulation preferred for 100G applications. So what is PAM4 modulation and how is it transforming optical networking?
Let's start by taking a look at some of the statistics and trends that are driving 400G and the need for PAM4 modulation. Just look at some of the statistics: Light Reading reports that in 2017 alone, global video streaming hours grew over 100%. As the wider telecommunications landscape looks forward to implementing new innovations in virtual reality, AI and even 5G, there will be a corresponding surge in demand for the speed and capacity that 400G offers – especially for short range use cases like data center interconnectivity. In this blog, we take a higher-level look at PAM4, the modulation scheme that makes short distance 400G networking possible, and discuss how this technology will shape the future of optical networking as we know it.
What is PAM4-Enabled 400G?
Network engineers have long utilized non-return to zero (NRZ) modulation for 1G, 10G and 25G, using host side forward error correction (FEC) to enable longer distance transmissions. To get from 40G to 100G, the industry simply turned to parallelization of the 10G/25G NRZ modulations, also utilizing host side FEC for the longer distances. When it comes to achieving speeds of 200G/400G and faster, these standard technologies are just not cost effective anymore. As a result, optical networking engineers have moved to PAM4 modulation to bring these ultra-high-bandwidth network architectures to fruition, therefore cost effectiveness is one of the drivers of PAM4-enabled 400G.
Basically, PAM4 is a modulation scheme that combines two bits into a single symbol with four amplitude levels. This effectively doubles a network's data rate, enabling 400G for short-haul transmission. As a result, it is an effective answer to network operators' needs for a cost-effective solution that NRZ simply cannot provide. And, for those of you wondering about the potential of coherent technology for 400G, that's a topic we're planning to cover another time. For now, though, that modulation technique is not totally comparable to PAM4, as it is more suited for long-haul 400G networks. The point is that, for short-haul 400G, PAM4 is a necessity and will serve as a backbone of optical networking for years.
Deployment Timelines: Upgrading Networks for 400G
Although PAM4 enables optical network operators to pursue short haul 400G transmission, it does create a penalty on signal to noise ratio (SNR). This is why the distance for transmission becomes shorter, in the realm of distances up to 10km. At the same time, there is also a much greater need for FEC to mitigate the loss of signal integrity. PAM4 may not necessarily mean a need for more equipment even though transmission distances are shorter. However, it does mandate a need for more signal processing, more error correction and higher performing components within a network's architecture.
Optical transceivers capable of 400G also tend to require more power than those for 100G and smaller. We are also seeing a need for a new generation of network switches that PAM4-enabled 400G transceivers can plug into. Network operator interest in 400G transmission continues to be high, but it will likely be some time before we see this technology deployed on a widespread basis.
In fact, a few months ago, Facebook said it was not yet ready to switch to 400G despite the bandwidth needs of subscribers. The reason the company gave was that, in the team's opinion, the technology was not yet ready for scaled-out deployments. At the same time, however, AT&T is busily investing in upgrading its network to 400G to support the unprecedented waves of traffic that 5G promises to produce. From a 5G perspective, we expect short-haul 400G data center interconnectivity to become especially salient as carriers/service providers look to leverage increased network virtualization. Even though 400G is still in its infancy, it is necessary to meet the bandwidth-hungry needs of network subscribers around the world.
Currently, HeyOptics engineers are testing 400G-capable optical transceivers 400G QSFP-DD LR8 which uses single PCB design, the power consumption is lower than 12W under testing temperatures of 0℃, 25℃ and 70℃, standing the top level in the industry; the product complies with IEEE 802.3bs 400GBASE-LR8 standard and is compatible with CMIS 4.0; Manufactured with mature 8*50G PAM4 integrated optoelectronic design, the product can offer superior signal integrity; Meanwhile, the application of the 50G PAM4 CDR based on DSP technology keeps sure of excellent signal stability and performance of the product, which makes it fully meet the application of single-mode dual-fiber G.652 transmission of 10km.
Below the performance testing results are shown: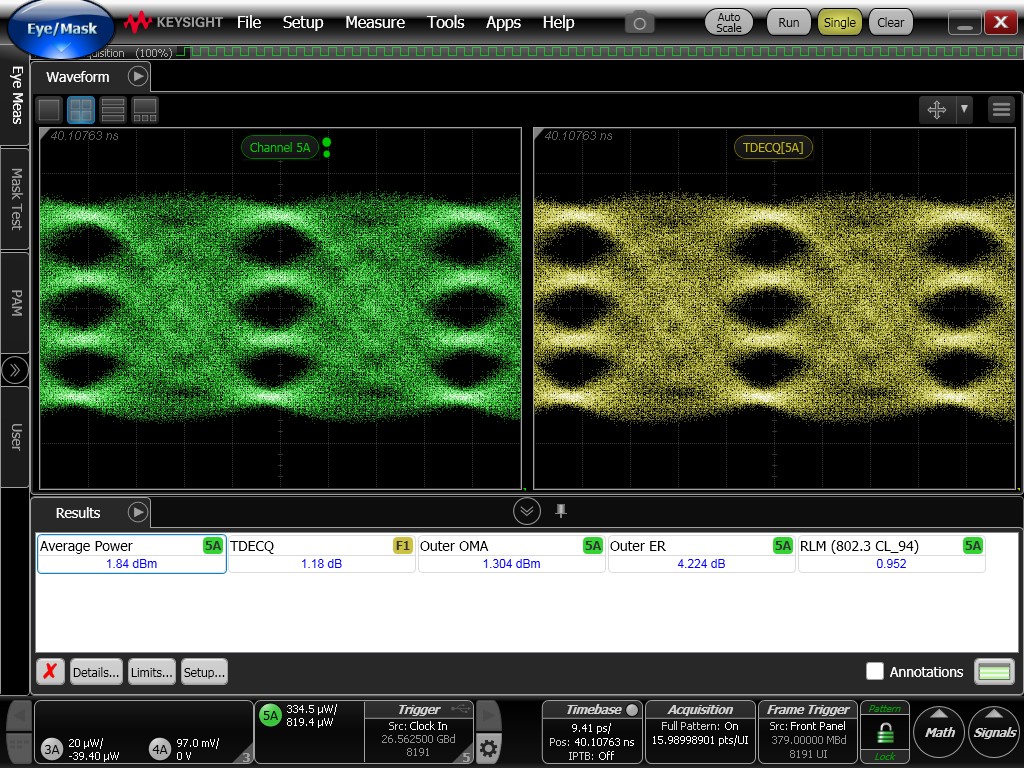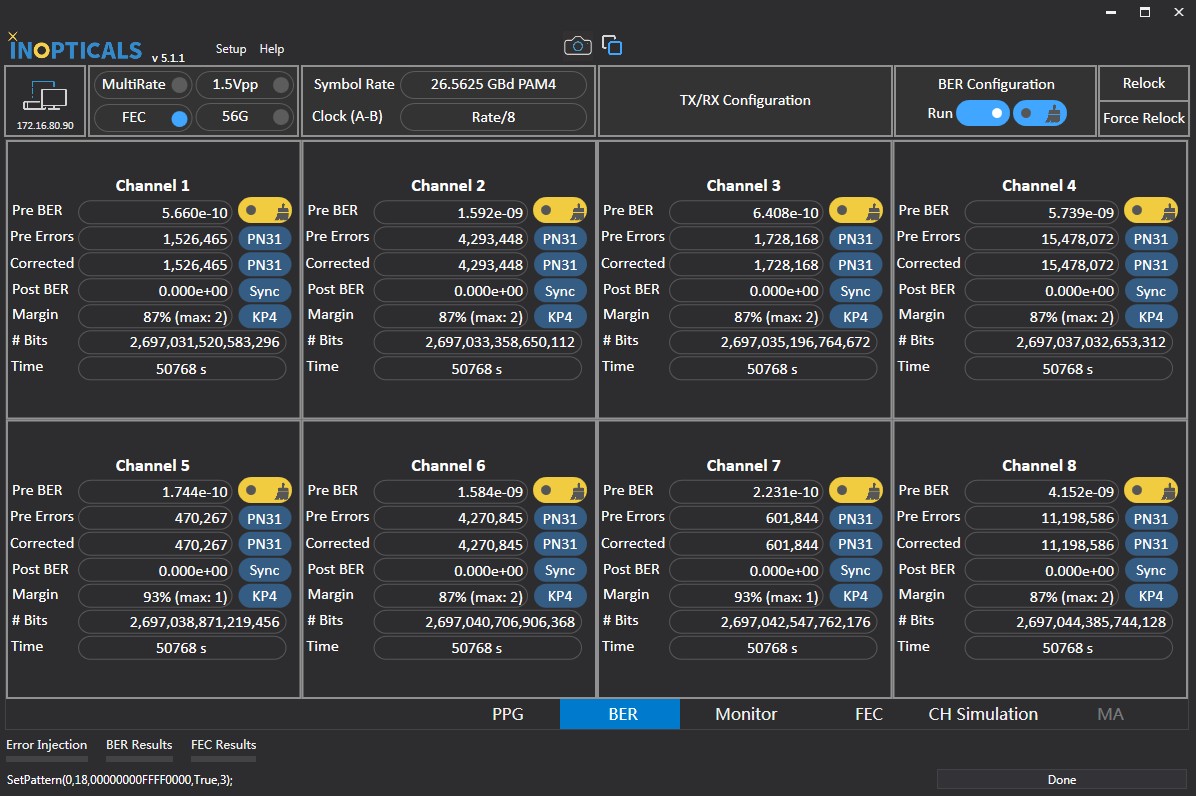 As always, you can expect the short lead times and excellent compatibility that we are known for. Contact us anytime to ask us more about what we can do to support your 400G needs.