What is DisplayPort 1.4?
For years, DisplayPort has been the high-end data and audio connection for gamers and workers running monitors at higher refresh rates and resolutions, like 144Hz and 4K. With its higher data rate than HDMI, it's been far better at handling more complicated data streams, and that remains the case in 2020.
HDMI 2.1
might be able to compete, but supporting devices are still hard to come by and the demand for a new cable may make its adoption slower than many hope.
What's different about DisplayPort 1.4?
The most recent version of the DisplayPort standard that has been published by VESA is 1.4. This is the first major update since version 1.3 was released back in 2014. This is the first version to take advantage of VESA's Display Stream Compression (DSC) technology. DSC version 1.2 transport enables up to 3:1 compression ratio and has been found to be visually lossless.
Being a packet-based extensible protocol for transporting video and audio data, DisplayPort's flexibility has enabled its adaptation into embedded displays, and incorporation into other connectors like the new reversible USB Type-C interface and Thunderbolt. Its Multi-Stream Transport (MST) capability enables high-resolution support of multiple monitors on a single display interface.
DP 1.3 increased the maximum link bandwidth to 32.4 Gbps, this was a 50-percent increase over the previous DP 1.2a specification. The new link rate increased the uncompressed display resolution support up to 5K x 3K (5120×2880), and upped the MST resolution, enabling simultaneous use of two 4K UHD monitors, each with a pixel resolution of 3840×2160, when using VESA Coordinated Video Timing.
In DP 1.4 the use of video transport compression enhances the ability to take advantage of the USB Type-C connector, enabling both high-definition video and SuperSpeed USB, while also facilitating High Dynamic Range (HDR) and 8K video across the DisplayPort or USB-C connector. Examples of increased display resolution with the new standard include 8Kp60Hz HDR deep color and 4Kp120Hz HDR deep color.
Other key new features include:
Forward Error Correction – FEC addresses the transport error resiliency needed for compressed video transport to external displays.
HDR metadata transport, inherent in the DisplayPort standard, provides support that is useful for DP to HDMI 2.0a protocol conversion. It also provides a flexible metadata packet transport for future dynamic HDR standards.
Expanded audio transport – This spec extension covers capabilities such as 32 audio channels, 1536kHz sample rate, and inclusion of all known audio formats.
According to VESA Board Chair Alan Kobayashi, "New applications are demanding displays with better resolution, wider color gamut, and increased dynamic range. Consumers and others are also recognizing the value and ease-of-use associated with running multiple displays on one interface, which is another area we addressed in this new release with MST improvements. We believe the tools provided in this new DP standard release will enable a quantum leap forward in display quality, which leverage DSC compression along with transport of high-quality audio and video content."
Should you buy DisplayPort 1.4?
DisplayPort 1.4 is the highest specification DisplayPort technology available as of early 2020, aside from DisplayPort 2.0. But you might be asking yourself, is DisplayPort 1.4 worth it? Do I need DisplayPort 1.4?
The answers to these questions vary as it depends on your specific use case and needs. If you can benefit from DisplayPort 1.4 improvements, such as the introduction of DSC 1.2 and expanded audio channels, it's definitely worth picking up, or even spending a little more if you have the option.
If you're a user looking to do some high refresh rate gaming (120Hz and above) or high-resolution video editing, you'll need at least 32.4Gbps with DisplayPort 1.4. You need to make sure that all devices (monitors, sources, and cables) support DisplayPort 1.4. And I recommend you to use an
8K Displayport 1.4 cable
.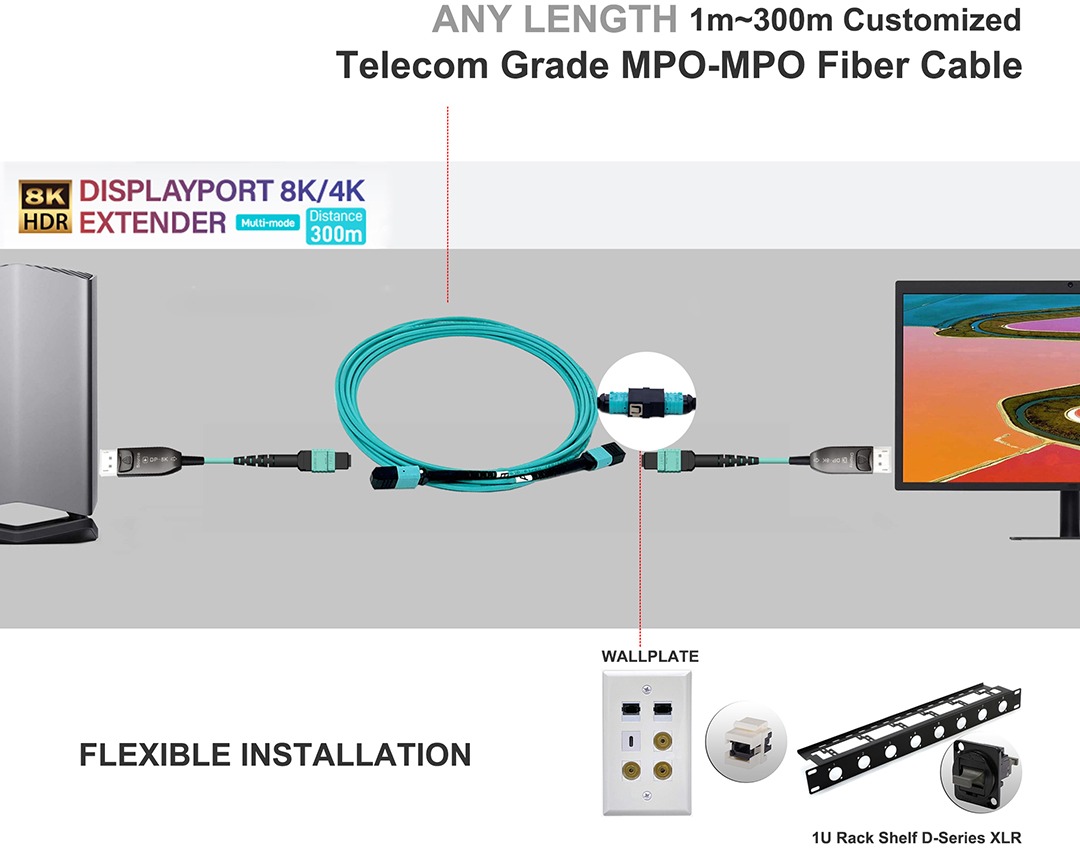 Because 8K Displayport 1.4 cable is a pure fiber DisplayPort 1.4 OM3 fiber optical cable (real pure fiber) with high performance and low power consumption. Using optical fiber to replace copper wire as the high-speed signal transmission medium, it can perfectly transmit 8K UHD images up to more than 100 meters. Compared with the traditional copper wire, this DisplayPort cable is much longer, softer, and lighter, with better signal quality and perfect EMI/EMC feature. Compared with other DisplayPort optical fiber transmission solutions, the 8K Displayport cable is easy to use and has perfect compatibility.
Applications:
Digital Signage, Security systems , Home Theater
Conference Room Video Equipment
LED signboards in streets and in stadiums; TV Broadcast Station
Medical Imaging Equipment, Airplane On-board Video System
Blue-ray, 3D video, Projector, Set-up box, DVR, Game Consoles, and Computer