SFP+ vs SFP28 , What is the difference?
With the introduction of new technologies and economic drivers, the data center landscape of many companies is moving towards higher speeds, higher scalability and higher performance levels. We all know that broader technological shifts require more networks. bandwidth. As a result, more and more organizations are adopting the technology to upgrade from 10GbE to 25GbE. This article provides a brief overview of 10GbE and 25 GbE Ethernet (25GbE) technology, focusing on the SFP+ and SFP28 optics used in it, and providing some practical information. This helps CIOs, IT and network executives and managers understand the difference between the two optical modules.
What is 10 Gigabit Ethernet?
10 Gigabit Ethernet (10 GbE, 10 GE or 10 GigE) is a disruptive telecommunications technology that transmits packets over Ethernet at a rate of 10 billion bits per second. This innovation extends the reach of traditional and familiar Ethernet in local area networks (LANs) to a wider range of network applications, including high-speed storage area networks (SANs), wide area networks (WANs), and metropolitan area networks (MANs). It provides a more efficient and cheaper way to move data over the backbone connections between networks. The IEEE 802.3ae standard allows for a distance of up to 100 kilometers between physical locations on a single mode fiber. Both single-mode and multimode fiber systems can be used with 10 GbE applications.
The 10 GbE standard is fully interoperable with existing Ethernet protocols. It differs from traditional Ethernet in that it is a full-duplex protocol, which means it does not require the Carrier Sense Multiple Access/Collision Detection (CSMA / CD) protocol. In other respects, 10 GbE is identical to the original Ethernet protocol. This is important for network administrators because as speed requirements increase, 10 Gb Ethernet can be easily deployed in existing networks, providing cost-effective technology that supports high-speed, low-latency requirements.
SFP+ transceiver
SFP+ is an enhanced version of SFP. The SFP+ specification is based on the SFF-8431. In most applications today, SFP+ modules typically support 8 Gbit/s or 16 Gbit/s Fibre Channel, 10 Gigabit Ethernet. SFP+ modules are smaller than earlier 10 Gigabit Ethernet XENPAK or XFP modules. Become the most popular 10 Gigabit Ethernet module on the market.
SFP28 transceiver?
SFP28
stands for Small Form-Factor Pluggable 28. It is the third generation of the SFP interconnect systems designed for 25G performance per the IEEE 802.3by specification (25GBASE-CR). The SFP28 is an enhanced version of SFP+, but is designed for 25G signal transmission. The SFP28 has the same common form factor as the SFP+, but supports 25Gbps electrical interfaces per channel. 25G standard SFP28 transceiver:
SFP28 25GSR 85
,SFP28 25GLR,SFP28 25GER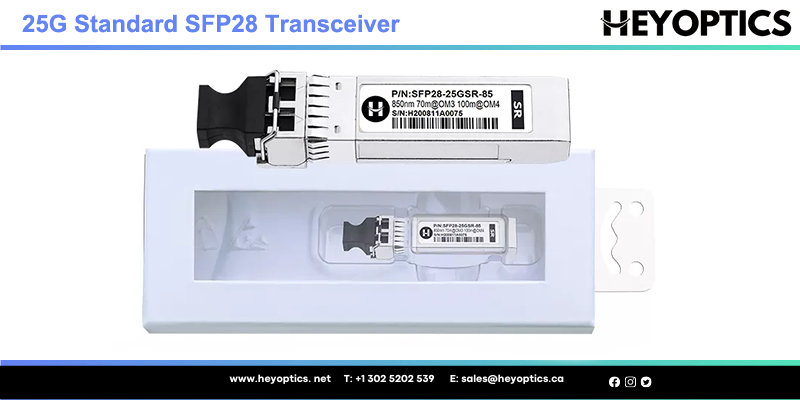 Can I use SFP28 Transceivers in SFP+ ports?
The answer is yes, because SFP28 is backward compatible with SFP+ ports and can be fully functional. SFP+ optical modules and SFP+ cables can be plugged into the SFP28 port, but not supports 25Gb / s data rate.
SFP28 vs SFP+ Comparison, What is the difference?
SFP+ and SFP28 transceiver has the same pinouts and they are mating compatible. However, SFP+ is designed to operate at 10 Gb/s whereas SFP28 is designed to operate at 25 Gb/s. SFP28 has increased bandwidth, superior impedance control, and less crosstalk than the SFP+ solution. Also, the SFP28 transceiver and SFP28 copper cable has significantly greater bandwidth and lower loss when compared to the SFP+ version.
Key benefits of 25GbE SFP Transceiver
Run business applications and services faster with 5x throughput, with similar economic benefits to 10GbE
Future-proof infrastructure, backward compatible with 10GbE, easier to migrate to 100GbE
Economical advantages of cost and revenue generation using an open network architecture
It runs on a pair of cables like 10GbE, so switching to 25GbE does not require any cabling infrastructure upgrades – it is fully compatible with the existing 10GbE infrastructure.
Reduce capital and operating expenses: Deploying SFP28 to build 25GbE networks enables organizations to significantly reduce the number of switches and cables required and reduce the cost of facilities associated with space, power and cooling compared to 10GbE and 40GbE technologies
Conclusion
Many data center IT organizations will migrate from 10GbE to 25GbE or 40GbE over the next few years. 25G Ethernet switches and SFP28 transceivers are critical for a smooth migration. Since the 25G SFP28 ports also support 10GbE speeds, most IT organizations will easily decide to upgrade their existing fiber optic cabling.
25GbE transceiver is a critical carrier to implement 25G Ethernet technology in cloud and enterprise data center environments. As the enhanced version of SFP+, 25G SFP28 transceiver is able to handle 25Gbps per lane transceiver while ensuring backward compatibility to SFP and SFP+. Heyoptics offers a broad portfolio of SFP+ transceivers, 25G SFP28 transceivers and 25G SFP DACs to meet all application environments in 25G data centers.