HDMI 2.1 over fiber-8k hdmi fiber cable
A new generation of cables has just arrived, bringing more bandwidth, features and functionality than ever before. HDMI 2.1 cables are already the mainstay of the new generation of console games.
HDMI 2.1 is a milestone revolution in standards, not the incremental evolution of past generations. HDMI 2.0 builds on HDMI 1.4 and disrupts the standard by improving color spectrum support, increasing transmission and data rates by over 50%, and doubling support for audio channels. So what do you know about Heyoptics' 8k HDMI fiber cable? Do you need your 8k TV or gaming equipment? This article will introduce the functions and advantages of fiber optic 8k HDMI cables.
Fiber Optic HDMI 2.1 Cable 48Gbps 4K 8K 120Hz HDR - Expandable
Our 8K HDMI MPO Fiber optic cable provides the highest speed and bandwidth needed for the best video and/ or audio quality for high definition at lengths up to 303 meters (1000ft), which supporting the long distances required in commercial video solutions.
The detachable HDMI (TX+RX ) to MPO ends can be replaced at any time without replacing the entire cable. You can change and connect with DisplayPort, USB, DVI or other type connectors anytime. And you can pre-wire the MPO fiber optic cables in wall without directional concern as you can change the "Source" and "Display" anytime, which makes the solution ideal for Home, Residential or Commercial integration.
It is a professional 8K HDMI Cable supporting full HDMI 2.1 specs including 4K 120Hz 8K 48gbps Dynamic HDR VRR ALLM CEC with Detachable HDMI Laser connectors for an easy installation of the cable through walls or conduits without damaging the HDMI Connector.
This bundle comes with both Cable plus the 8K Fiber Plugs HDMI kit, ready to install.(HDMI removable head)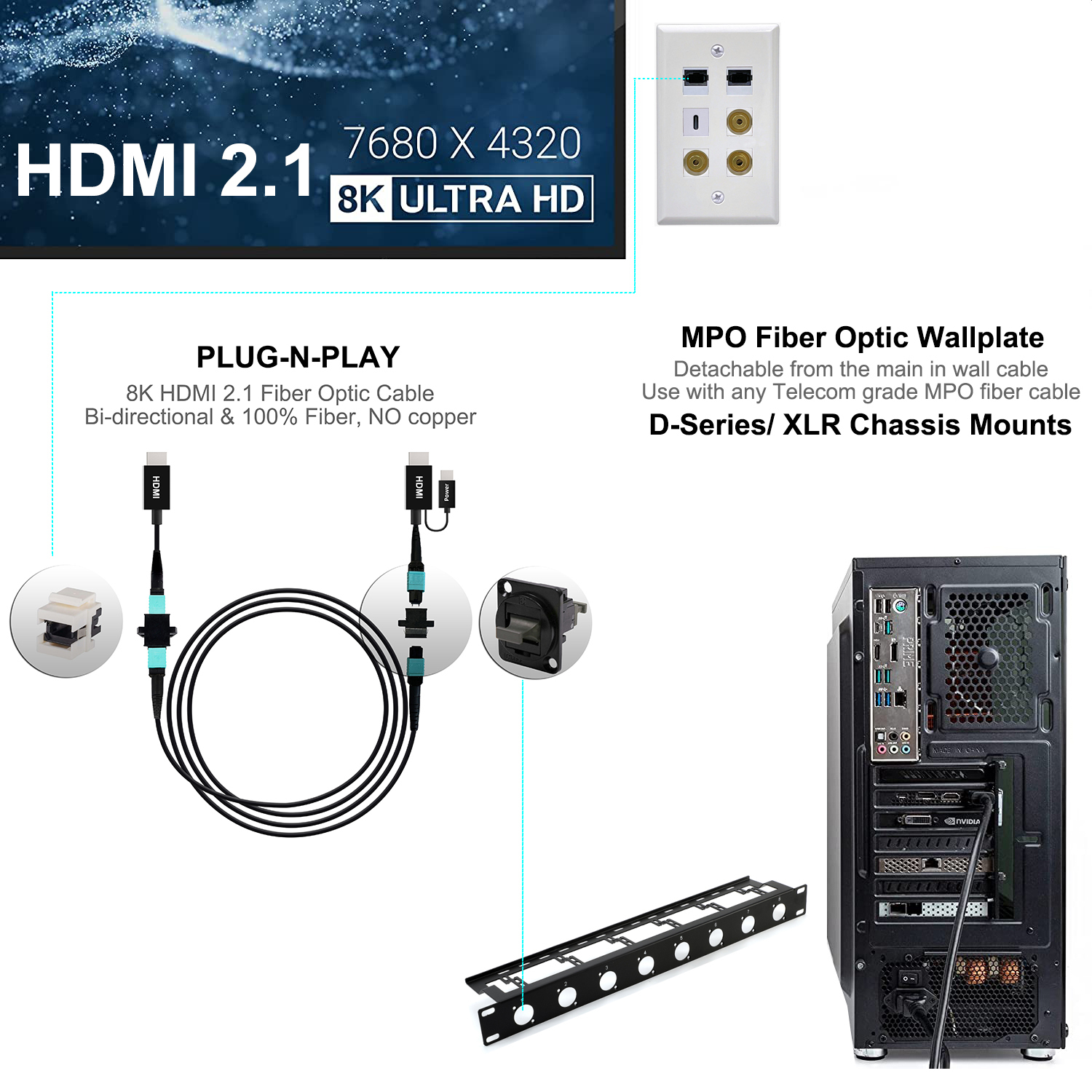 Superior HDMI Signal, Picture quality on your TV will look the Best, better than Any Other HDMI Cable. Perfect Signal Integrity at any Distance so we do not waste your Quality.
Why choose HEyoptics HDMI 2.1 optical cable?
Low-cost fiber optic HDMI cables are made from cheap lasers that fail within a few months so you have to unplug the entire cable, and their signal integrity quality is... cheap. Because these lasers are the cheapest...
Your HDMI quality is lost in these cables because they can't keep up with HDMI 2.1 SuperSpeed Signal Integrity after a few feet, so your TV or projector can recover from errors and reduce HDR deep color and quality to keep up.
Compared with the hybrid active optical cables having uni-direction from source to display, which always cause troublesome, time cost, labor cost when field pre-wiring starting over. Our HDMI 2.1 MPO Fiber optic cable can be installed from any location from a source to display without the burden of ensuring the cable is in the correct direction. And the MPO Fiber Optic cables are ultra-slim, lightweight and durable, which provides for a higher performance connection than copper cables. There is no loss of signal over long distance and no EMI interference.
NOTE: This item includes a pair of HDMI (TX+RX)-MPO ends, 2x MPO adapters and you selected cable length of MPO-MPO female fiber optic cable. MPO multi-mode OM3 or OM4 fiber optic cables (12 strand Type- A) from other manufacturers may also work with our HDMI (TX+RX)-MPO connectors.
Application scenarios
Remote Medical Imgaing Application Scenario

Home Theater Application Scenario

Fiber HDMI 2.1 cable Advantages
STAY "LASER" through Wall Plates
Pre-Terminated /Ready to install, no tools required.
Easy Connection - There is no catch! Just plug in and play.
Exclusive - Detachable HDMI - HDMI heads are detachable for easy-pull and future-proofing
Our 8k hdmi optical cable does not require any power supply, setup and special conditions. Our HDMI plugs run over fiber optics and are completely immune to power surges, thunderstorms and interference. Fiber laser transmission for a pure error-free and noise-free connection for video and sound that no copper cable can do.