Riser vs Plenum Cable:How to choose?
There are many different types of cables that you can use whether you are at home or in a commercial building. When shopping for cables to be placed in a wall, an important decision is to make sure you get the most suitable cable. Some cables used inside walls are CMR (riser) and CMP (Plenum). In this article we will help cover this topic and provide insight into these two popular cables.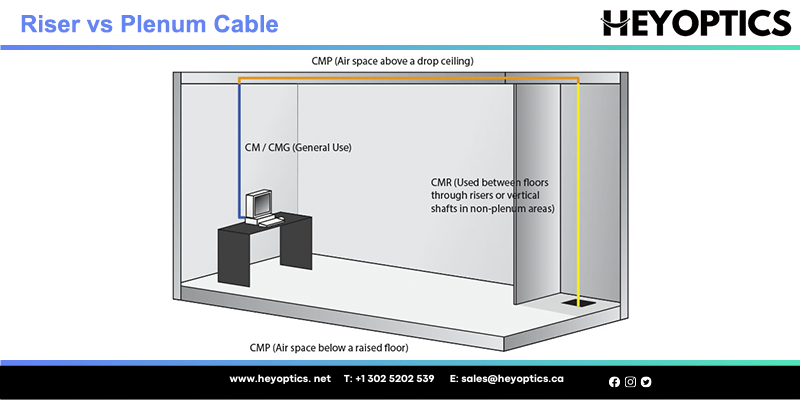 Riser vs Plenum Cable
What does it mean if a cable is riser rated cable or plenum rated cable? Riser and plenum refer to the material of the cable and how well suited they are in case of a building fire. When determining between whether riser or plenum cable would be best for a particular installation, one has to know what they are and what purposes they serve.
What is Riser Cable?
Riser cable is cable that is ran between the floors in non plenum areas. They get their name because of the way riser cable is ran which is rising up to each floor. Riser cable is important in that it can be a buildings backbone that transmits data, audio and video signals.
The way Riser cable is termed through the industry is "CMR" which stands for communications riser. CMR is the fire retardant rating on riser cable which gives it the ability to be put in the walls. The common materials you can find in these cables jackets are flame retardant PVC and an insulation around the wires of Polyolefin (PO). These types of compounds help the cable against the spread of flames and performance at higher temperatures.
What is Plenum Cable?
Plenum cables are made from a flame-retardant and low-smoke polyvinyl chloride (PVC). They have to meet stricter fire safety standards because plenum cables are installed in plenum areas in buildings. The National Fire Protection Association (NFPA) standards NFPA 262 and NFPA 90A set the standards for plastics and other materials used in plenum cables. Because plenum cables are installed in an area that poses as a high-risk fire danger, they are also put through intense fire safety tests. Plenum cable jackets are thinner and the color codes are not as opaque as those on riser cable are. Just like riser cables, plenum cables consist of a variety of different cables: network, audio, thermostat, and more.
Riser vs Plenum Cable vs In-Wall Cable Ratings and Usage
| | |
| --- | --- |
| Cable Ratings | Cable Usage |
| CMP, CL3P, CL2P, FPLP, CATVP | All In-Wall, Plenum, and Riser applications. |
| CMR, CL3R, CL2R, FPLR, CATVR | All In-Wall and Riser applications, not permitted in Plenum applications. |
| CM, CMG, CL3, CL2, FPL, CATV | In-Wall rated, permitted in 1-2 family residential Riser applications, or in Riser with raceway or fireproof shaft, not permitted in Plenum applications. |
Which Is More Common Riser vs Plenum Cable
Getting a feel for the overall market on ethernet cable can be a tricky scenario. Some of the popular questions we come across is which is more common plenum or riser cable?
Getting into the question of which is more common plenum or riser cable we can say that it depends. The more common cable we work with and get requests for is riser rated cable. Riser rated cable is some of the most popular cables because its the most popular choice for residential installations. However Plenum cable is just behind it in terms of its common place in the market. This is because of its ability to handle temperatures better than any rated cable when it comes to networking. To better understand which is the more common cable lets get into more detail on these two cable types.
Riser rated cable or (CMR) cable as you might see is a cable rated for in wall installations, Risers in buildings and between the floors. It's able to achieve this because of its fire retardant jacket which is usually PVC. The majority of riser cable you will see and we carry will be solid contributor cable. Solid conductors do a better job of sending signals over longer distances and are better for riser rated installations. The additional reason for that is because the cable is stiffer and more efficient at being pulled or pushed through walls or conduits.
To better understand which cable is more common, let's look at the two cable types in more detail.
Riser vs Plenum Cable: How to Use?
Install Riser Cables
Riser cables will be the type that most households install inside the walls of their homes.It can be ran floor to floor and also be used for general use purposes like computer to switch, router to computer and much more.
It's construction makes it great for long runs which you want when you put it in risers or walls because the majority of these cables are going to have solid conductors. Solid conductors help give you better signal strength over longer distances and are stronger for pulling through the walls.
There's also different ways in which you can connect this type of cable. Riser cable can connect to RJ45's and Keystone Jacks. Depending on your specific installation, your cable and location will determine the best connector for that situation.
For example a riser cable channel usually has riser cable in the walls connected to keystone jacks then from the jacks a patch cable is connected to your end device. The keystone jack can be placed in a wall plate which is mounted to the wall in a bracket.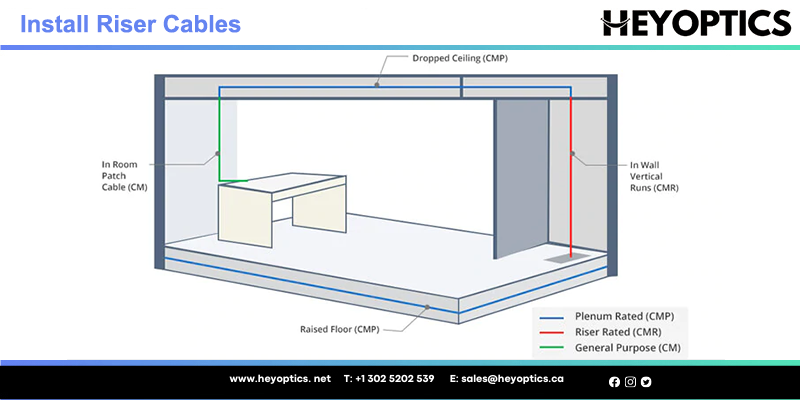 Relationship between Plenum and Cabling
In addition to HVAC usage, plenum spaces are often used to house networking cables being run throughout a building. The cables used to run through these plenum spaces are referred to as Plenum Cable or abbreviated as CMP. The difference between plenum cable and other cables are the jacket material. True plenum cable uses flame retardant low smoke materials such as Teflon FEP, should there be a fire the cable would emit minimal amounts of harmful fumes compared to lower grade jackets. This material is created to self emit it's flame better than any other cable jacket rating. Why is this important? When running cable in areas with air flow the spread of flames increase because of that. This is where plenum cable come in to play. Plenum (CMP) are the only permitted networking cables that can be installed in areas with air flow (Plenum spaces). By installing plenum rated cable you help ensure that your building code is met along with safety standards.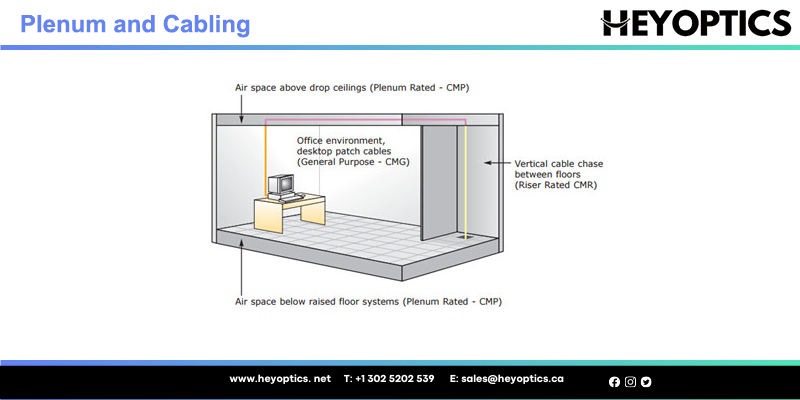 The Cost of Riser vs Plenum Cables
Plenum cables cost more than riser cables. Prices for plenum cable can be 50%-70% higher than riser cable. As plenum cables have to meet a stricter fire safety standard than riser cables, the materials used in plenum cables to meet these standards are usually more expensive than the material used in riser cables.
Riser vs Plenum Cables: FAQ
Can Riser be Used In Place of Plenum?
Riser cables CANNOT be used in place of plenum cable. It is best to ALWAYS use plenum cable in installations and spaces that require plenum cable. After all, the design and manufacture of plenum cables are to ensure the safety of a building and a building's inhabitants.
Should Riser vs Plenum Cable be Used?
The type of installation determines which cable, riser or plenum, is used. If the installation only goes between floors in non-plenum areas, riser cable is sufficient. If budget is an issue, riser cable is usually cheaper than plenum rated cable. However, for use in plenum areas, always best use plenum rated cable. Plenum rated can be used in place of riser rated cable. Riser rated cable is NEVER to be used in installations where plenum rated cable are required. That way in case of fire, damage is limited. For Network Ethernet connectors, RJ45 plugs, etc. they are the same for riser and plenum cables. In the end, the choice of cable should be one that best fits the installation's parameters. For more information, please check our Technical Guides of NEC and Flame Test Reference.
Do You Need Plenum-Rated Cable if it's in Conduit?
If you're using a plenum-rated conduit, you don't need to use a plenum-rated cable. This is true even if the conduit is in a plenum space. The most common types of plenum conduit are inner duct (often used for fiber runs) and metal. PVC pipes are generally not plenum-rated.
However, installing conduits is expensive, and purchasing plenum-rated cable is often easier and cheaper.
Plenum Cables for Smart Buildings
Smart buildings require intelligent infrastructure that can support an integrated network of building systems. Smart wiring infrastructure becomes the foundation of smart buildings. Due to the variety of applications and requirements and locations, Plenum cables are recommended for smart buildings.
Finally
Putting the right cable in the right place is often the first step when shopping for an Ethernet cable. Knowing about these two popular cables will definitely help in deciding which one to choose for your home or office. We hope this article on what is Riser vs Plenum Cable is helpful to you. For more information please contact sales@heyoptics.ca.