Is HDMI 2.0 Needed For 4K?
HDMI is here to stay with us in our daily lives. Almost every household has PlayStation 3, HDTV, Blu-ray player, or HD-DVD, and HDMI is found in all of these devices. HDMI is a connection for the home theatre connections or televisions. HDMI is more than a port we are used to seeing on the back of the TV. It is a set of rules that permits high-definition (HD) communication with devices.
Wondering how HDMI works? From a technical standpoint, HDMI means High Definition Multimedia Interface. This global connectivity standard was established with a clear mandate of having a high definition transmission of video and audio in a wide variety of products. HDMI exists to enhance quality in viewing and sound systems. With a single HDMI cable, you can experience all digital solutions that you use to connect and interconnect with other components in your home or an office system. This enhanced technology ensures that your systems can communicate with each other as they exchange crucial information. This creates room for adjustments and optimization to be made automatically in an easy and free manner.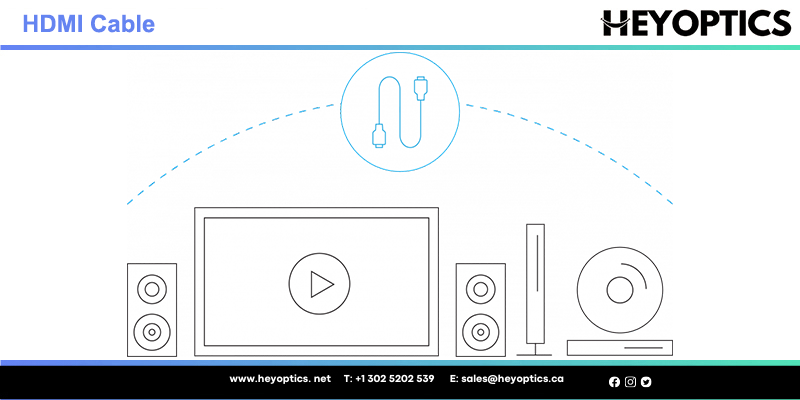 HDMI cables transfer both high-definition audio and video over a single cable and make sure you can use your new HD TV or projector to its full capabilities. All HDMI cables are essentially the same in that no matter what version you have, they connect your HD TV and audio/video devices such as Blu-ray player, Xbox, Playstation, Apple TV, or other media players. They allow a data signal to be sent from your media device to your TV.HDMI technology can also be wireless using a Wireless video HDMI.
HDMI works by the use of transition-minimized differential signaling technology to transfer information or data from one location to another. The transition-minimized differential signaling (TDMS) is a technique that protects information from degradation as it travels down the cable length from one device to another. What happens is that the sending device encodes the signal by reducing the number of transitions. This helps to protect the quality of the signal and limits the chances of degradation. As the information is transmitted, one of the twisted pair of cables carries the signal itself while the other carries the inverse copy of the signal that is in transmission. Upon arriving at the receiving device, the HDMI measures the difference between these signals and uses the information to compensate for the signal loss. This is how you get high-quality audio and visual images. The HDMI also has the capability of protecting data from piracy through the high-bandwidth digital protection (HDCP) technique. This technique utilizes the authentication protocol used in protection against piracy. HDMI offers the best and most convenient audio and video connection in the market today. It is the only way that you can enjoy a 1080p full high-definition video in your home.
HDMI Variations Explained:
HDMI cables can be certified as a "standard" and, as a result, come in a few variations. Any
HDMI cable
that is certified is tested to transmit 1080i or 720p video.
Here is a breakdown of what their differences are and what each one supports:
HDMI 1.4 – If you want your HDMI cables to support 4K resolution, you need to make sure that they are High-Speed HDMI cables. They are tested to transmit video resolutions from 1080p to 4K with a richer color palette. With or without HDR, you need High-Speed HDMI cables. There is a Premium certification as well, but it is completely optional.
HDMI 2.0 – This enhancement allows everything that HDMI 1.4 offers, except it, offers increased bandwidth and the ability to present a wider variety of colors. HDMI 2.0 is certified to have a bandwidth of 18 Gigabits per second which supports 4K resolution at 60 FPS (frames per second).
HDMI 2.0a – HDMI 2.0a offers all previous enhancements with different types of HDR. This enhanced cable allows for more vibrant colors. It is noticeable compared to the HDMI 1.4 and 2.0; however, you do not need this cable to support 4K. It all depends on what you want the resolution to be.
HDMI 2.1 – Lastly, HDMI 2.1 cables enable dynamic HDR, faster refresh rates, and much higher bandwidth than any of the previous. To learn more, read: What is HDMI 2.1 A Comparison with other HDMI versions?
Key takeaways:
These enhanced trends change resolution, color, and bandwidth; however, whether they support 4K or not doesn't change. All high-speed cables should perform approximately the same regardless of the version of the certification standard used to certify the cable.
When it comes to 4K TVs, you don't need a special HDMI cable. The HDMI cable standard affects color and resolution, but 4K TVs don't need an updated version.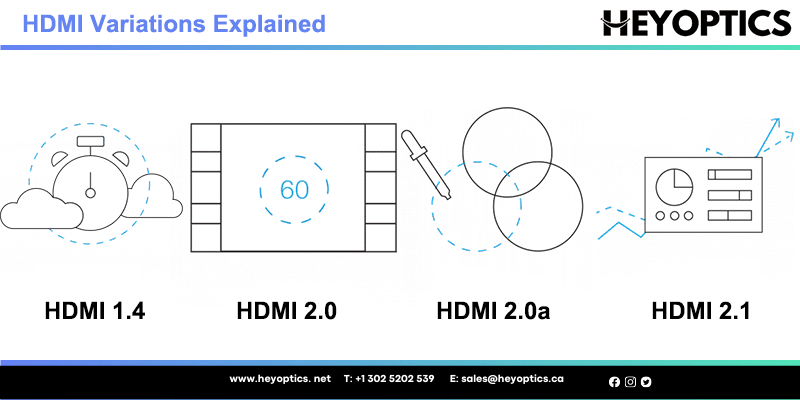 Why choose HDMI cables?
HDMI is an all-digital signal transfer cable. This means that it carries uncompressed,–digital represented data that is in transmission between different components. HDMI maintains perfect transference of pictures in different processing stages that exist in complex digital to analog or analog to digital processes.
Secondly, HDMI comes with one cable convenience. It offers the same all-digital transfer for audio signals with up to eight simultaneous channels of high-definition audio.
Thirdly, the growth of HDTV and other related high-definition devices has made it a standard cable in most audio and video appliances.
Conclusion
Wireless Video HDMI is a simple, easy, and reliable alternative to regular HDMI cables that do not require a Wi-Fi connection. Wireless Video HDMI is a direct connection without wires between your media source and TV, so there is no degradation in quality or high latency.
Wireless video HDMI can wirelessly deliver up to 1080p60 HD (not 4k) quality video from your media player to your TV and supports 2 channel stereos with ultra-low latency.
Instead of hard-wiring directly from the media player to the TV, you replace these cables by connecting the transmitter and receiver on either end. The transmitter connects to your computer, Blu-ray player, or game console, and the receiver connects to your TV. This instantly establishes a wireless connection between the two. You can even send HD video or audio from a media player up to 150 feet away in one room to a TV in another.
HeyOptics Suggestions
Before buying an HDMI cable, you should look for specific areas to ensure you have a high-quality cable. These aspects include speed grades, bit depths, in-wall grades, specific feature support, and materials used during development. Essentially, with these attributes, you can tell the difference between a high-quality HDMI cable and a low-quality cable.