HDMI Over Ethernet Technology
Building a network with fewer cables has emerged as a key requirement in recent years. This is because cable clutter can lead to several confusions and accidents, if not managed properly. To accomplish this, various technologies have been developed over the years. HDMI over Ethernet is one of those technologies that have gained traction in recent years. Now, you may ask how does this technology help in superior signal transmission while using fewer cables? This post seeks an answer to this question and covers everything you would like to know about this technology.
HDMI and HDMI Over Ethernet Discussed in Detail
HDMI stands for High Definition Multimedia Interface and it is a replacement for analog standards. An HDMI video/audio interface facilitates the transmission of compressed and uncompressed digital audio files or uncompressed video files from an HDMI-compliant input to a suitable output. The advanced versions of HDMI can support 4K and high definition 3D signals in high digital quality as well as can support up to 32 channels of surround sound in a single cable.
HDMI distribution is achieved by AV devices, such as extenders, switches or matrices, that accept a single input signal and distribute the same signal to multiple isolated outputs and/or destinations without ground loops or signal degradation. This distribution is usually performed using devices such as switches, extenders, matrices, and so on, and special Ethernet-enabled HDMI cables. All these devices receive a single input signal, which is distributed to multiple outputs, without any signal degradation. These outputs may be distributed at the same location or across multiple destinations. The Ethernet HDMI cable can support high-speed data of 100 Mb/seconds, which is a required speed of home networking applications.
Is HDMI Over Ethernet Suited for Long Distance Transmissions?
Yes, it is suited for a long-distance transmission. Distribution of video signals using coax cables or analog video cables comes with its own set of challenges such as frequency losses. These cables also lead to the deterioration of signals. Here, IP extension makes a difference. HDMI over Ethernet uses fiber optic cables and AV/KVM extension devices to transmit compressed video or audio files over long distances at a high resolution. Fiber optic cables are immune to electromagnetic interference and they facilitate signal transmission to any distance without any degradation. Another great thing is that the Ethernet-compatibility of HDMI cables does not affect unencrypted or encrypted data; rather, it allows users to share or access data across Internet-connected devices.
High-end audio visual over Ethernet systems installed in areas such as stadiums or outdoor screens employ compression algorithms such as H.264 to send data packets over long distances. This algorithm when combined with Ethernet-enabled HDMI technology enriches the visual experience of spectators. The algorithm also helps reduce the signal delay to three or two frames per second. Along with this, IP-driven extenders and Ethernet switches are used for ensuring disturbance-free long-distance transmissions. Generally, managed Ethernet switches are considered for this combination because they enable users to have a better control over the network.
Owing to the increasing demand for HDMI over Ethernet applications, HDMI has rolled out new connectors that support various speeds. The following are five different types of HDMI connectors that support standard and HDMI over Ethernet applications:
Standard HDMI Cable: This cable supports data rates up to 1080i/60.
Standard HDMI Cable with Ethernet: This cable includes Ethernet connectivity.
High Speed HDMI Cable: This cable is designed to support data rates beyond 1080 P. It means, you can enjoy 3D formats as well as deep color through the cable.
High Speed HDMI Cable with Ethernet: This cable also possesses Ethernet connectivity.
Automotive HDMI Cable: This cable helps connect in-vehicle HDMI devices and external HDMI devices.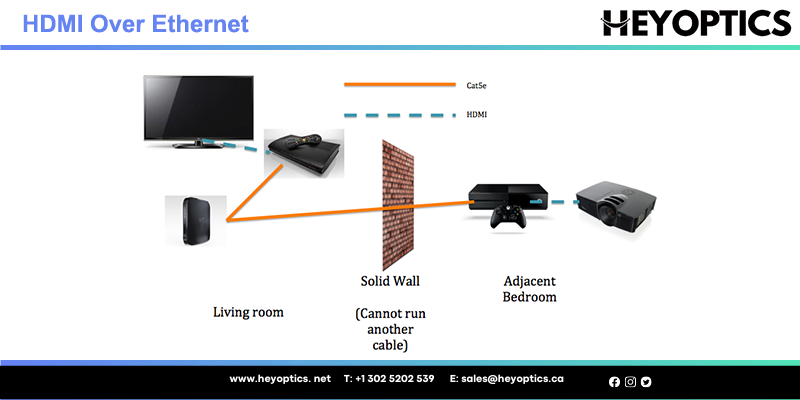 How To Send Video Over Ethernet
IP extension is a way to extend your video signals over long distances. Using AV/KVM extension technology to transmit lossless compressed video over optical fiber cables enables video extension of resolutions up to 4K@60Hz across very long distances today. This method provides enough bandwidth for high-resolution DisplayPort 1.2 video signals, keyboard/mouse, USB 2.0, RS232 and audio.
High-end AV over IP systems installed in stadiums, for example, can utilize compression algorithms such as H.264 to send packetized data over increasingly long distances. Such compression shrinks the signal delay down to an unnoticeable two or three frames per second. This gives the spectators an enhanced experience by viewing live or edited video content.
IP-based extension allows extension of various video signals using standard (managed) ethernet switches to support extra-long distances beyond the supported CATx cabling distances of 100 meters.
How and When To Use Ethernet Over HDMI
Multiroom HDMI / Digital Signage
Multicasting HDMI allows to distribute video and audio to any screen on a signage network. A single transmitter can deliver multimedia to hundreds of displays with no need to run dedicated video links from a back room to displays in lobbies. By combining matrix and video extension solutions, USB extenders, and video and peripheral extension and switching (such as in KVM setups) gives users an almost endless number of configurations for their applications, including touch-interactive signage displays and information and wayfinding displays in retail, healthcare, education, public offces and more.
Video Wall Processing
An IP-based controller applicance can be used to turn any video distibution setup into an AV matrix switching or even video wall control setup that enables users to place any content from any source to any display. When multiple AV receivers are combined into a video wall, users can create presets, specific content zones and control content remotely. The system's mobile support enables users to easily access and activate presets from a cell phone or tablet device.
Video Matrix Switching
A video matrix switch, also called a crosspoint switch, is a type of switch that connects multiple inputs to multiple outputs and can be configured to combine supported types and numbers of inputs (e.g. HDMI content player) and outputs (screens). Each input on the switch can be routed to any output source or receiver, or the same input can be routed to all outputs, or any combination in between. For example, an 8 x 8 matrix switch can route 8 inputs to 8 outputs, 1 input to 8 outputs, or any combination up to 8. This eliminates the need to manually move cables to display video from different sources on different screens. It is most commonly used now with HDMI video.
In a video matrix switching setup you can switch multiple digital or analog sources to multiple digital displays in any combination. Like this, HDMI signals can be amplified and easily routed from several video sources (e.g. PCs, DVD players, tablets) to various display devices (e.g. LCDs, projectors, etc.) and speakers.
HDMI over Ethernet Products
Firstly, you would need two devices that support HDMI Over Ethernet. These devices are usually termed as HEC compatible. Then you would need an HDMI cable with Ethernet and any of the following devices depending on the requirement.
HDMI Splitters: As the name suggests, these devices help split HDMI signals for display across multiple screens, such as ones you can see at stadiums, where different screens are placed for multiple viewing experiences. Splitters allow accurate reproduction of signals without attenuation or delays. They are also used to distribute audios separately from videos.
HDMI Converters: They allow you to convert digital HDMI to digital or analog video or audio formats.
HDMI Adapters: You can use these devices to connect HDMI input devices and display devices.
HDMI Over Ethernet Switches: HDMI Ethernet switches and matrix switching solutions, also called HDMI over IP switches, allow switching HDMI video signals between multiple sources (e.g. content players) and displays over IP. Connect multiple sender and receiver units with a dedicated Gigabit network switche to create a custom matrix. Or use a transmitter and a receiver as a point-to-point (P2P) extender by connecting them directly through a single CAT5e/6 cable.
HDMI Video Transmitters and Receivers: These systems support the high-quality transmission of signals over an Ethernet cable. They can meet the requirements of most demanding CCTV applications. They also assure connectivity to remote Ethernet applications.
Conclusion
ot only does HDMI have the ability to transfer uncompressed video and multi-channel audio through one cable, but it is now a widely utilized connector on essentially all new high-definition televisions and components. After gaining an understanding of the HDMI Over Ethernet technology and its dependability on HDMI over Ethernet products, it is important to source them from a trusted player.