Buying Guide:GLC-LH-SM SFP Approved
GLC-LH-SM is a Cisco 1000Base LX/LH SFP transceiver module, which is one of the most commonly used SFP modules. GLC-LH-SM SFPs are hot-pluggable and designed to plug directly into SFP/GBIC interface ports or slots in routers and switches, cost-effective small form-factor pluggable (SFP) transceivers for Gigabit Ethernet applications devices.
GLC-LH-SM SFP
Specifications of Cisco GLC-LH-SM SFP Optical Module
Cisco GLC-LH-SM optical module is characterized by a duplex LC type interface with a higher density as well as a smaller fiber optic connector. It could be used with both multimode fiber and single mode fiber. The GLC-LH-SM module is fully compatible with SFP Multi-Source Agreement (MSA). It is used in Gigabit network and its working distance could reach 10km max, data transfer rate at 1Gbps and it works based on IEEE 802.3z standards. The following chart shows detailed parameters of the Cisco GLC-LH-SM SFP optical module:
Cisco Genuine
GLC-LH-SM
Package
SFP
Max Data Rate
1000Mbps
Wavelength
1310nm
Max Cable Distance
10km
Cable Type
MMF/SMF
Interface
LC duplex
DOM Support
No
TX Power
-9.5 ~ -3dBm
Receiver Sensitivity
Commercial Temperature Range
0 to 70

°

C (32 to 158

°

F)

Protocols
SFF-8472 MSA Compliant, IEEE 802.3ah-2004
Advantages of Cisco GLC-LH-SM SFP Optical Transceivers
Cisco GLC-LH-SM SFP optical module can function immediately without configuration, which saves installation time by leaving out this complicated procedure. It also offers internal calibration to optimize system's data throughput.
Second. Cisco GLC-LH-SM SFP optical module is a hot swappable transceiver module, which features plug and play. Long before, a transceiver failure would cause a downtime and a lot of time to reconfigure new transceiver module. But now, with Cisco GLC-LH-SM SFP, you can just pop in the replacement without shutting down the whole system, and your network is back online.
Third. Cisco GLC-LH-SM SFP optical module could work with both multimode fiber and single mode fiber. When working with single mode fiber, the transmission distance can reach 10 km, suitable for long-distance transmission applications such as hospitals or campus network. While working with multimode fiber gives you maximum throughput upwards of 1.25 Gbps with the transmission distance as far as 550m.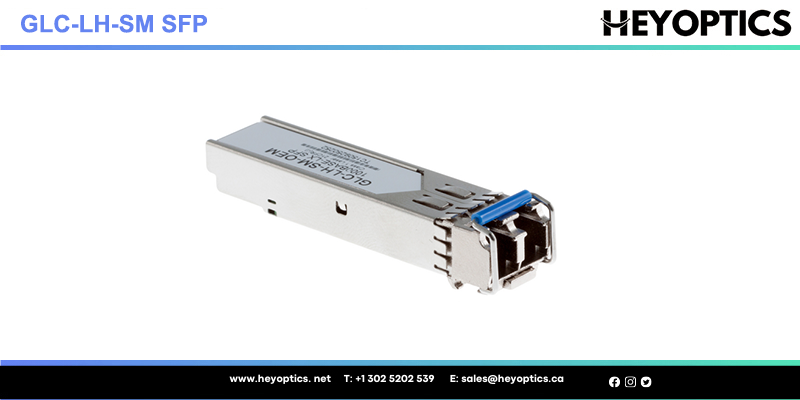 GLC-LH-SM SFP Approved
The Cisco GLC-LH-SM supports a wide range of Cisco devices. Here is a list of some GLC-LH-SM compatible Cisco network switches. Compliant with GLC-LH-SM SFP Approved.
Cisco Switch Models Supporting GLC-LH-SM Module
2960S-F48TS-S
WS-C2975GS-48PS-L
IE-2000-4TS-G-B
ME-3400EG-12CS-M
WS-C2950ST-24 LRE
WS-C2960S-48TS-S
2960S-F48FPS-L
WS-C3750-24FS-S
4500 WS-X45-SUP8-E
6500 ME-C6524GT-8S
6500 WS-X6724-SFP
ME-3400G-2CS-A
Nexus 5000 N55-M8P8FP
5700 WLC AIR-CT5760-50-K9
3000 WS-CBS3020-HPQ
ME-3400G-12CS-D
C6880-X
ASR-9000V-DC-E
GLC-LH-SM SFP vs GLC-LH-SMD SFP: What's the Difference?
Among so many different Cisco SFP modules, sometimes you may feel confused. Because the differences of some SFP modules are tiny, for instance, Cisco SFP GLC-LH-SM and Cisco SFP GLC-LH-SMD. If you can't understand the the difference between these two Cisco SFP modules, you don't know which one to select for your Cisco switch.
GLC-LH-SM vs. GLC-LH-SMD Similarities
Cisco SFP GLC-LH-SM and Cisco SFP GLC-LH-SMD are both used for 1Gbps Ethernet network. They support with IEEE 802.3 1000BASE-LX/LH standard and are compatible with each other. The two Cisco SFP modules can be connected with single mode and multimode LC fibre patch lead. If one switch supports Cisco SFP GLC-LH-SM, then it can also support Cisco SFP GLC-LH-SMD.
GLC-LH-SM vs. GLC-LH-SMD Differences
The difference between Cisco SFP GLC-LH-SM and Cisco SFP GLC-LH-SMD is that Cisco SFP GLC-LH-SMD has additional letter "D". What does "D" mean?
There are two kinds of misunderstanding about "D". Some think "D" represent "duplex". Cisco SFP GLC-LH-SMD supports duplex interface. But Cisco SFP GLC-LH-SM should be connected with duplex LC patch cable. And nearly all SFP transceiver modules, except copper SFPs, are interfaced with duplex ports. So this understanding is obvious wrong. Some think that "D" means "ruggged". This opinion is not true either. "Rugged" is abbreviated to "RGD", for example, Cisco GLC-LX-SM-RGD Compatible 1000BASE-LX/LH SFP 1310nm 10km DOM Transceiver.
"D" of GLC-LH-SMD transceiver has additional support for Digital Optical Monitoring (DOM) capability. From the features stated above, Cisco SFP GLC-LH-SMD can support DOM function while Cisco SFP GLC-LH-SM can't. DOM provides a diagnostic monitoring interface for optical transceiver modules. DOM supports monitoring of optic output power, optic input power, temperature, laser bias current, and transceiver voltage. When DOM is enabled, the system monitors the temperature and signal power levels for the optical transceiver modules in the specified ports. Console messages and syslog messages are sent when optical operating conditions fall below or rise above the SFP manufacturer-recommended thresholds.
Cisco GLC-LH-SM-SFP vs HeyOpics Cisco GLC-LH-SM-SFP
A quick internet search for optical transceivers can yield vastly different prices between OEM optics and many other third-party optics suppliers. For example, a 1000base SFP transceiver module can cost as low as $10 to as high as $250. You might be shocked and confused by such a huge price gap. Why are OEM optics many times more expensive than third-party optics? What's the difference between them and what should I choose?
Quality - We all know that Cisco GLC-LH-SM optical modules are OEM optics, which means that instead of making their own, Cisco asks other manufacturers to make the optics for them and renames the transceiver modules with their own logo. Distributors then sell them to end users. In fact, most factories in the world produce optical modules according to the strict standard of MSA (Multi-Source Agreement), they manufacture optics for each end-user. So actually there is no difference in hardware between Cisco GLC-LH-SM and the compliant Cisco GLC-LH-SM Approved by HeyOpics, and are GLC-LH-SM SFP approved. Therefore, you may not concern about the quality.
Conclusion
According to the aforementioned, there is no reason not to buy more cost-effective Cisco GLC-LH-SM optical modules on the condition that both OEM and third party optics have the same quality and performance. Thus, HeyOpics is a worthwhile choice. We not only offer transceiver modules compatible with Cisco, but also other big brand such as HPE, Juniper, Arista, HW, etc. Most importantly, we have our own test center to ensure 100% compatibility with all major vendors and systems, which is not covered by any third party optics suppliers.