How to Choose Fiber Media Converters?
In some large-scale enterprises, the network construction directly uses fiber for the transmission medium to establish the backbone network, and the internal LAN transmission medium is generally copper, how to achieve LAN connected with the fiber backbone network? This requires different ports, different Linear, and fiber between the conversion and ensures the link's quality. The emergence of a fiber-optic media converter, allows the twisted pair of electrical signals and optical signals to each other to ensure the smooth transmission of packets between the two networks while extending the network transmission distance from the copper wire from 100 meters to more than 160 kilometers (Single-mode fiber).
Fiber media converters is an indispensable network data transmission equipment, then what is an optical media converter, it has what composition, and what role does it play in the data dissemination process?
What is a Media Converter?
A media converter is a networking device that transparently converts Ethernet or other communication protocols from one cable type to another type, usually copper CATx/UTP to fiber. Media converters are often used in pairs to insert a fiber segment into copper networks to increase cabling distances and enhance immunity to electromagnetic interference. They can also extend LANs, and convert link speeds and fiber modes.
A fiber media converter is a simple networking device that connects and translates signals between fiber optic cabling and another type of cabling media such as UTP (unshielded twisted pair) copper Ethernet cables as shown below.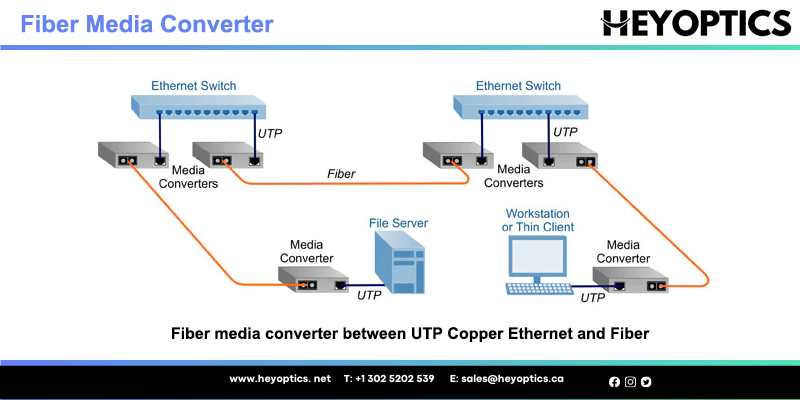 Fiber media converters include three basic functional modules: optical media conversion chip, optical signal interface (optical media converter module), and electrical interface (RJ45), if equipped with network management functions, including network management information processing unit. It is an Ethernet transmission Media conversion module that converts short-distance twisted-pair signals and long-distance optical signals to each other and is also called a fiber converter or Ethernet media converter. It generally applies to Ethernet cables that cannot be covered, it is necessary to use optical fiber to extend the actual network environment of transmission distance, and it is usually positioned in the access layer of broadband Metropolitan Area Network, and it also plays an important role in helping to connect the last kilometer of fiber line to the metropolitan area Network.
Fiber Media Converter Dimensions
PC card converters
Small standalone devices
High port-density chassis systems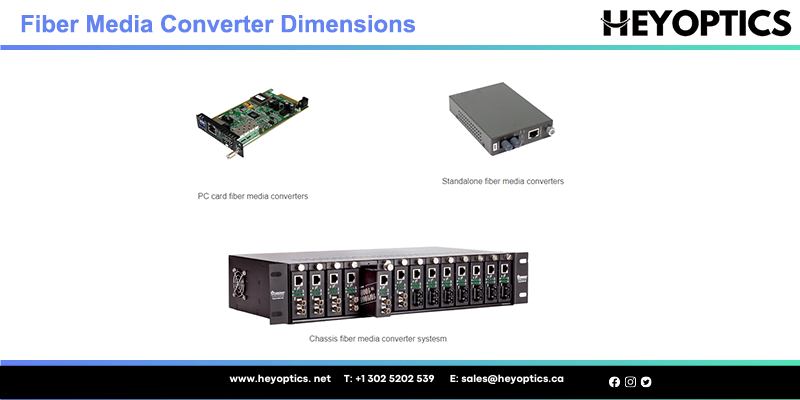 What are the basic features of a fiber media converter?
Fully transparent to the network protocol.
Provide ultra low delay data transmission.
Supports Ultra wide working temperature range.
Using ASIC chip to achieve data line-speed forwarding. The programmable ASIC centralizes many functions on a chip, which has the advantages of simple design, high reliability, and low power consumption so that the equipment can get higher performance and lower cost.
Provide network management equipment to diagnose, upgrade, status report, abnormal Situation Report, and control function, can provide complete operation log and alarm log.
Rack-type equipment can provide hot-swappable functions for easy maintenance and uninterrupted upgrades.
Supports a variety of transmission distances (0~160 km).
The Media Converter Rack adopts the dual power supply design, supports the ultra-wide power supply voltage, and realizes the power protection.
Benefits of Media Converters
There is a wide range of fiber optic media converters that can be categorized in different ways.
Extend LAN Distance with Fibre
Copper-based Ethernet connections are limited to a data transmission distance of 100 meters when using a UTP cable. By using Ethernet to fiber conversion, you can extend link distance up to 80 kilometers or more.
The properties of an optical fiber can be divided into a Multimode fiber media converter and a Single-mode fiber media converter. Because of the use of different fibers, the media converter can transmit the distance is not the same, Multimode fiber media converters general transmit distances between 0.5 km to 2 kilometers, and the single-mode fiber media converter coverage can range from 20 km to 120 kilometers;
Maintain Investments in Existing Equipment
Media converters enable you to migrate a local network to fiber while protecting your investment in existing copper-based hardware. This means no costly, time-consuming overhaul to your infrastructure.
Protect Data from Interference
Electromagnetic interference, or EMI, can cause corruption of data over copper-based Ethernet links. Data transmitted over fiber optic cable is completely immune to this type of noise, ensuring optimal data transmission and network performance.
Speed Conversion
Media converters allow you to convert link speeds from 10 Mbps to 100 Mbps or from 100 Mbps to 1000 Mbps.
Power over Ethernet
Power over Ethernet, or PoE, simplifies the installation of the Wi-Fi access points, IP cameras, and more by eliminating the need for a local AC power circuit.
Types of Media Converters
Copper-to-Fibre Media Converters
Copper-to-fiber media converters enable connections of copper-based Ethernet equipment over a fiber optic link. This extends links over greater distances with fiber optic cable, protects data from noise and interference, and future-proofs a network with additional bandwidth capacity.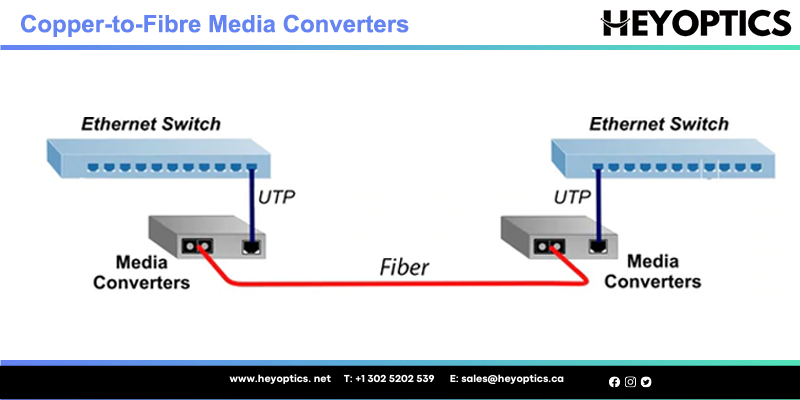 Fibre-to-Fibre Media Converters
Fiber-to-fiber media converters connect different fiber-optic networks and support conversion from one wavelength to another. They provide connectivity between single-mode and multimode fiber, as well as between dual and single fiber.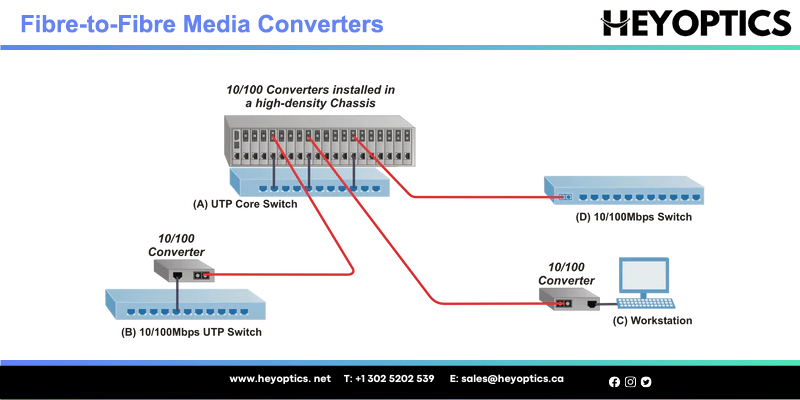 PoE Media Converters
Power-over-Ethernet (PoE) media converters provide reliable and cost-effective fiber distance extension to PoE-powered devices. PoE media converters can power devices like IP phones, videoconferencing equipment, IP cameras, and Wi-Fi devices over copper UTP cabling.
Stand-Alone vs. Chassis-Based Media Converters
Stand-alone media converters are compact and can be AC or DC-powered. They are commonly used to convert one copper link to fiber in point-to-point installs. These converters are easy to deploy and offer a range of useful functionality for your network, such as auto-MDI/MDIX, link fault pass through, and more.
Chassis-based media converters are used in high-density locations such as data centers or equipment rooms. They mount in racks alongside network switches, enabling the conversion of copper ports on legacy switches to fiber.
Managed vs. Unmanaged Media Converters
Unmanaged fiber media converters
An unmanaged media converter allows for simple communication with one another but does not provide monitoring, fault detection, and setting up network configurations.

The unmanaged option is a great choice for newbies and if you want a plug-and-play fiber network cable installation.
There are configurations you can set through a hardware DIP switch.
Managed fiber media converters
Managed media converters cost more but offer advanced network monitoring, fault detection, remote configuration, and more functions.

They have SNMP (Simple Network Management Protocol) agent running which reports their status to the NSM (Network Management System) manager.

An SNMP managed network consist of 3 key components:
Managed device (the media converter)
SNMP agent, software that runs on managed devices
Network Management Systems (NSM) software that runs on the manager (administrative computer)
Most managed media converters support all authentication, authorization, and accounting (AAA) security services used in corporate networks, including TACACS+, RADIUS, LDAP, Kerberos, NIS, and RSA.
To further protect IDs and passwords from someone 'snooping' on the network, managed media converters provide secure management sessions by supporting SSH, SNMPv3, Telnet, and HTTPS.
These types of features are used when managing your corporate firewalls, switches, and routers.
Commercial vs. Industrial Media Converters
They are used in a controlled environment like offices. They have commercial temperature ratings (0 ~ 40°C). They cannot be installed easily inside equipment enclosures and normally have a single power supply input.
Industrial grade fiber media converters
Are used in hot, humid, vibration-prone, electrically noisy environments. They have industrial temperature ratings (-40 to 85°C).
Industrial grade converters have rugged enclosures using Din-Rail or Panel Mounting so they can be easily installed inside equipment enclosures. They also have redundant power input.
APPLICATIONS OF FIBER MEDIA CONVERTERS
Extend the life of legacy networking equipment and wiring plants
Connect a variety of cabling types (translate between electronic and light signals)
Coax cable
BNC, Mini BNC
UTP (twisted pair) Category 4, 5, and 6
Copper RJ-45
Multimode fiber
Single-mode fiber
SFP, SFP+ and XFP standard wavelength transceivers
SFP, SFP+ and XFP CWDM transceivers
ST, SC, LC, and MT-RJ connectors
Dual and single fiber
Support different communication protocols
10M, 100M, Gigabit and 10G Ethernet
10G OTN (Optical Transport Network)
T1/E1/J1
T3/E3/DS3
Serial RS-232, RS-422, RS-485, RS-530
SONET (OC-3, OC-12, OC-48 and OC-96)
Fibre Channel
Protocol Transparent, supporting data rates up to 11.32 Gbps
Extend the range of the connections in your network by using fiber optic cabling
Fiber optic connectivity is necessary when the distance between two network devices exceeds the transmission distance of copper cabling. Copper-to-fiber conversion using media converters enables two network devices with copper ports to be connected over extended distances via fiber optic cabling.

When expanding the reach of the LAN to span multiple locations, media converters are useful in connecting multiple LANs to form one large campus area network that spans over a limited geographic area.

As premises networks are primarily copper-based, media converters can extend the reach of the LAN over single-mode fiber up to 160 kilometers with 1550 nm optics.
Conclusion
Since media converter has so many advantages, it can support advanced bridge features – including VLAN, Quality of Service prioritization, Port Access Control, and Bandwidth Control – that facilitate the deployment of new data, voice, and video to end-users. In a word, a media converter does more than convert copper to fiber and convert between different fiber types. It can also provide all these sophisticated switch capabilities in a small, cost-effective device.

These are some of the basic knowledge of optical media converter, we should have a basic understanding of fiber media converter in the application before fiber cabling to avoid any trouble.