Different Package Type PLC Splitters
As one of the most important components of the PON (Passive Optical Network) system. The market for fiber optic splitters has grown rapidly. The most commonly used type of fiber optic splitters is FBT (Fused Biconical Taper) coupler splitter and PLC (Planar Lightwave Circuit) splitters. But with the maturity and development of the splitter producing process, the cost of PLC splitter is close to FBT splitters. Thus, people are more prefered to use PLC splitters instead of FBT splitters because of the better performance of PLC splitters.

In today's market, there are many package types of PLC splitters that are designed for different applications. The fiber optic splitter is a kind of optical passive device that decomposes an optical fiber signal into multiple optical signal outputs. It can split an incident light beam into two or more light beams, containing multiple input and output ends. How many types of fiber optic splitters do you know? What are the advantages of these types of PLC splitters? After reading this article, you will have a better understanding of fiber optic splitter types.

How Many Fiber Optic Splitter Types Are There?
If you are new to buying a PLC splitter for the first time, you may be curious about the package type of the splitter. Actually, it's not as complicated as you think. At present, PLC splitters have six package types according to different applications, namely bare fiber splitters, modular splitters, rack-mounted splitters, fan-out blockless splitters, tray splitters and LGX splitters device. Of course, these five types are basic types, and different manufacturers have upgraded versions based on them. For example, the PLC splitters from Heyoptics are shown below in different package types.

Different Package Type PLC Splitters:
Bare fiber optical splitter
ABS splitters
Blockless fiber splitter
Fanout splitter
Tray splitter
Rack-mount splitter
LGX splitters
PLC splitter in mini plug-in type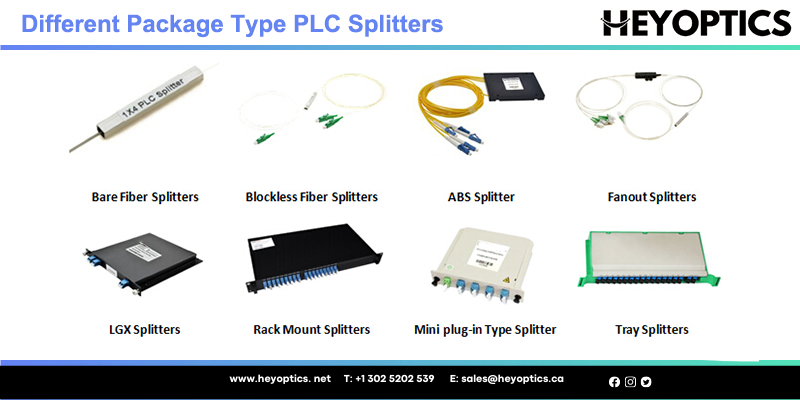 Bare fiber optical splitter
The bare fiber splitter is a type of splitters without connectors. Its input and output are designed with bare fiber (usually, ribbon fiber output is used). Bare fiber splitters are used in tight spaces that can be easily placed in formal splice closures and splice closures. In order to facilitate welding, no special design reserved space is required.
ABS PLC & FBT Fiber Optic Splitter Application
ABS splitter has a plastic ABS box to protect the splitter to adapt to different installation environments and requirements. Common splitter modules are 1×4, 1×8, 1×16, 1×32, 1×64, 2×4, 2×8, 2×16, 2×32. It is widely used with outdoor fiber distribution box for PON, FTTH, FTTX, PON, GOPN networks.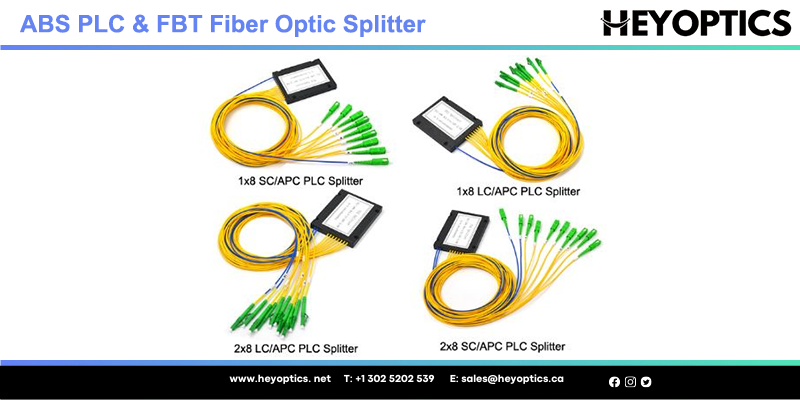 Blockless PLC Fiber Optic Splitter Application
Likewise, blockless splitter has a similar appearance as bare splitter. But it has a more compact stainless tube package which provides stronger fiber protection, and its fiber ends are all terminated with fiber optic connectors. Connectors are commonly available with SC, LC, FC and ST types. Thus, there is no need for fiber splicing during installation. Blockless PLC splitter is mainly used for different connections over distribution boxes or network cabinets.

Fanout PLC Fiber Optic Splitter Application
Splitter with fan-out is mainly used for 0.9mm optical fiber where the ribbon fiber can convert to 0.9mm optical fiber through fan-out. 1×2, 1×4, 1×8, 1×16, 1×32, 1×64, 2×2, 2×4, 2×8, 2×16, 2×32, 2×64 fanout types are all available with PLC splitters. Fiber adapters can also be used for the input and output ends of this kind of splitters to directly meet the demand on smaller size of splitters.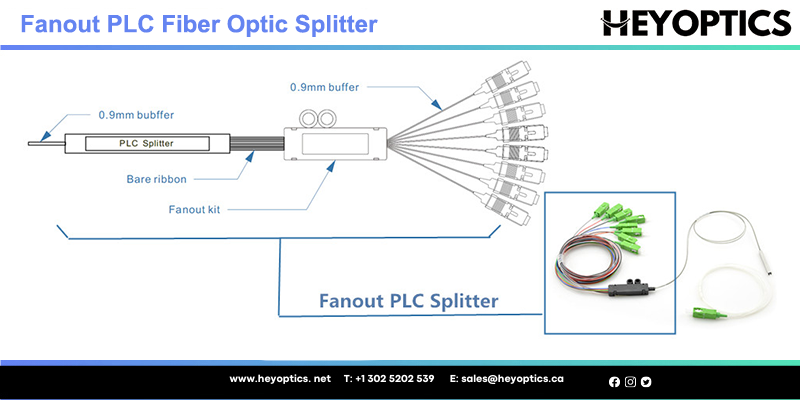 Tray Type PLC Fiber Optic Splitter Application
Tray type splitter can be regarded the fiber enclosure which contains fiber splitter inside a enclosure. It is often directly installed in optical fiber distribution box or optical distribution frame. FC, SC, ST & LC connectors are selective for termination. Tray type splitter is an ideal solution for splitting at the places that are near OLT or ONU.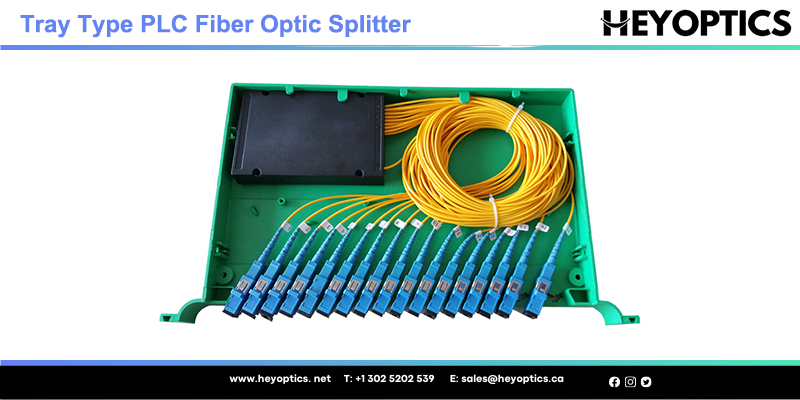 Rack-mount Splitter Application
Rack-mount splitter can be used for both indoor and outdoor applications in FTTx projects, CATV or data communication centers. It uses the 19-inch rack unit standard to contain the splitter inside a rack unit.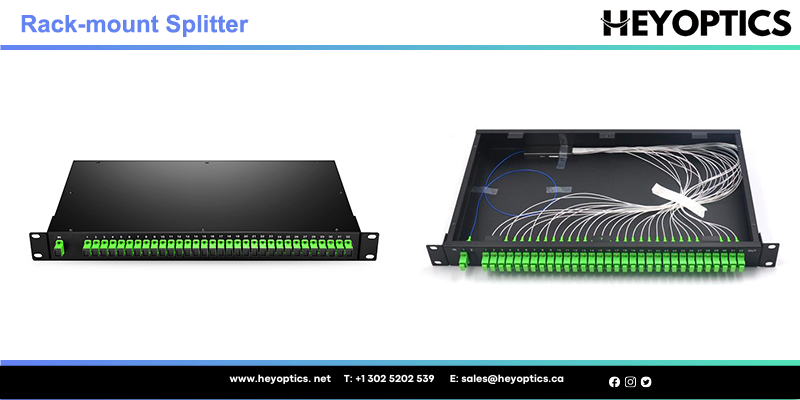 LGX Splitter Application
LGX splitter or LGX box splitter has a strong metal box to house the splitters. It can be used alone or be easily installed in standard fiber patch panel or fiber enclosure. The standard LGX mental box housing provides a plug-and-play method for integration in the network, which eliminates any risk during installation. No filed splicing or skilled personnel is required during deployment.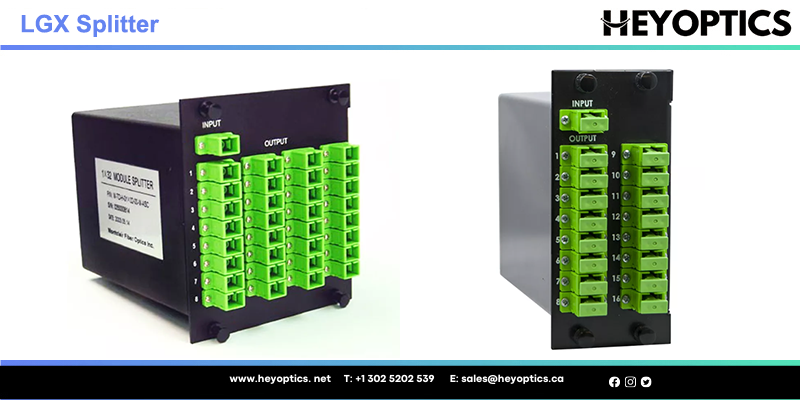 PLC splitter in mini plug-in type Application
Similar to the LGX splitter, mini plug-in type splitter is its small version with a compact design. It is usually installed in the wall mount FTTH box for fiber optic signal distribution. Using the mini plug-in type splitter saves time and space but still provides reliable protection for the fiber optic splitter.

Different types of PLC splitters are designed to meet the different needs of OLT and ONT connection and splitting of optical signals in FTTH passive optical network.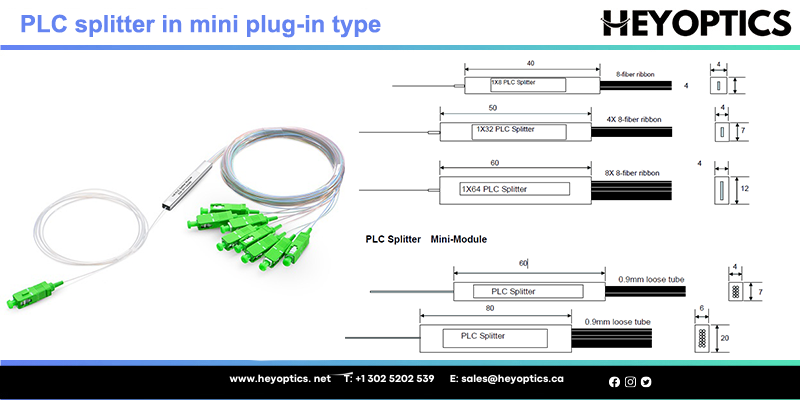 How to Choose the Right Fiber Optic Splitter?
In general, a superior fiber optic splitter needs to pass a series of rigorous tests. The performance indicators that will affect the fiber optic splitter are as follows:
Insertion loss: Refers to the dB of each output relative to the input optical loss. Normally, the smaller the insertion loss value, the better the performance of the splitter.
Return loss: Also known as reflection loss, refers to the power loss of an optical signal that is returned or reflected due to discontinuities in the fiber or transmission line. Normally, the larger the return loss, the better.
Splitting ratio: Defined as the output power of the splitter output port in the system application, which is related to the wavelength of the transmitted light.
Isolation: Indicates a light path optical splitter to other optical paths of the optical signal isolation.
Besides, uniformity, directivity, and PDL polarization loss are also crucial parameters that affect the performance of the beam splitter.

For the specific selections, FBT and PLC are the two main choices for the majority of users. The differences between FBT splitter vs PLC splitter normally lie in operating wavelength, splitting ratio, asymmetric attenuation per branch, failure rate, etc. Roughly speaking, the FBT splitter is regarded as a cost-effective solution. PLC splitter featuring good flexibility, high stability, low failure rate, and wider temperature ranges can be used in high-density applications.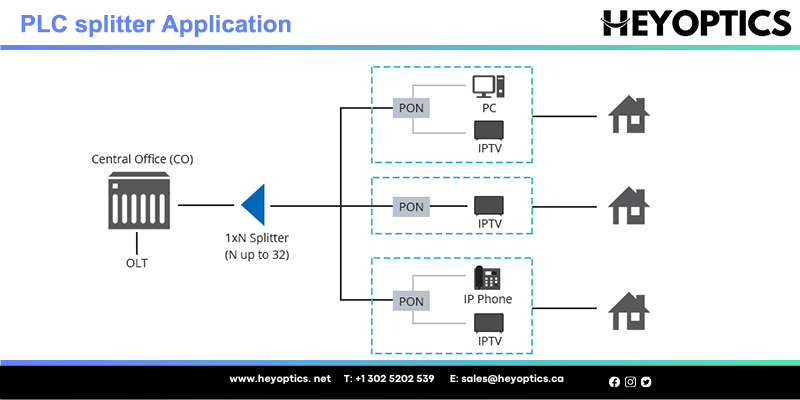 For the expenses, the costs of PLC splitters are generally higher than the FBT splitter owing to the complicated manufacturing technology. In specific configuration scenarios, split configurations below 1×4 are advised to use FBT splitter, while split configurations above 1×8 are recommended for PLC splitters. For a single or dual wavelength transmission, FBT splitter can definitely save money. For PON broadband transmission, PLC splitter is a better choice considering future expansion and monitoring needs.

Fiber Optic PLC splitter Conclusion
These types of splitters are typically installed to serve for PON and FTTH networks. 1xN and 2xN are the common splitter ratios for specific applications. You should choose the most suitable one according to your project. Hope this article provides some help. As a 20-year professional manufacturer, Heyoptics provides various types of optical splitters to suit different application scenarios.