What is SC, ST, FC, LC fiber connectors?
Given the variety of splice options available to fiber network planners today identifying the best connector for FTTH can be overwhelming. Consequently often not much thought is given to connector selection with choice driven by cost, availability or what's been used before. However each connector has its own unique design and therefore, pros and cons. Over time or depending on project size this can have a dramatic impact on deployment speeds and costs.
In fiber optical telecommunication, there are various fiber ports. Among them, FC, SC, ST and LC are applied commonly.
Fiber optic cables utilize a few different connectors that can be used to terminate the cable. While they do bear some similarities, each kind has a different enough size and shape that they are not interchangeable. When preparing any fiber-related equipment for installation, it is important to make sure the cables are equipped with the right connectors for the job.
SC, Abbreviation for Square Connector or Standard Connector.
SC is arguably the most common type of fiber optic connector used today. Designed to be simple to use and inexpensive to produce, SC uses a push-pull design similar to LC but utilizes a locking tab instead of a latch to secure the unit. The cost-effective design of SC makes it a popular choice with industries that frequently use fiber cables, such as telecom and datacom.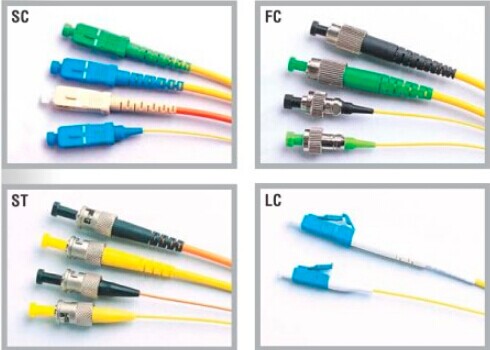 ST, Abbreviation for straight Tip, means bayonet fiber optical connector.
ST uses a design similar to FC but instead of threads, it uses a locking mechanism similar to BNC coax connectors. Adopted on the ODF as well, it is easier and faster to install this type of fiber connector than FC type. When installing FC, some green operator may buckle overflow, but this never happen on ST.
FC, The abbreviation for Ferrule Connector or Fiber Channel.
FC is an older fiber optic connector currently being phased out of industry standards. While single mode cables still use FC, it is unusual to see them on multimode cables. FC connectors take longer to unplug compared to newer fiber optic connectors due to their threaded screw-on design. Additionally, the more complex design and use of metal make them more costly to manufacture. Despite those downsides, FC still sees some use since those threads allow it to remain secure when used on moving machinery.

LC, Abbreviation for Lucent Connector, and created by Lucent Technologies.
LC was designed as a push-pull connector that locks in place with a latch. While being faster and easier to operate is an advantage, the main draw of LC is its small size. Being about half the size of other fiber optic connectors, LC can be used on devices that would otherwise have too little room to support a fiber optic connection.
It is the smallest connector till now. It can be matched with SFP transceiver. Due to the small size and high-density layout, currently it is the most widely used optical components.
Because the sequence of the fibers cannot physically be changed after termination, the connector is often supplied with a fan-out assembly at the opposing end (such as LC, SC FC etc.). This allows the operator to change channels simply by re-patching the fanned-out side of the cable. The consequence of this is that the small form high density design of the MTP/MPO will only benefit one side of the assembly.
More common in datacoms, these connectors are starting to appear in FTTH applications. They should therefore be considered if drivers include quick deployment of aggregate fibers, high density patching or where smaller ODFs and nodes might be crucial.
The differences between types of connectors can easily overlooked in the complex planning around fiber deployments. However taking the time to select the right one for the job can deliver big benefits when it comes to speed and cost, so take the time to investigate your options before making your connector choice.