Pure Fiber Optical vs hybrid optical HDMI - what's the difference
Pure Fiber Optical vs hybrid optical HDMI - what's the difference?
A fiber HDMI cable is just that, fiber only. A hybrid fiber cable has a glass optical core surrounded by pure copper wiring. The glass fiber core is for the high bandwidth requirements of video. The copper wiring is for the low bandwidth requirements like ARC, HDCP, EDID. That design, in theory, "frees up" more bandwidth to be carried on the higher capacity glass fiber core. It works quite well and is the preferred method of data transmission for HDMI over long distances.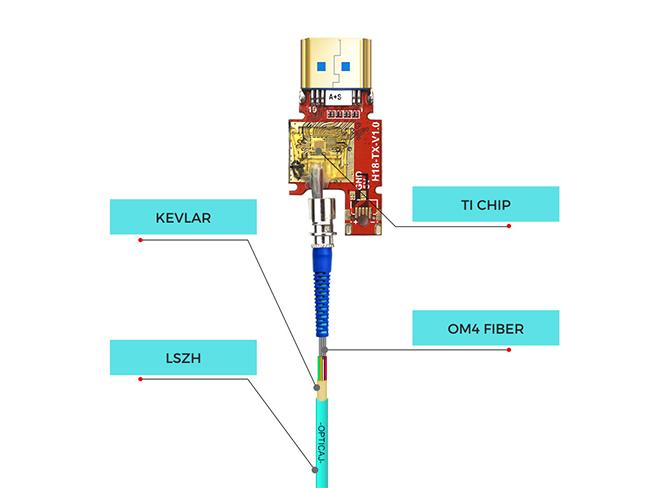 The conduit diameter is a suggestion based on the width of the HDMI connector and if you want to run more cables (like solid core CAT-6, coax, etc) inside the conduit as well for future use.
Hybrid fiber cables are very flexible but you still don't want any bends that are sharp enough to crimp the cable. You need to keep them as gentle as possible so you might have to give yourself some more length in the cable run to accomplish that. You also need to be very careful when fishing the cable as you don't want to pull on the connector end so be creative about attaching something to your cable for pulling. That's why an installed pull string is helpful because you already have a line in place to attach your new cable to. Of course you can use the existing cable as a pull string you just need to be careful.
As always, lay the cable out on the floor and test thoroughly prior to installation.
Why Pure Fiber detachable HDMI-MPO cables?
Direction Concern Free
Compared with the hybrid active optical cables having uni-direction from source to display, which always cause troublesome, time cost, labor cost when field pre-wiring starting over.
Our Pure Fiber HDMI cable can be installed from any location from a source to display without the burden of ensuring the cable is in the correct direction. Once the bi-direction MPO cable has been prewired, it is ready for source and display connections.
Pre-Wire, Connect and Go
HDMI connector will go old and you may need to replace them eventually or you want to upgrade HDMI cables for future.

The standard universal MPO connectors enable the cables to be pre-wired without directional concern. And the detachable HDMI-MPO connectors eliminate both extra labor cost and the fiber terminations, testing and tools.