How to Extend 4K HDMI Video Signals Over Long Distances
In environments such as hotels, restaurants, lecture halls, auditoriums and theaters, there is a growing demand for HDMI TVs and monitors to display video content over long distances. Standard video cables have a limited range, but new video extenders can support 4K/60 Hz video resolutions and deliver clean data from video sources such as laptops, cable boxes, or streaming services over long distances.
What is HDMI?
HDMI is a standard signal used in a large number of consumer products. HDMI stands for High Definition Multimedia Interface. HDMI is a proprietary standard designed to send signals from sources such as cameras, Blu-ray players, or game consoles to destinations such as monitors. It directly replaces older analog standards such as composite and S-Video. HDMI was first introduced to the consumer market in 2004. Over the years, there have been several newer versions of HDMI, all using the same connector. Currently, the latest version is 2.1, which is compatible with
4K and 8K resolutions
and has a bandwidth of up to 42.6 Gbit/s.
Why Choose a 4K HDMI Video Extender Kit?
There is a growing need for video extenders that support 4K/60 Hz, 4:4:4, and HDR. Generally, the extenders are costly, have limited functionality, and only support HDMI. However, new video extenders are available that offer a more comprehensive solution that can handle more connection variations and a deeper, more extensive feature set.
Long-Distance Video Transmission
Extender kits transmit 4K/60 Hz signals up to 230 ft.
Adding a signal repeater to an HDMI installation can extend HDMI signals up to 400 ft.
Select extender kits can be daisy-chained with up to four transceiver units, which add 230 ft. at each level and support additional displays.
Support for High-Resolution Video and Audio
Extenders support UHD video resolutions up to 3840 x 2160 (4K x 2K) at 60 Hz as specified in HDMI 2.0.
Extenders support 4:4:4 color, HDR (high dynamic range) images, and 7.1-channel surround sound.
Receivers feature a built-in Toslink port for audio extraction.
Power over Cable (PoC) Convenience
Power travels via the Cat6 cable, eliminating the need for an extra outlet at one end of an installation.
PoC enables placement flexibility, bringing power to a unit on a pole or high shelf.
Control of the Source from the Display
IR remote control allows management of the source from the display end of the installation.
USB ports on the receiver support the connection of a keyboard and mouse; the USB support is required for connecting a touchscreen to a remote computer.
Compatibility with Diverse Installations
Extenders are available for HDMI, DisplayPort, and USB-C source devices.
HDMI kits are available with a box-style transmitter and receiver, a box-style transmitter and pigtail-style receiver, and a wall-style transmitter and receiver.
Cat6a cable fits through the conduit to meet building wiring codes.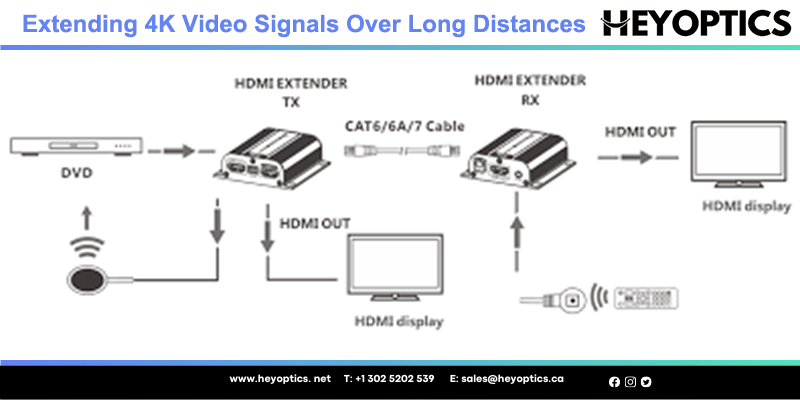 How to Extend 4K HDMI?
HDMI was quickly accepted as the primary interface for transmitting video and audio in a variety of consumer products. Since HDMI also carries audio, it quickly became the standard for projectors and large screens in conference rooms. Since DSLRs and consumer cameras also have HDMI ports, professional video solutions have also embraced HDMI. Since it is widely accepted as an interface and can be used with almost any consumer LCD panel, it is more cost-effective to use in video installations. In video installations, users often have questions about cable length. There are multiple ways to overcome this problem:
Convert HDMI to SDI and back
When you convert the HDMI signal into SDI and back at the destination site, you effectively extend the signal up to 130m. This method used the maximum cable length at the transmission side, converted into SDI, used the full cable length of 100m, and converted back after using the full-length HDMI cable again. This method requires a high-quality SDI cable and two active converters and is not preferable due to cost.
SDI is a very robust technology
Supports up to 130m and further when using red lockers
SDI in high quality for 4K video is not very cost-effective
Active converters can be expensive
Convert to HDBaseT and back
When you convert an HDMI signal to HDBaseT, and back you can reach long cable lengths over a very cost-effective CAT-6 or better cable. The actual maximum length varies on which hardware you use, but most of the time, 50m+ is perfectly possible. HDBaseT can also send power to your device to not need local power on one side. Again, this is depending on the hardware used.
HDBaseT is a very robust technology with the support of up to 4K resolution
HDBaseT uses very cost-effective cabling in the form of CAT-6 ethernet cable
Ethernet cable connectors (RJ-45) can be fragile
Maximum cable length depending on the hardware used
Use Active HDMI Cables
Active HDMI cables are cables that have a built-in converter from regular copper to an optical fiber. This way, the actual cable is a skinny optical fiber in rubber insulation. This type of cable is perfect if you need to install it in a fixed installation, such as an office building. The cable is fragile and cannot be bent over a certain radius, and shouldn't be stepped on or driven over by a cart. This type of extension is remotely expensive but very reliable. In some cases, one of the cable ends doesn't power up due to the device not outputting the required voltage for the converters. These solutions go up to 100 meters with ease.
Active HDMI cables natively support high resolutions up to 4K
Fragile and long cabling solution for fixed installations
Optical fiber cable is fragile for bending and crushing
Not all displays or transmitters output the proper voltage for the cable
Use Active HDMI Extenders
Active HDMI extenders are a good way of extending the signal cost-effectively. Each extender adds another 15m to the maximum length. These extenders are not very expensive or complicated to use. This will be the preferred method if you need medium-length cables in a fixed installation, such as an OB Van or a cable going over a ceiling to a projector. These extenders require local or battery power and are less suited to installations that need to be mobile.
Cost-effective solution
Can use already available cables
Needs local or battery power for each cable length
Not suited for longer cable runs or mobile installation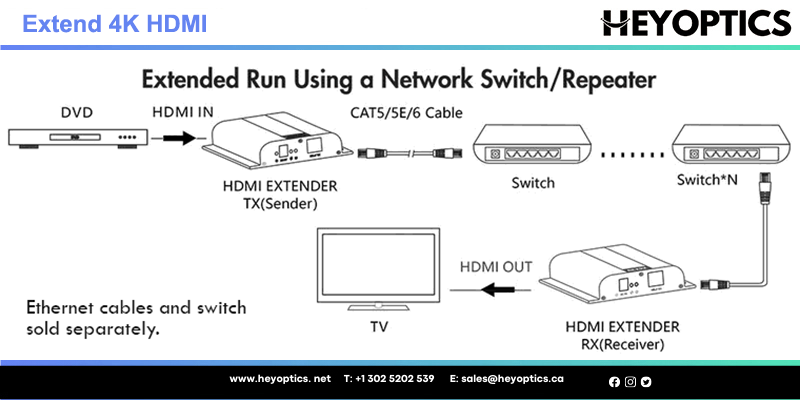 Conclusion
Extending an HDMI signal can be done with several options available. Every situation and setup will be different and any device bought needs to match the scenario.
If you're considering a video extender that supports 4K resolution and can transmit over long distances, check out
4K extenders and kits
.