Bend Insensitive Single-mode Fibers G.657.A and G.657.B
Bend Insensitive Single-mode Fibers G.657.A and G.657.B
Bend Insensitive Single-mode Fibers are being broadly used to support the fiber to the home (FTTH) applications.
Along with extensive FTTH applications, the demand for fibers with a smaller bend radius is increasing. The fibers could be easily installed at a small angle, tight limited spaces of fiber distribution panels, termination boxes, wall mount outlets in the FTTx fiber access network, without causing higher attenuation of fiber in 1550nm wavelength.
ITU-T Standard
The ITU-T Recommendation for Bend Insensitive Single-mode Fibre is G.657.
G.657 fiber is divided into 2 main categories:
G.657.A – Fibers for Access Networks
G.657.B – Fibers for short distances at the end of Access Networks
Each Category of G.657 fiber is divided into 2 sub-categories:
G657 A1 and G657 A2
G657 B2 and G657 B3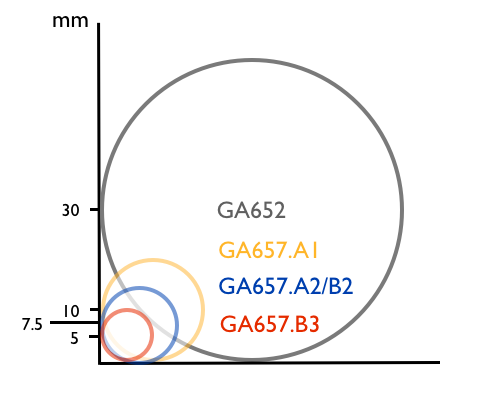 The main difference between these sub-categories are the minimum bending radius:
Fiber Type Bend Radius
G657.A1 10mm
G657.A2, G657.B2 7.5mm
G657.B3 5.0mm
The other category, G.657.B does not need to be compliant with G.652 fibers. Therefore G.657.B fibers are mostly used in indoor fiber optic cables that are installed with field-installable optical connectors.