MPO / MTP Loopback Test Cable, it is the processing of both ends of the multi core fiber into a single MPO / MTP connector, so that a single MPO / MTP connector can TX and RX, so as to achieve the loop function; It is mainly used to test the TX capability and TX of network equipment Sensitivity to locate potential anomalies.
This 16 Fibers MPO/MTP Loopback cables are used widely within testing environment especially within parallel optics 200/400/800G networks. The MPO loopbacks can facilitate and speed up IL testing of optical networks segments by connecting them to trunks/patch leads.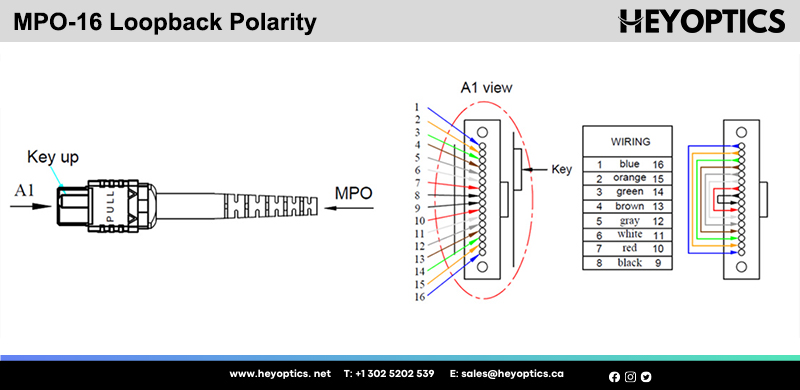 Our MPO/MTP Loopback cable is made of high quality ferrules, professional grinding technology, and precise end connection of the fiber end faces, which makes the transmission more stable and the connection more efficient. And the MPO/MTP Loopback test cable meets the operating environment of-25~70 °C, more than 1,000 mating durability tests on average, stable performance and reliable quality.
We provide all kinds of MPO/MTP loopback cable/adapter products. The transmission mode, optical cable type and connector type can be arbitrarily matched. It has the advantages of stable transmission, high reliability and customization. It is widely used in optical network scenarios such as Backbone Network, Monitoring Device and Data Center etc.
Features
High quality, 100% Tested
IL and return loss tested (IL<0.35dB )
MPO / MTP polarity tested
Connector 3D tested
Ferrule end face inspected
High quality ferrules
Specifications
Fiber Type
OS2 9/125

μm

Connector Type
MPO Female APC
Insertion Loss
≤

0.35dB

Return Loss
≥2

0dB

Insert-pull test
50 times, IL<0.5dB
Operating Temperature
-25~70°C