MTP/MPO to 4x E2000 APC Singlemode Breakout Fiber Cable, Yellow Polarity-B (MPO/MTP Specifications)
Features:
Fiber Optic Patch Cable 0.5 m - 100 m or other lengths customization
MTP/MPO (female) APC to 4x E2000 APC
MTP connector complies to the MPO standard but ensures lower Insertion Loss
8 cores for 40G (4x 10G) or 100G (4x 25G) applications
Singlemode - Fiber grade ITU-T G.657.A1 supersedes G.652 - increased flexibility for easy installation in tight spaces
Bend insensitive fiber - min. bend radius of 10 mm
E2000 connector:
Fiber optic connector is a detachable connection between fiber and fiber. So it precisely butts the two ends of fiber, reduces the loss of optical link as much as possible.
The E2000 connector has the advantages of more convenient insertion and removal, low insertion loss and high compressive strength. Although E2000 is rather expensive than most of the other types fiber connectors. It is more and more used in the telecom networks, CATV, FTTx networks etc. because its good performance. One of the feature is Spring-loaded protective cap which provide increased safety protection.
E2000 fiber connector and related products comply with IEC 61754-15 and TIA/EIA 604-16 and meet Telcordia GR 326 or IEC 61300-2.
E2000 series include a wide range of different styles, include single mode E2000 UPC connector, single mode E2000 APC connector and multimode E2000 UPC connectors in simplex and duplex versions.
Note: E2000 is a trademark of Diamond company
Dustproof and scratch resistant
The E2000 fiber connector comes with a spring-load to protect the ferrule from external and effectively prevent laser radiation from causing harm to human body.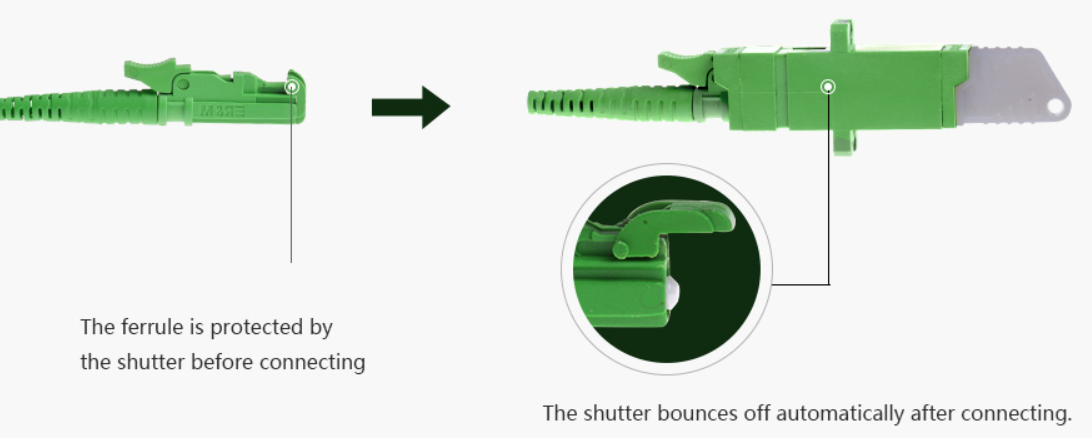 Firmly Joint and Easy to Install
The E2000 connector adopts push-pull locking, which is easy to operate and quick to install.