25G LWDM SFP28 optical transceiver modules are designed for 5G fronthaul and both compliant with IEEE 25GBASE-ER and CPRI option 10 standards.
Its high performance cooled EML transmitter and high sensitivity APD receiver can provide superior performance for 25G application up to 30km/40km(with FEC) Links.

Features
Hot-pluggable SFP28 Form Factor
Supports 25.78Gb/s bit rate
Supports 24.33Gb/s bit rate
Transmitter : Cooled EML TOSA
Receiver : APD ROSA
Internal CDR circuits on receiver and transmitter
< 1.5W power dissipation
Up to 40Km reach for G.652 SMF with FEC
Duplex LC receptacle
I-Temp range: -40 to 85°C
Single 3.3V power supply
RoHS 2.0 compliant (2011/65/EU, lead free)

Available Wavelength Options:
1273.55nm
1277.89nm
1282.26nm
1286.66nm
1291.10nm
1295.56nm
1300.05nm
1304.58nm
1309.14nm

Why 25G SFP28 LWDM Transceiver Is Used for 5G Front-Haul Network?
25G SFP28 LWDM transceiver is fully compliant with the IEEE802.3ba standard to provide a flexible way for the 25G Ethernet network to smoothly evolve to single-wavelength 50G or 100G in the future.
The LWDM represents the LAN WDM and the 25G SFP28 LWDM module has twelve wavelengths, which belong to the O band. Eight of these wavelengths are standard wavelengths with 800Hz band interval, and the rest four wavelengths of 25G LWDM transceiver multiplex those of 25G SFP28 CWDM transceivers' (1269.23nm, 1332.41nm, 1313.73nm, 1291.10nm).
Like other 25G WDM modules, 25G SFP28 LWDM transceiver can also utilize the WDM technology to multiplex multiple wavelengths onto a pair of fiber to save a bunch of fiber resources.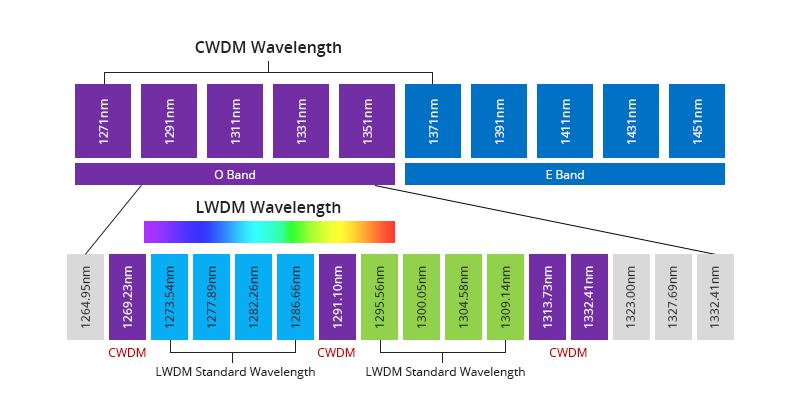 Figure 1: 25G SFP28 LWDM & CWDM Transceiver Wavelength

We can see from the figure above, the 25G LWDM module adopts wavelength channels within 4nm which is narrower than that of 25G SFP28 CWDM's, the large wavelength shift will appear. In general, the working temperature of 25G LWDM is -40°C to 85°C. If the temperature changes by 1°C, an offset of about 0.1nm will be produced. And the SFP28 LWDM transceiver might produce a wavelength shift of 12.5 nm. In order to keep a stable transmission, the TEC (Temperature Control) control is very essential for 25G LWDM optical transceiver. It can generate current through the movement of charge carriers in the conductor. When DC(Direct Current) passes through two different conductor materials, heat absorption or exotherm will occur on the contact end to keep a steady wavelength. In this way, the SFP28 LWDM optical module can ensure stable and accurate data transmission in an environment with demanding transmission requirements.

SPECIFICATION
Parameter

Symbol
Min
Typ
Max
Unit
Note

Transmitter Section

Center Wavelength

λt

1273.5

1309.1

nm

2

Output Spectral Width (-20dB)

Δλ

1

nm

Side Mode Suppression Ratio

SMSR

30

dB

Average Optical Power

P

o

0

6

dBm

Extinction Ratio

ER

7

dB

Receiver Section

Wavelength

λr

1270

1320

nm

Receiver Sensitivity (OMA)

S

EN

-19

dBm

Stressed Receiver Sensitivity (OMA)

S

EN2

-16.5

dBm

Overload

Sat

-5

dBm

Receiver Reflectance

R

RF

-12

dB
Note 2: The center wavelengths are ranged from 1273.5 to 1309.1 nm with 800GHz spacing.
Note 3: The test condition is PRBS231-1 and 5E-5 BER.