Descriptions:
Fiber Optic HDMI 2.0 Integrated Extender Cable 4K with Ultra slim Cat7 Ethernet for best complete setup of Smart TVs & Projectors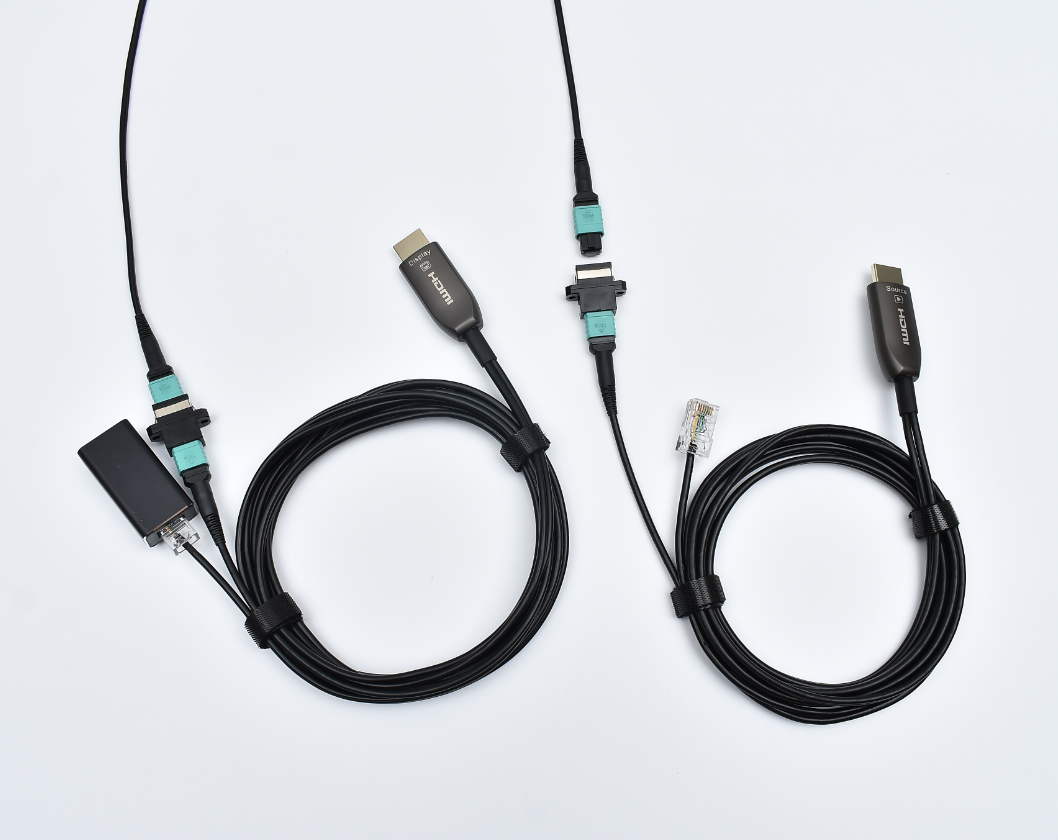 Key Benefits:
No Extra Adapters Needed!
Our New world-wide Patented technology Eliminates the need for bulky adapters because our integrated fiber optic cable does it all.
BEST HDMI 2.1 Full 4K/8K/10K Quality
Unlike CAT-6 extenders which compress the quality to pass the cat-6/7 max speed bottle-neck of 10gigabit, Our Fiber Optic Cables works at full 48 gigabit speed, full HDMI 2.1 Standard, so our quality is obviously perfect, way better respect any CAT-6 based solution.
BEST 4K/8K Colors | Contrast | HDR10+
Our HDMI 2.1 is True 48gigabit without any loss typical of All Copper HDMI Cables including the most expensive ones (no-one excluded! Copper Cannot pass the HDMI 2.1 EYE 48gigabit Signal Integrity after few feet). With our LASER HDMI 2.1 you can tell the difference as our Colors, Contrast, HDR10+ Cannot be matched by any expensive HDMI Copper Active Cable.
BEST 4K TV Streaming
The Special Integrated Ultra Speed Ethernet CAT-7 cable connects your Internet Router to the Smart TV or Projector at the maximum speed to play 4K Movies & Internet Videos without Buffering and always with the Best Available Resolution.
This CAT-7 can also be used with simple USB Adapters Tips to extend Gaming Controllers / Keyboards / Mouse and any USB device, leaving the computer or console away from the room.
SURROUND SOUND Ready
Our Fiber Cable is ready to connect to any HD/4K 8K AV Receiver Surround Sound System including all the premium control signals such as ARC/eARC/CEC for a complete system integration and best performances like no other HDMI solution.
Detachable Fiber Optic HDMI Plugs
Pass the cable through Furniture or Walls without risk to damage the HDMI plugs. Simple & Easy Installation Anywhere
400 Gigabit Ultra Speed - Future Proof
Our MPO Fiber Cable has 400 Gigabit of Fiber Optic Speed included, Already 4k 120Hz/8K/10K capable, and can support any future Higher Resolutions simply upgrading the HDMI Tips at any time, without the need to remove the main cable from the installation.
INDESTRUCTIBLE
Our Fiber Optic cable is made with premium ultra-flex fiber optics plus Kevlar Armored Fibers, so it can turn 90 degrees, extreme pull forces through walls, conduits, furniture, UV / Humidity / Water / Cold / Heat proof, In-Wall / In-Ceiling / In-Door / Out-Door / CL2 / CL3 / FT4 / Plenum Resistant Rated for any Home, Residential, Commercial, Professional Application.
Features:
6-core MPO Fiber Optics Cable with 400 Gigabit for uncompressed audio video data
HDMI 2.1 4K120Hz 8K60Hz 48Gbps FRL Laser Connection
Detachable HDMI 8K Plugs for easy installation through walls or conduits
Integrated CAT-7 10 Giga Ethernet for best TV Streaming & Gaming
Connects 4K 8K Smart-TVs, Projectors, Gaming, VR, Multi-Screen Walls, at Full Distance with Perfect Original Uncompressed Sound & Video Quality
In-Wall Rated - In-Conduit Rated - In Door Out Door Rated - UV Rated, for any Residential or Commercial or Professional Applications Installations