SC Square Bare Adapter Flange Temporary succeeded OTDR Test Coupler
SC bare fiber adapter is used as the tester tool to temporarily connect the bare fiber with fiber optic equipment without having to attach a permanent connector. It provides a simple and effective way to use un-terminated fibers with standard SC receptacles. Simply strip, clean and cleave your fiber and insert it into the bare fiber adaptor, you may easily connect and couple bare fibers with other optical devices. They are ideal for power meter connections, temporary system repairs, or wherever a quick fiber connection is required. This LC bare fiber adapter provides a perfect tool for the fiber tinkerer who wants to polish bare (unjacketed) optical fiber without terminating it.

The SC bare fiber adapter can be recycled, which is not only convenient but also cost-saving. It is especially suitable for fiber connection in some on-site optical fiber cabling emergency situations, and in-situ functional testing can be carried out without additional permanent connectors. For technicians and contractors, it will make fiber testing and network maintenance easier, faster, and more efficient. The use of bare fiber adapters can be directly used to connect and couple bare fibers with other optical devices.

Features
• Easy to use and reuseable
• LC, SC, FC, ST, SMA, and E2000 connectors available
• Provides a fast method of temporarily connecting a fiber under test to a test instrument
• Broken fibers are removed with piano wire allowing hundreds of insertions
• Accommodates 125µm clad fiber with low Insertion loss
• Metal body
• ROHS compliant and Lead-Free


Scope of application
Optics,Visual Fault Locator, optical power meter, Optical fiber sensor,optical fiber, communication room, optical fiber connection transmission equipment

The isolation effect is good
It can effectively suppress the noise of ground circuits and isolate other kinds of interference signals,The main control system is protected from accidental damage

Low insertion loss
Consumption is not sensitive to light waves, It can meetdifferent wavelengths Transmission needs of

Good repeatability
Excellent material, High precision, good compatibility, Strong adaptability,I t can be used repeatedly

Easy to plug
Oxygen-free glue and any material in the ferrule and through hole Easy to plug

Product name:Square bare fiber adapter
Category
Bare Fiber Adaptor
Part Number
FAB-SC
Ferrule ID
125-127um
Insertion loss
<0.2dB
Repeatability
<0.2dB
Tensile force
100G
Environment
Operating: -10°C to 70°C
Storage: -40°C to 85°C
Compliance
RoHS
Application
Quickly connect to light sources, optical power meters,
optical time-domain reflectometers (OTDRs), Extinction Ratio Meters,
and a variety of other equipment for testing and measurement
Testing on optical fiber systems before and after installation
Dark fiber maintenance
Quick terminating fibers
Fiber installation and repair work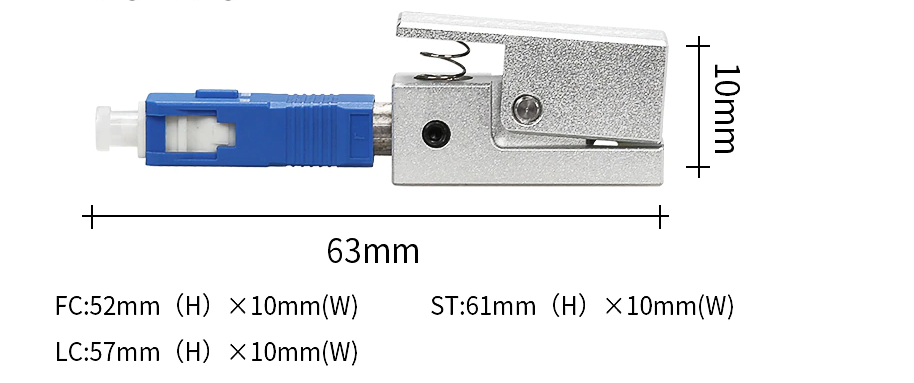 How to use a bare fiber adapter?

Stripping fiber
Use an optical fiber stripper to strip the coating layer of the optical fiber, the length is usually 15-20mm, reserve the length according to the actual situation of the bare fiber adapter used, and then wipe the optical fiber with alcohol or dust-free paper.

Insert the bare fiber into the bare fiber adapter
Press and hold a button with a spring on the bare fiber adapter, press down the switch, slowly push the fiber in along the lead-through hole until the ceramic ferrule is extended by about 13~15mm, and then loosen the switch to allow the fiber to be positioned. Check the condition of the fiber end face, if necessary, you can re-adjust the fiber.

Lightly draw the exposed part of the bottom of the fiber with a fiber drawing pen, break the fiber, and the operation is complete
The connector of the bare fiber adapter is connected to the connecting end through the adapter, and then the optical parameter can be tested. If the test parameters are very poor, check whether the front end of the fiber is well cut, cut again, and then test. The bare optical fiber components that pass the parameter test can be used or spliced into the system.