FTTH Access Networks – AON vs. PON
The deployment of FTTH (Fiber To The Home) access networks has come a long way before subscribers use optical fibers instead of copper lines to achieve broadband Internet access. FTTH is a form of fiber-optic communication delivery that reaches one living or working space. The fiber extends from the central office to the subscriber's living or working space. There are two common systems available in FTTH networks: AON (active optical network) and PON (passive optical network).

Active Optical Network
The AON arrangement is a point-to-point structure (PTP), meaning that each user has his own dedicated fiber optical line terminated on an optical concentrator. In an active optical system, environmentally electrical switching equipment are deployed, such as a router or a switch aggregator, to manage signal distribution and route data to proper places. The following figure show an AON system.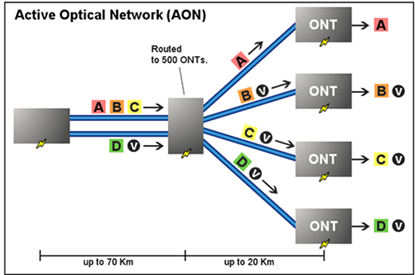 Passive Optical Network
Passive optical network, just as its name shows, it only uses fiber and passive components like optical splitters rather than active components like amplifiers, repeaters, or shaping circuits. Its arrangement is a point to multi-point (PMP) network. That is to say a passive optical network shares fiber optic strands for portions of the network. In passive optical system, a single fiber from a central office optical line terminal (OLT) is connected to optical network terminals (ONTs) or optical network units (ONUs) at customer premises. The image below is a PON system.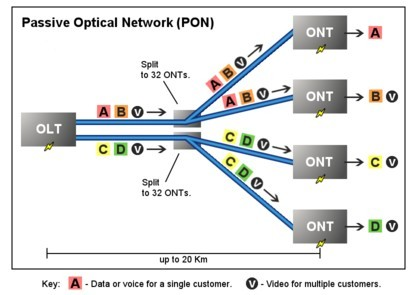 An OLT terminates the optical signals and distributes IT and Internet services to as many as 16 to 128 customers per fiber line. An optical splitter, also called PON splitter, is either fitted in or outside the subscriber's premise to divide a single optical signal into multiple equal but lower-power signals and distribute the signals to users. An optical network unit (ONU) terminates the PON at the customer's home. The ONU usually communicates with an optical network terminal (ONT), which may be a separate box that connects the PON to TV sets, telephones, computers, or a wireless router. ONU and ONT are basically the same device.
AON vs. PON
(1) AON have high bandwidth allocation to each subscriber in comparison with PON. Because individual fiber is used per subscriber for AON while fiber is shared between subscribers in PON distribution network.
(2) AON uses the active splliters which are more efficient than passive splitters used in PON.
(3) AON is more costly in comparison with PON. Because components used in AON like Switch is more costly then the passive splitter.
(4) Fault detection is easy in Active Optical Network in comparative to Passive Optical Network.
(5) Maximum distance between OLT and ONT can be 90 Km while in case of PON it can be 20 Km.
(6) AON system consume more power than PON system.
(7) Additional services can be provided in AON system more easily than PON.
(8) Up-gradation in AON system is easy in comparative with PON where whole fiber tree is affected from update.
(9) AON requires high maintenance than PON system. Because in AON active devices are used which require external power. While on the other hand PON system needs less maintenance because there is no need for external power for splitters.
(10) Passive Optical Network needs lot of fiber cable space for distribution while in case of AON its not.
(11) Network Roll out cost is high for Active Optical Network while in case of Passive Optical Network, Network Roll Out cost is different.

Summary
Both AON and PON provide feasible solutions for FTTH network connection. They are growing in popularity as the demands for greater bandwidth increase. Heyoptics offers several PON equipment for FTTH network, such as PON splitters, OLTs, ONUs, and ONTs.